Yurii SHCHERBAK: "NATO membership should be one of the key topics of foreign policy for the next president"
1 April, 2014 - 11:47
Ukraine is considering refusal from non-bloc status, and this task is very acute for the Ministry of Foreign Affairs, parliament, and government. Acting President of Ukraine and VR Speaker Oleksandr Turchynov told about this at a press conference in Novi Petrivtsi. "Ukraine is holding talks on creation of conditions which will prevent any country from having a desire to commit acts of aggression against our state," he said when he was answering the question on whether Ukraine can remain a non-bloc state. At the same time Turchynov emphasized that he is sure that we will cope with these tasks, but that first and foremost we should understand that we need strong and mobile Armed Forces and National Guard, ready to defend Ukraine from aggression.
Turchynov stated as well that Ukraine has no preconditions for federalization. He said that the regions must be strong and define their prospects independently, like it happens in many civilized European countries. He said that Ukrainian citizens and Ukrainian power will define their future on their own. "Lavrov, Putin, and Medvedev can offer any projects they like for the Russian Federation. The RF leadership should take care of the problems of the Russian Federation rather than the problems of Ukraine," VR Speaker noted. The Day asked a diplomat and publicist Yurii SHCHERBAK to comment on the statement about refusal from the non-bloc status of Ukraine.
"This statement is very important. Although today we cannot become a NATO member right away, but we have to remove the restrictions. At the same time we need to pay attention to one of the points of Putin's ultimatum: that Ukraine should become a federal state, first, and, second, preserve a non-bloc status. There was a day when Kissinger and Brzezinski offered Ukraine to refuse from being a NATO member. I think we must have a freedom of choice, and a non-bloc status is nothing else than a strait-jacket for a country with no reliable guaranties. And experience proves that Ukraine does not have any security guaranties, even the ones promised to us for refuse from nuclear weapons. Therefore we have an absolute right to refuse from the non-bloc status.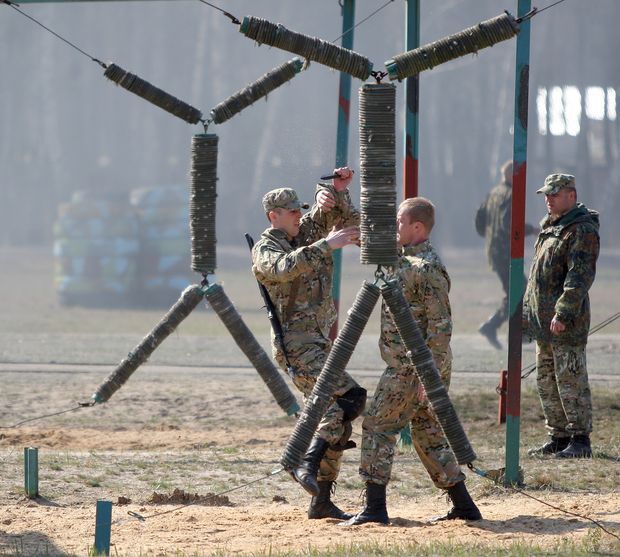 Photo by Artem SLIPACHUK, The Day
"NATO membership should be one of the key topics of foreign policy for the next president. It is very important for the presidential campaign to reveal the attitude to this topic. And this should be one of the key questions the moderator which will organize the pre-election debates of the presidential candidates must ask. The candidates should be asked pointblank about it, if they avoid answering.
"Judging by Obama's words who recently said that he does not see Ukraine in NATO, the Alliance is now afraid of the question of granting the MAP. For Russia depicts NATO as a bad wolf which will deploy missiles in Mykhailivsky farmstead and uses this picture to scare people. Therefore we will hardly get the MAP right away, but we can renew cooperation within the limits envisaged by the MAP. Nobody prevents us from doing this. There is no need to write formulas. We can simply renew very essential cooperation with the Alliance and this will be very useful for us. All the more so the structure of our armed forces was created to meet NATO standards."