The Day talked to cadets of the now-defunct Naval Academy of Ukraine who remained faithful to their service oath. Their only desire now is to get transfer to the mainland as soon as possible to continue their service there
25 March, 2014 - 10:42
Nakhimov Naval Academy of Ukraine operated as usual on March 19 morning, but a meeting of its employees and cadets was held as soon as 4 p.m. on the same day. The Day's sources told us that the present had heard that Russia's defense minister desired to preserve the Nakhimov Academy, but rename it to the naval college. Faculty members were offered two options: either to stay and work in the school as new Russian citizens, or leave Crimea for the mainland Ukraine. Those who wish to stay were to change their ID papers from Ukrainian to Russian at the school itself.
Cadets of the already defunct academy were offered to stay and take the Russian service oath. The proposal was accepted by some students who are natives of Crimea, while the rest, about 70 people, remain loyal to their oath. Various sources report that these cadets will be proposed transfers to military schools in Ukraine, but there has been no official confirmation so far. The cadets themselves do not have any information and do not know what to do.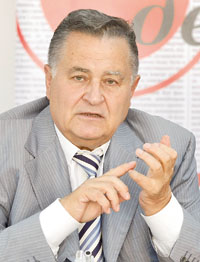 Yevhen MARCHUK, former secretary of the national security and defense council (NSDC) and former defense minister:
We will hold a nationwide inquiry into the tragedy that befell Crimea and our navy. We will not do it now, though. When we do, it will cover every second and every millimeter of these events, all vertical and horizontal links, every resolution and order and lack of these, the Cabinet and the parliament, factions and their leaders, the Verkhovna Rada Committee on Defense and National Security, and the acting president of Ukraine. We will be very thorough. The people will demand strongly that this inquiry be held. Nobody will be able to stop it.
The Ukrainian flag was struck solemnly at the academy at 5 p.m. on March 20. For a lot of cadets and their teachers, it was a tragic moment. They were frustrated and confused, many had tears in their eyes. After that, the school changed the national flag to Russian tricolor. The cadets who remained faithful to the oath were absent as the Russian flag was raised, but some of them exited the academy and sang the anthem of Ukraine. The orchestra struggled to drown out the boys' singing, but future Ukrainian officers sang the anthem in full. The Day was able to talk to some of these patriots, but all of them asked us not to name them for security reasons.
A cadet of Nakhimov Naval Academy of Ukraine:
"We are dealing with fierce pressure literally every day now, they promise us mountains of gold, if we come over to Russia. We certainly do not believe in these fairy tales. We do not need these golden mountains or high salaries. We need our country, our state and our Ukrainian people. We swore allegiance to it and will never betray. We want to appeal to the Verkhovna Rada of Ukraine and the Acting President of Ukraine, Commander-in-Chief Oleksandr Turchynov: 'Please, take us to the mainland Ukraine, give us an opportunity to continue to serve Ukraine and the Ukrainian people. We are ready to defend our country, which is in danger, we are ready for anything, just pay attention to us and help us to return to the territory of our country.'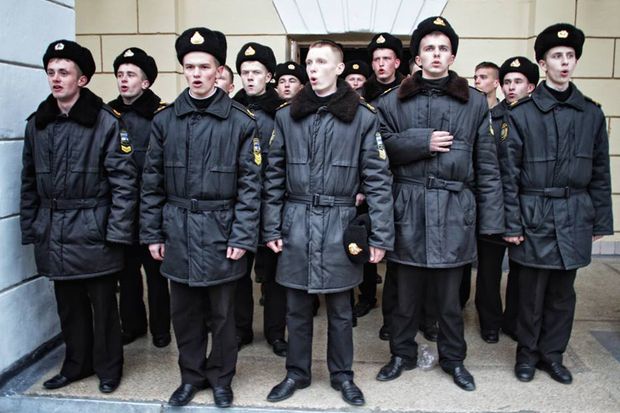 THE UKRAINIAN FLAG WAS STRUCK SOLEMNLY AT NAKHIMOV NAVAL ACADEMY OF UKRAINE AT 5 P.M. ON MARCH 20. IT IS FLYING RUSSIAN COLORS NOW /    Photo courtesy of Anatolii SIVAK
"We are being pressured by cadets that have gone to the other side. They always tell us that our government has left us to fend for ourselves, we are unneeded and nobody will take us to the mainland. They propose us to forget about Ukraine and betray the oath. It is very difficult to remain calm under these conditions. But we believe that this is not true, we know that we will certainly be taken to the mainland, we are really looking forward to it."
Another cadet of Nakhimov Naval Academy of Ukraine:
"We swore the oath of service to the people of Ukraine, and we remain faithful to the oath and do not intend to become traitors. We made a conscious choice: we want to serve as Ukrainian officers to Ukraine. We are in a somewhat strange situation now, as no one explains us what to do, we do not have any information. In fact, we are fed with promises to do something 'the other day.' Every day, we get promises that we will be taken care of tomorrow, but nothing has been done so far. We expect transfer to the mainland Ukraine, but so far no such command has come. We are ready to defend our country, serve it faithfully. Actually, we have demonstrated that, when we sang the anthem of Ukraine. We want to be given an opportunity to leave the walls of the now-defunct Nakhimov Naval Academy of Ukraine and continue training in other military schools."