Valentyn NALYVAICHENKO: "They should stop stealing! Do they really think that they can hide these illegal transactions from us by using offshore accounts?"
9 February, 2016 - 12:50
Valentyn Nalyvaichenko recently returned from the US, where he had a number of interesting meetings. What was the purpose of the visit and what mood prevails in the American political elite towards Ukraine against the background of the political crisis that is worsening in our country? We asked these questions in an interview with the former head of the Security Service of Ukraine (SBU) and leader of the Anti-Corruption Movement.
Your visits to the US have become to some extent routine. Why do you visit that country? Who do you meet with, and for what purpose?
"Just as on previous occasions, I visited the US this time at the invitation of American partners with whom I have a long-standing relationship in many areas, including diplomacy, security affairs, politics, and more recently NGO activities as well.
"Our consultations and negotiations are, indeed, held on a regular basis, whether in Washington or Kyiv. The current agenda includes three main themes: security situation in the east of our country and Crimea, overcoming corruption in Ukraine and, of course, the development of civil society.
"By the way, our Anti-Corruption Movement has recently significantly expanded cooperation with American NGOs. We are actively working with the International Republican Institute and have started cooperation with the Carnegie Endowment for International Peace, Atlantic Council, and the McCain Institute.
"In general, while in Washington, I, together with Ambassador Markiian Lubkivsky, held about two dozen meetings with American political and intellectual figures as well as members of presidential candidates' campaign teams.
"All our interlocutors, who included Chairman of the House Foreign Affairs Committee Ed Royce; Republican Senator John McCain; Congresswoman Marcy Kaptur; former US Secretary of State and legendary diplomat who prepared the US' recognition of Ukraine's independence James Baker; Assistant Secretary of State Victoria Nuland; Ambassador Dan Fried (now serving at the US Department of State); Professor and Senior Fellow at the Atlantic Council Anders Aslund; former head of Freedom House, currently co-leading the McCain Institute, David Kramer – all these people are not only well-informed about what is happening in Ukraine, but sincerely root for Ukrainians as well."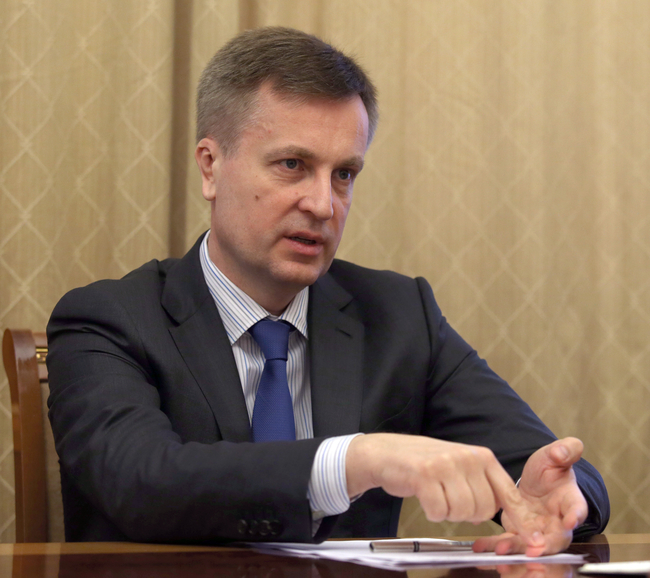 Photo by Artem SLIPACHUK, The Day
You posted on a social network that you had had a pleasurable encounter with leader of the Fatherland party Yulia Tymoshenko in Washington. What can you say about such informal visits of Ukrainian politicians to the US capital? It seems that they go overseas to get advice and assent.
"The time when Ukrainian politicians went for advice and assent to Moscow, as if it was Kharkiv or Lviv, has not brought us any good, and, I think, is gone for good.
"I can only welcome the dialog that Ukrainian politicians maintain with the West today. This is important not only in terms of bilateral or multilateral diplomacy, but also to promote adoption of best practices of state-building, keeping true to democratic values, even ways to conduct political struggle... It is important, of course, only for those Ukrainian politicians who want to learn something and apply new knowledge and experience for the benefit of their own country.
"While following our own schedules in Washington, I and Tymoshenko had several joint meetings with US officials, politicians, diplomats, and political scientists dealing with international affairs.
"Representing various segments of Ukrainian society, I mean an NGO and a political force represented in the parliament, we presented to partners our views on how to counter external and internal aggressors tormenting Ukraine, in particular reflecting on the ways of restoring the territorial integrity of our country, overcoming corruption, and getting Ukraine finally started on an effective development path.
"They hear us and share our principled stance on fighting corruption and defending Ukraine's security interests."
You were in the US just at the time when Ukraine saw a political scandal erupting following the resignation of Economy Minister Aivaras Abromavicius. You have already posted on Facebook that American political elites are outraged with corruption pressure on the Ukrainian economy and generally annoyed by what is happening in Ukraine. In what ways can this change in the attitudes of American politicians be dangerous for Ukraine? If they feel mightily disappointed, what alternative do they see?
"Indeed, the American establishment makes no secret of its exasperation with oligarchic corruption in Ukraine and expects tough action against top corrupt officials.
"The American press covers corruption in Ukraine openly naming Ihor Kononenko and Viktor Shokin, while offices of senators and representatives are shocked with, excuse my choice of words, voracity of corrupt Ukrainian officials and the law enforcement's inaction.
"They tell it bluntly: 'They should stop stealing! We send huge amounts of international aid to Ukraine, after all! Do they really think that they can hide these illegal transactions from us by using offshore accounts in the Virgin Islands and other jurisdictions?'
"Both financial institutions and financial intelligence services know it. Apart from it being common knowledge, nobody is going to give us money only for it to be stolen. No one is going to retreat on these demands, and I confirm that the clear demand to replace the prosecutor general has not gone away! If they want the West's support, they should do the things which are urged, in fact, by Ukrainians themselves, and which offer opportunities and prospects for Ukraine itself."
"Back at the turn of 2015, when I served as the head of the SBU, I drew the attention of the president of Ukraine to the fact that a member of his team engaged in corrupt criminal activity. However, no action has been taken so far. So, I was not surprised, but rather saddened by the demarche of Economy Minister Abromavicius, who openly pointed to the same name and the same illegal activities six months later..."
Let us discuss further the political crisis that has erupted in Ukraine. What is your take on it, its causes, how do you perceive these events and what consequences they may have for the country in war?
"The crisis's causes are reluctance to change dirty ways of Ukrainian politics, covetousness, lies, and contempt for one's own people.
"What are the likely consequences? The surge of political corruption and lack of political will to overcome it corrode the foundations of national security, undermine the international position of Ukraine, and jeopardize international support, particularly from the US.
"We are being warned about the dangers of tolerating corruption.
"Forgive me for repeating myself, but deep disappointment in the US is already bordering on exasperation because of the lack of political will to remove the burden of corruption from the shoulders of Ukrainians, illicit enrichment of the ruling elite, unwillingness to wrest Ukraine from this vicious circle.
"Ukrainian corruption fatigue can move Ukraine out of the focus of American foreign policy, which, in turn, will have disastrous consequences for us by increasing the danger of Russian expansion."