While Mykolaiv paratroopers are recovering, the Phoenix battalion is being formed on the initiative of a volunteer
12 August, 2014 - 11:07
August 8 was a special day for residents of Mykolaiv, for they met on that day returning soldiers of the 79th Detached Airmobile Brigade, who had been encircled at the border with Russia for almost three weeks. To meet their heroes, Mayor Yurii Hranaturov, chairman of the regional council Taras Kremin, parents, relatives, and friends of the paratroopers and hundreds of regular citizens came to the brigade's base camp's checkpoint, wishing to express their gratitude to the lads for everything they were doing to protect Ukraine.
The mayor assured: "We will help our boys in every way available to us. Firstly, all participants of the anti-terrorist operation (ATO) will get 1,000 square meters of land for free for building individual houses. We will do everything possible to exempt them from utility payments and allow both the ATO participants and their families to recover their health."
A mother of soldier who had waited for her child for five months shared her thoughts with us: "My son is 44 years old. He called me only very infrequently. We were all waiting for him eagerly – me, his children, his wife, and all the relatives. We all pray for him. I think that every mother worries and prays to God to have them all back safe and sound. Recently, we buried the commander who died a few days before they managed to retreat [Major Serhii Kryvonosov who died on August 4 to save his comrade's life. – Authors]. It was a terrible funeral, as he was such a young guy. I want all of them to be alive, healthy, and stationed at the home base."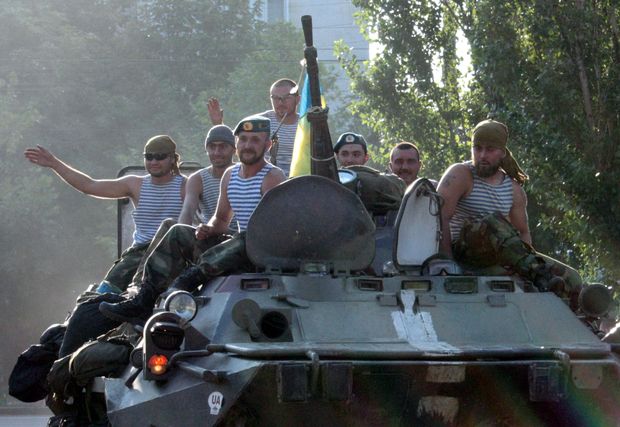 Heroes were met with cars honking their horns, orchestra playing, and people shouting "Glory to heroes!", "Glory to the paratroopers!", "Thank you!" and singing the anthem of Ukraine. Citizens of Mykolaiv met every bus, APC, and car that was taking soldiers of the 79th Detached Airmobile Brigade home. Each paratrooper was met with tears of joy, applause, flowers, and kisses. The military also freely expressed their emotions on returning home and meeting with friends and family, but were reluctant to speak about events in the ATO area.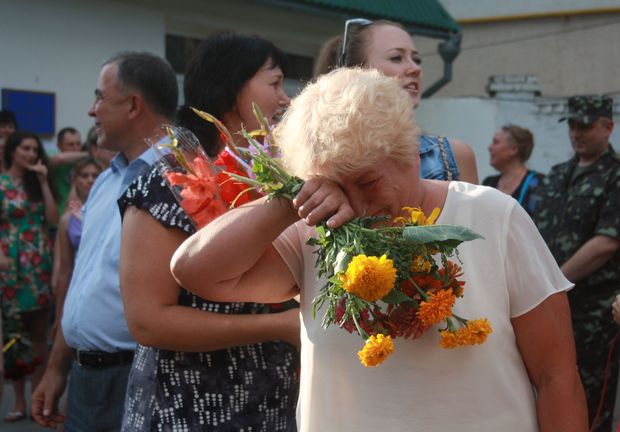 Soldier of the 79th Brigade Mykhailo shared his thoughts with us: "I am shocked that we are so welcome. We are very glad to be back. Maybe we did something wrong, but we fought hard, honestly. We did what we can, abandoned nobody and tried to preserve our vehicles as well, but we had to burn everything and go at last. I hope that all this will end soon. The war has to end soon." Another soldier of the brigade added: "There were three brigades of us there that operated together. We were shelled by Grad multiple rocket launchers and mortar fire as we left the area." Soldier named Valerii clarified: "We thought and were promised to get a safe way out, but it turned out to be a breakout by force. I am very happy to be back and thank you all for the welcome we have got!"
The unit's mascot Timka the puppy came to Mykolaiv with the soldiers, having spent many difficult days in their company under fire from the Grads. In just a few days, he became a favorite of all who followed the life of the 79th Brigade on Facebook, so Timka also got his share of applause and kisses.
Yurii Biriukov, head of the volunteer group Wings of Phoenix that has handled aid to the 79th Brigade starting with the events in Crimea, told us some more about the breakout: "As far as I know, the operation had been planned quite some time back. They waited only for a good opportunity. The operation was developed by the ATO headquarters, so there was no improper initiative there. There were some accidents, the march was hard on the men, as the enemy fired a lot at them and hit a lot of equipment. They had many wounded. No soldier of the 79th Brigade died in the breakout, but a few border guards were killed."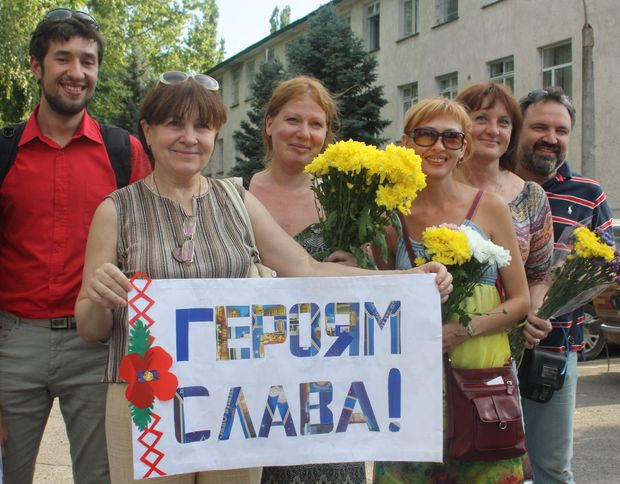 Biriukov also got a hero's welcome in Mykolaiv, because thanks to him and the volunteer group Wings of Phoenix which he leads, the brigade received hundreds of body armor vests, helmets and other protective equipment and special equipment that was saving the boys' lives every day: "In fact, all our work, my group members and mine, would not be possible without the help of the entire country. So, one has to thank all of us, as we all do one job," Biriukov said. "Of course, we will continue to help the boys. To rely on the state was unwise before and is still unwise now. Accordingly, we will prepare winter uniforms for them as well as spring and summer uniforms for the next year. We all were complicit in the decay of our own army that unfolded for 23 years. God grant we will cope with rebuilding our army in less than 23 years. We simply do not have that much time."
Biriukov shared information on the formation of the Phoenix battalion based at the 79th Brigade: "The brigade commander received a directive on the battalion's formation. It is not all smooth though, as its organization reflects mostly the old scheme. We will try to change it a bit since we have gained a huge combat experience, which urgently needs to be used, or we will suffer unnecessary losses again. I will not become a soldier of the battalion, because I think that I will be more useful away from the trenches. Uniquely, the battalion will operate according to a direct agreement with the Ministry of Defense stating that they will provide the battalion with military vehicles and we will try to equip it with communication devices, uniform, footwear, masking covers, thermal imagers, and everything else as we see fit. I think that the Phoenix battalion will have the most modern equipment of any army unit in Ukraine. We already found inflatable modular platoon tents, we have negotiated with the supplier of vehicles to be used instead of UAZ jeeps. We are now looking for adequate communication devices, computers, satellite systems. We will start our procurement campaign on August 11, and the battalion recruiting drive will start on the same day. Time is pressing hard on us."
Soldiers of the 79th Brigade now have 10 days off, during which time they will get new vehicles and then go back to the ATO area.