The Day's experts on Azarov's resignation and its consequences for Ukraine's gas market
30 January, 2014 - 10:00
"The economy is not yet on the agenda – it has been superseded by the question of political face-off," Yevhen Kopatko, Research & Branding Group president, said during a video bridge with Moscow. "We will feel all the pleasures of economic problems" in a month or two, he also predicted. This forecast was immediately confirmed on the other video bank. Vladimir Zharikhin, deputy director of the CIS Institute, inquired: "Is the Ukrainian elite aware that Russia gave the loan and gas price cuts to Yanukovych plus Azarov, not to Yanukovych plus Yatseniuk, and that Ukraine will face economic problems due to not only the current destabilization, but also this factor?" And one more question from Moscow: "Maybe, Ukraine still cherishes a hope that the European Union will find the required 20 billion dollars in its bottomless coffers? But I don't think there still are naive people like this."
It is difficult for us to judge whether or not Mr. Zharikhin's unpleasant and not very friendly questions were endorsed by his country's leadership which claims publicly that it is not interfering into Ukraine's internal affairs and whishes this country peace and prosperity. But the deputy director's words seem to reflect, to a large extent, the mood of the Russian pro-governmental elite – the one who pays has the right not only to call the tune, but also to "appoint" the premier of a neighborly independent state. Yet the December 2013 documents are unlikely to have mentioned the name of a go or no-go Ukrainian premier as collateral for the loan and the cheap gas. But we cannot, of course, rule out some oral agreements.
What do The Day's experts think of this "Molotov cocktail" our Russian friends (I hate to put this word in quotation marks) have thrown into the information space in these difficult, for Ukraine, days?
Leonid UNIHOVSKY, general manager, company Naftohazbudinformatyka:
"Do not also forget that what is at stake is Ukraine's domestic gas market which is quite an important source of revenues for Russia. Therefore, I would not worry too much about the opinion of an expert. Besides, all these matters need an integrated approach. I can also remind you that the framework agreement with the German company RWE is still valid. So it is still possible in theory to purchase gas in Europe and thus compete with Gazprom. But these purchases are limited so far. So we cannot reject Russian gas altogether. But let me say it again that the vast Ukrainian market is, in the long term, a very good 'carrot' for many, including Russia. Besides, the latter is very well aware of the importance of our underground gas storages. A recent roundtable with Russian experts was not about political insinuations but about the fact that these storages and their services still remain of paramount importance for Russia."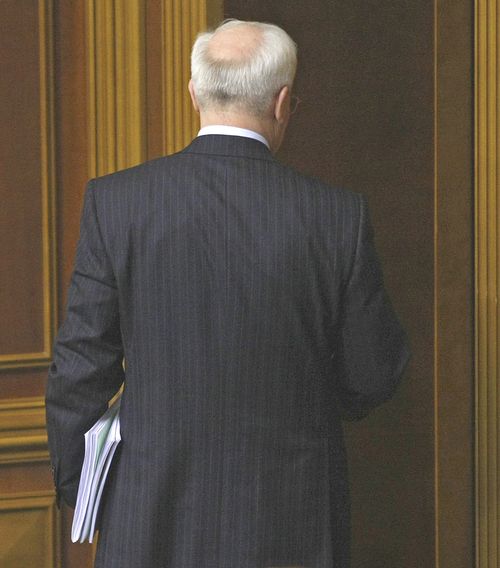 Photo by Mykola TYMCHENKO, The Day
Ivan NADEIN, chairman, Ukraine's Energy Independence Committee:
"As is known, gas price is often used as an instrument of political pressure on Ukraine. And agreements on natural gas price cuts may be really subject to quarterly reviews. It is no secret that Russia has thus made it possible to influence Ukraine by way of gas contracts. The gas price may, of course, rise if the government and the political course are changed. But experience shows that Ukraine is able to reduce the consumption of this fuel. Besides, a high gas price, such as in Europe, will stimulate the Ukrainian economy to boost investments in energy-efficiency and natural gas substitution, which will reduce our economy's dependency on gas which we consume more than anyone else in Europe. And the agreement in question seems very attractive at first glance only. But if we look at the real plans of gas purchases in 2014, we will see that, according to Gazprom estimates, Ukraine will buy about 40 billion cubic meters. The plans our government had drawn up well before the discount was granted provide for reducing Russian gas purchases to 15 billion. As a result, Ukraine will even overpay 1.5-2 billion dollars under these contracts, which will essentially impair its trade balance. So, this 30-percent discount will not look all that attractive in this case. As before, the economy will be outdated and energy-intensive, and the country as a whole will remain energy-dependent."
Oleksandr NARBUT, independent expert in energy:
"I would not say that the gas price Gazprom has set for Ukraine under an additional protocol is a discount. Rather, it is a scheme to support the current leadership plus, maybe, some obligations that have not yet been publicly disclosed. There is even no clear answer to the question: what is Gazprom's budget going to offset its losses with. I think this matter will worry Gazprtom shareholders very much. Nor will I be surprised if it suddenly emerges that the monopolist's revenue difference is considered as a Naftohaz debt and certain funds may be used to acquire assets or made part of the authorized capital of some joint ventures, including a consortium based on the Ukrainian gas transportation system. There might only be a new price for Ukraine if the current contracts were revised and re-signed.
"Mr. Zharikhin only confirms that the December accords present a purely political, not economic, pattern. So it is almost the same as transferring foreign money to the accounts of political parties. But still I do not think Mr. Yatseniuk will be appointed the head of government. I don't think this proposal is meant to be implemented. I would call this appointment too hypothetical. It is not part of both sides' current plans. Unlike Zharikhin, I am not prepared to mull over the consequences of such unlikely events. I am sure it is in the interests of Ukraine, including the current leadership, to have an effective government consisting of true professionals, not politicians."