The organizing company will furnish 50,000 hryvnias to the Pereiaslav-Khmelnytsky school which the Doodle for Google winner goes to
11 February, 2014 - 12:04
The first all-Ukrainian schoolchildren's competition Doodle for Google is over. According to the organizers, under-17s were invited three months ago to draw a Google official logo themed as "Ukraine of My Dream." The organizing company, Google, has summed up the competition on the basis of a popular vote. Those who qualified for the final were the 4th-grader Roman Barabash from Pereiaslav-Khmelnytsky (comprehensive school No.7), the 7th-grader Olena Kharchenko from the village of Opishnia, Poltava oblast (state-run specialized boarding school "Collegium of Arts at Opishnia), and the 11th-grader Vladyslav Stepanenko from Nikopol (Dnipropetrovsk National Oles Honchar University's high specialized natural sciences and mathematics school).
Google's doodlers have chosen the winner out of the top three contenders. It is Roman Barabash, 9, from Pereiaslav-Khmelnytsky. He described his doodle as follows: "The Ukraine of my dream is an affluent and independent state, where every urban or rural family feels free and well-protected." Now, like millions of other Ukrainians, the winner can see his doodle on Google's title page. Under the competition's conditions, the school Barabash goes to will receive a 50,000-hryvnia modernization grant.
The organizers also say they received over 10,000 works for the competition. At first the honorary jury chose 15 best doodles for the semi-finals (five in each age category). At the contest's second stage, these 15 works competed for the final by way of an open online popular vote. Finally, Ukrainian Google users selected the three drawings they liked best.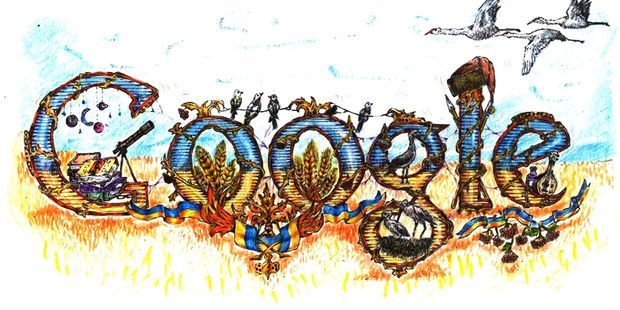 THE WORK OF OLENA KHARCHENKO FROM THE VILLAGE OF OPISHNIA, POLTAVA OBLAST, TOOK SECOND PLACE
COMMENTARY
Halyna BARABASH, mother of Roman Barabash, winner of the Doodle for Google competition:
"The class in which my son Roman studies has a very good lady teacher who pays very much attention to creative work. More than a half of the class pupils always take part in all the contests the school holds.
"Our victory does credit to the teacher who has created a proper atmosphere. My son is very restless, but when it comes to creative work, he musters up all his energy and instills it in a drawing. He loves to paint. Although Roman likes graphics best of all, he often uses paints in competition works. A lot of pupils from his and other classes participated in this contest. One more work from our school is among the top 100. My son was doing his work with inspiration – he would surf the website daily to see if there were any results. It pleases me very much that the children were not disappointed, for, frankly speaking, it often happens that when children take part in all kinds of competitions, they are promised very much but, in the long run, are not given even a letter of commendation. This disillusions them to a great extent. But the children believed in this contest which really encouraged them.
"Roman hit upon many ideas while making the drawing. We have a heap of the drawings he made, for he was always dissatisfied and tried to correct something. He decided to draw a boy and a girl because there are two children in our family. In other words, he depicted our family. The son portrayed Ukraine as an Easter egg. Roman is a patriot: he is very much concerned about what is going on in this country, and you can see this in his drawing. Naturally, he consulted with parents, and we helped and advised him. We suggested him the idea of trident-shaped trees quite spontaneously: when Roman had drawn a few shrubs, I saw that one of them looked like a trident… It is not mere chance that Roman drew a church on top of the picture. We are a family of true believers. I come from western Ukraine and had Christian values grafted onto me. I also educate my children in this spirit. My son said this morning: 'Mum, I've said a prayer three, not one, times today – and, you see, I've won.'"