Kyiv Armor Repair Plant becomes the starting point of a journalist expedition to the Ukrainian Defense Industry enterprises
13 October, 2014 - 18:07
Ukroboronprom, aka Ukrainian Defense Industry concern, was created in 2010, shortly after Viktor Yanukovych was elected president of Ukraine, perhaps with a sole purpose: to subordinate the branch to financial interests of the oligarchic clan. What other explanation can there be for the fact that after "the Maidan's victory" and beginning of Russia's invasion in Ukraine, the concern's enterprises are shaken by corruption scandals, and sensational revelations of the misuses of its former management do not seem to leave the pages of Ukrainian newspapers. That is why, when a group of Ukrainian bloggers and journalists was offered to see the life inside the Ukrainian Defense Industry today with their own eyes, each of us sensed fresh blood and followed the professional hunting instinct.
Kyiv Armor Repair Plant became the first victim of our journalist safari.
The first things that jumped to our eyes were huge territory, the Soviet-style green area, and even three fish pools. A sanatorium. Tanks like to swim in pools with no fish, as a part of testing, of course. However, they refused to swim while we were there, we arrived without an appointment, and tanks forgot to grab their swimming trunks, as we were told. Even the plant cafeteria suggested resemblance to a Soviet sanatorium because of a huge palm tree on a staircase landing. Tanks arrive here, just like people to sanatoriums, in a completely disassembled state. But you cannot just cleanse tank's liver with mineral water or prescribe them therapeutic mud applications. It is known that tanks have a different reaction to mud than people, therefore they are treated in a completely different way here.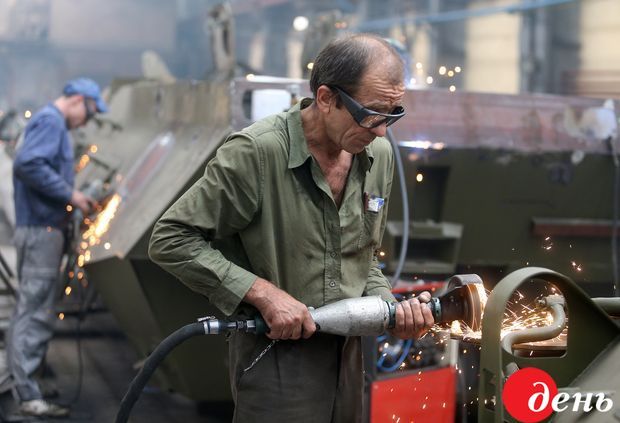 MECHANICS FROM KYIV REPLACED THE RUSSIAN ENGINE IN THE T-72 WITH ITS MORE POWERFUL UKRAINIAN
What a lot of rusty old Soviet tanks here! Well, not as old as the IS-3 standing at a pedestal near the entrance, which looked quite unusual without an inscription "to Kyiv!" or "to Lviv!" on its side, or a disassembled T-34-85 in one of the plant shops, which was brought there, according to the workers, by the former management from China and forgotten because of all the troubles related to searches and arrests. But a large part of the huge territory (60 hectares) has been occupied by a cemetery of rusty tanks since the 1990s. I would never believe they could be brought back to life, if I had not seen all the stages of their treatment and driving tests with my own eyes.
***
The giant Ukrainian Defense Industry is waking up slowly. A year ago, the majority of its 125 enterprises were quietly brought to bankruptcy, not even for its equipment and specialists, but for the land its manufacturing capacities and proving grounds occupy. Even today 24 of its enterprises are going through a bankruptcy procedure. The Kyiv Armor Repair Plant is no exception, documents about its critical financial state leaked to newspapers in early July. The former management of the concern preferred the plant in Zhytomyr, while the one in Kyiv... Well, you understand it, land in Kyiv is too much of a dainty morsel to think about the country's defense ability. However, the changes are quite feasible there today. The new management of the Ukrainian Defense Industry redistributed orders between plants, established cooperation, and as a result, things got better at the Kyiv plant.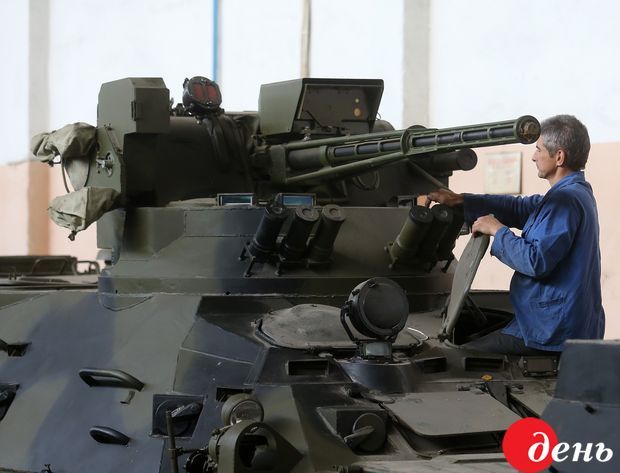 COUNTERPART, ALONG WITH A COMPLETE OVERHAUL OF THE VEHICLE
But I will not paint a perfectly idyllic picture. In general, Ukrainian plants have a common problem. No matter which one you turn to, the average age of workers is approaching pre-retirement. When it comes to Ukraine's industrial potential, it is a tradition to write about qualified labor, but the majority of highly qualified workers started their careers back in the USSR. Instead of working professions, the youth prefers degrees in business management from private universities with shady reputation, offering career prospects of a waiter in a fast food chain, if they are lucky. So, there are few young faces among the 900 workers of the Kyiv Armor Repair Plant too. Equipment, repaired tanks, and personnel look about the same age. And only the plant itself is one generation older, it was built in early 1930s.
The lamentable picture I just painted need not create the impression of deep decay. The plant is quite able to meet the challenges which Ukraine's arms manufacturers are facing today. Of course, contrary to statements in the press, Ukrainian Defense Industry's plants are not continually working 24/7, they only do so at the busy moments. Often it depends not so much on them as on mere supplies of parts by dozens of accessory manufacturers. Not only the defense industry, but Ukraine's entire economy is being put on military tracks. Generally speaking, even without expanding of the labor force, only its tank repair plants are capable of increasing production by another 40 percent, i.e. 250 to 300 repaired or modernized vehicles, which considerably exceeds the current needs and financial means of Ukraine's defense ministry. Even at the current capacity, the Kyiv Armor Repair Plant supplies the government with vehicles on credit. However, this is not so much due to the lack of money as for the cumbersome, old-fashioned bureaucratic procedures, which turn even most elementary financial operations into complex, sophisticated ministerial games.
***
It is impossible just to deliver an armored vehicle to the ATO zone, even if it seems ready to be delivered in the framework of an international contract. It is not even a matter of financial penalties or forfeited profits. For example, we witnessed dozens of vehicles assembled as part of a deal with Sudan re-assembled again, piece by piece. Our critics tend to forget the difference between the tropical climate of Africa (or Asia, for that matter) and the moderate climate of Ukraine. Vehicles need additional heaters and dozens of other labor-consuming technological adjustments. Likewise, all of us have read or heard in the media stories of hundreds of vehicles rusting away in warehouses, while our men have to fight virtually bare-handed. No photos, no words can render these rusty carcasses which used to be formidable military vehicles some two decades ago. Nevertheless, at the Kyiv Armor Repair Plant they get a new heart and a new lease on life.
The Kyiv Armor Repair Plant cooperates not only with the Ministry of Defense, but also with the battalions of the National Guard. In this case, connection is direct, without mediating bureaucrats. The military can be often seen at the plant. Not only do they come to accept the vehicles, but also to offer engineering solutions based on their combat experience. In combat conditions immediate repair of vehicles on the site is of particular importance. Besides the defense ministry's maintenance teams, the number of Ukrainian Defense Industry's mobile repair crews has increased from 12 to 37 after the start of Russia's direct military invasion last August. Many of these are manned with volunteers, both retired military and labor veterans.
***
By midday I had an impression that the Kyiv Armor Repair Plant (just like Ukraine's army today) very much resembles the vehicle which is being upgraded here. Yesterday it was an unprofitable enterprise on its way to bankruptcy, and today this 80-year-old vet is full of life and is even considering its future after the war is over. The director is serious when he speaks of his hopes to bring back former workers, now students of the Kyiv Polytechnic Institute. These are very timely ideas, because our army is in for inevitable modernization and transfer to NATO standards, and it will take lots of efforts to meet the challenges of this breath-taking time we are lucky to live in. Moreover, Ukraine's export potential is only growing now. Among other reasons, the present conflict can be  partly accounted for competition between Ukraine and Russia on international arms markets. Over the recent months many acts of sabotage at Ukrainian defense enterprises, so often mentioned in the press, suspiciously coincided with probing visits of potential customers.
The new management of Ukrainian Defense Industry, egg-heads with MBA grades, are so different from the conventional corrupt tycoons who normally used to lead state-run corporations that even the most skeptical of us believed that the end of state feudalism is near.