What makes The Crown, or Heritage of the Rus' Kingdom so popular?
12 December, 2017 - 11:48
The second, additional print of Den's recent new publication The Crown, or Heritage of the Rus' Kingdom is about to be sold out – and less than in three months, for we presented the book at the Publishers' Forum in September!
The Crown attracts various audiences, professionally and geographically. For instance, a former metallurgy worker from Zaporizhia Viktor Monakh noticed the book after reading a review by a person he considers an authority on a range of subjects, Vitalii Skotsyk, in social networks. "The title evoked my curiosity from the very start," shares Monakh and adds that the book reads very fast. "My family are lining up for it: the theme is really burning, I have shown The Crown to my grandchildren (and I have nine!) and said: this is what you will need when you go to school."
Vladyslav Zaitsev, coordinator at the Kyiv Dialog (a civic German-Ukrainian platform launched in Ukraine in 2005) in Mariupol, says that he is enthusiastic about history and tries to buy all the books on the history of Ukraine which are printed by Ukrainian publishers. He also notes his "very positive impressions" left by the book. "A very nice trend to see history unfolding not in the 'village and folklore' format, but in a nobler one," says Zaitsev.
And so, dear readers, we invite you to a remote discussion of this extremely topical book which, by telling the stories of the past, helps find the paths to a worthy future.
"IT IS LOVE AT FIRST SIGHT AND TOUCH"
Andrii BOCHAROV, designer, blogger, and traveler:
"I love reading, which comes as no surprise in a son of a librarian, and I have a couple of dozens of books on my Kindle. Yet I still love 'live' books, I love to walk in a bookstore, in Ukraine and abroad, thumb through a book and admire impressive covers. Some books, luckily or not, hardly ever get on Kindle. Some due to their incompatible formats (various albums, guides etc., where color is of utmost importance); others because their e-versions were originally not envisaged. Often it is local literature. And here is one of such examples.
"The Crown, or Heritage of the Rus' Kingdom is a solid, substantial book. I love this kind of books. It is love at first sight and touch. A calm, reserved cover, feels nice, good print. In older days such books were used to decorate home libraries because they emanated good quality. And good quality it is. First of all, concerning the content. What an astonishing amount of historical facts and curiosities! At a certain moment you start feeling an ignoramus. You keep saying, now and again: 'Oh come on!', 'Seriously?', 'Just look at this one!' And I have only read a part of the book so far! You may take it as a teaser but if you want to have an absolutely alternative (or rather just fresh) perspective on what you are used to see as history of Ukraine, you need to find The Crown. And in my view, this is just a case of book as the best present. This was my case, actually. But be careful with this gift! It can cause attacks of profound analysis and controversial conclusions. Be prepared for ensuing discussions on historical themes from the angle of contemporary perception. Be warned."
"THE PUZZLE FALLS IN PLACE"
Lesia ANTOSHKIV, an ophthalmologist, Chernivtsi:
"The book is very interesting and unexpected. Well, it was expected. I come from a place near Turiisk in Volhynia, and ever since I was a child I have felt the fairy-tale effect of that part of the country on me. Now, as you read about the place's ancient history, the puzzle falls in place. Stories of modern monarchies deserve special attention. For example, how many nations succeeded in surviving the atrocities of the 20th century. Now I ask myself: what if Ukraine had a king, or hetman, or prince? Back then or now? What kind of history would we have? Thanks a lot to Den's editor-in-chief Larysa Ivshyna and the authors for their boldness and the depth of knowledge they plunged into and shared with us."
"A HARMONIOUS BUNCH OF HISTORICAL SKETCHES"
Viktoria BISKUB, undergraduate, Taras Shevchenko National University (Kyiv):
"The mastermind behind the idea and the editor of The Crown, or Heritage of the Rus' Kingdom Larysa Ivshyna once said: 'History is not a theorem that needs a single instance of proving. It lives in the shape of continuous reinterpretations.'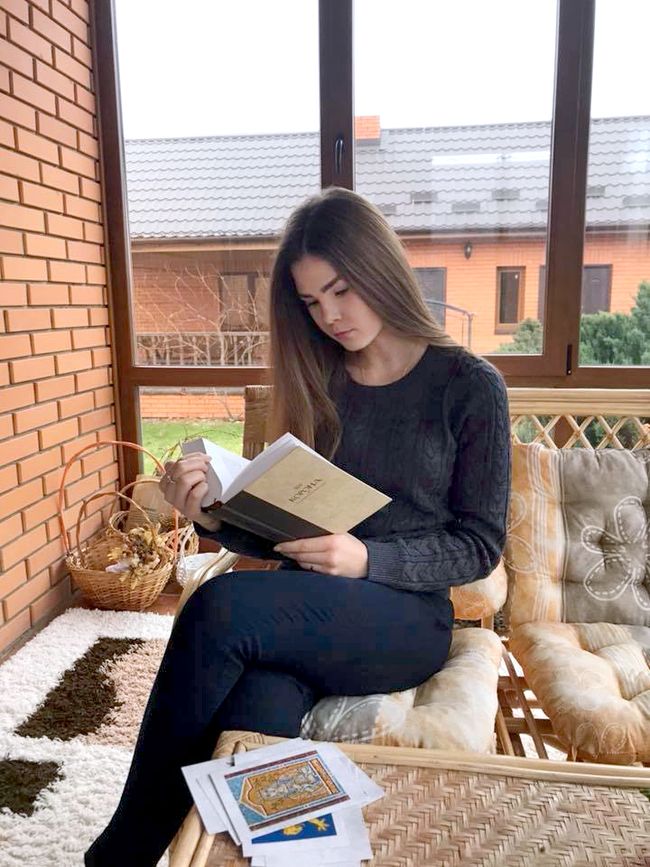 Photo from Viktoria BISKUB's Facebook page
"The art of historical thought reflected in the words of our contemporaries, the authors of The Crown, proves that today history is being written by young, innovative authors with a unique perspective on historical events which we were told about at schools or universities by gray-haired ladies and gentlemen who were taught by the past century's system to speak modestly and matter-of-factly of the huge historical and cultural heritage awaiting us all today, and of all the secrets of the past which we need to research and discover tomorrow…
"The Crown's progressive pool of authors has created a harmonious bunch of historical sketches, which will provide finest details to the most inquisitive reader of the ancient insular city Luchesk the Great, which for a long time was recognized as the capital of the eastern part of the Grand Duchy of Lithuania-Rus'. They will reveal the secrets of Vytautas' crown, the mysteries of the Entrance Tower, Svydryhailo's Tower, and the Bishop Tower; describe the intricate power struggle for the title of prince which unfolded in the streets where we walk every day. We hurry past buildings and crypts without even giving a thought to the fact that right there, on a square outside the castle, our city's history was being made.
"I am proud that, as I page through The Crown, I can discover for myself a part of the huge heritage of the city '…with a heart. Call it the Lubart Castle, or Vytautas' hearth, but it is really home, with its own spirit, atmosphere, passions, memories, and hopes' (Anna Danylchuk, author of the sketch 'A Trip Through Time to the Volhynian Capital')."