The outstanding master of the poetic word, Lina Kostenko, celebrated her birthday on March 19
20 March, 2014 - 10:39
Being yourself seems to be so simple. Every day, every year, all your lifetime… Without betraying and selling yourself, without succumbing to the temptations that slyly lurk all around you.
It is very simple. All you have to do is cherish your inner freedom and remember: if you fail in something small, you will lose in something big. All the more so if you are a poet, an artist.
Lina Kostenko has more than once broached this point in her poetry.
In the historical novel in verse, Marusia Churai, the heroine cannot afford to make any concessions, for she knows that a bargain with her conscience is fatal to her creative work. Esthetics without ethics? No, it is not her style to pretend and stretch the truth. "But what will I make a song from, Hryts?" Marusia Churai asks not so much Hryts as herself when he advises her to forget his betrayal and try to outwit fate.
And the poem Garden of Unthawed Sculptures is also about ethics and esthetics, about an instructive and sad story of an artist who lost his talent because he let the world catch him.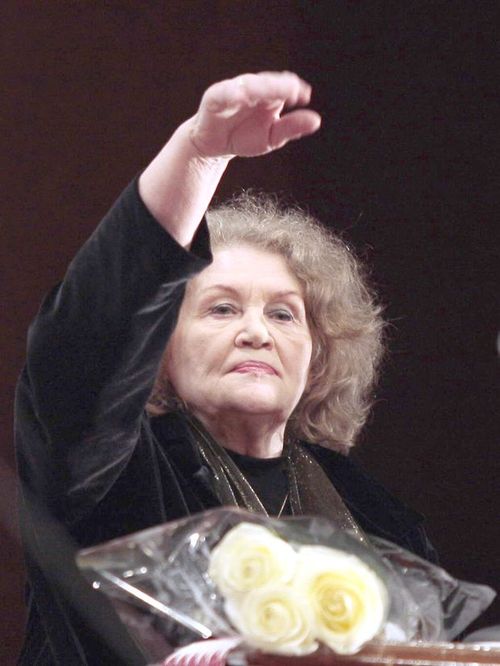 The devil sits
Somewhere in the Hindukush
And scrutinizes every creature of God from there.
He asks: "Hey, how much is a soul today?
Why are the goods of such a low quality?"
Grapes are ripening at the foot of a mountain.
The wind is rocking the sea's cradle.
"All's in good time," the devil said
And, for some reason, sighed
Lina Kostenko's poetry can "inoculate" the spirit of freedom. She reminds us of the true and the eternal in our strange life – of conscience, mercy, love, the never-ending eternal encounter between good and evil, and the need to build your own self – every day, every year, all the lifetime. If, of course, you want to be a personality and do not want, to quote Shevchenko, "to lie abandoned like a rotten log."
Aware of the ever-increasing everyday troubles, we always feel the presence of Lina Kostenko – when she speaks and when she is silent.
She is a Personality. It is perhaps for this reason that even her silence may be more eloquent than words.
It is Lina Kostenko's birthday. I think the best way to greet the poetess is to open a book of her poems and thus remain one-on-one with her…
---
***
When gramophones used to run the stylus
In a cozy room where I was doing
needlework,
I heard "The Bells of Corneville,"
Although I didn't know
Where that Corneville was.
And then, then… Then, like all of us,
I suddenly heard the bells of Hiroshima.
 
And then the bells of Chornobyl
and the zone,
And the bell's heart in the ashes of ruins,
And Fukushima, where they no longer
care about bells.
What will be our next bell like?
 
***
 
Forgive me, my tormented people,
For being silent. Let me remain silent,
For I sow and sow, but nothing sprouts.
And only snakes curl and hiss.
All are against all, all disagree each other.
Malice rules people and pushes
them towards the abyss.
 
***
 
Fate, gift me a birch tree in the windows.
Let my soul rest in the shade of birch trees.
I came into this world
To walk cautiously,
Without causing sadness or tears
to anybody.
 
But, instead, I must.
I must do something.
God sowed me in a tough soil.
You can't walk here without hurting your
soul,
For it is crosses, not freedom, that rise here.
 
***
 
I'd like to see a miracle and have some wine.
Days are flying by like gray railway platforms.
Then a flock of black crows comes to the
city from afar.
Well, I've lived my life as befits a human.
Days are falling like black petals.
I'd like to see a miracle and have
some wine.
It's high time to break free from these
fetters.
Where are you, my golden pastorals?
The summer is flying and the fall is
ringing.
Black despair is spiraling.
Where is at least the echo of my words?
Ukraine has gone in circles again.
Again and again into nowhere?
I'd like to see a miracle and have
some wine.
These verses are from The River of Heraclitus (2011), Madonna of the Crossroads (2011), and the poetess's jubilee speech in Ukrainian House on March 22, 2010