Den's International Photo Exhibition has ended in the ancient city
14 March, 2017 - 11:39
From February 23 to March 12, 2017, a selection of photos pleased the eyes of Pryluky residents and enabled them to rediscover Ukraine. Den's Photo Exhibition is an unprecedented volunteer project that tours Ukrainian cities, and we are grateful to those who support us. In this way, we open Ukraine for Ukrainians. People of Pryluky were enthusiastic about hosting Den's Days in their beautiful city. The event took place at the local house of culture, which had hundreds of visitors in more than two weeks it lasted. All of them stressed how important this event was for the region.
The city's leadership and business community sprung to action. Thanks to British American Tobacco Ukraine, free Den subscriptions were provided to all educational institutions, libraries, and media outlets of the city, neighborhood committees, the city council, house of culture, territorial center for social services, creative arts center for children and youth, raion library, Pryluky Raion State Administration, and the Ichnia National Park. Also highly importantly, book collections of the city's libraries, educational institutions, and local history museum were augmented with books from Den's Library series.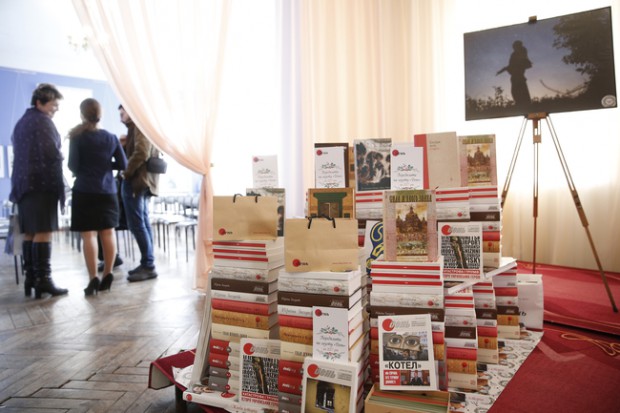 What photos got support of Pryluky residents, then? What impressed them most? The first place went to Beside a Friend's Grave, taken by Anastasia Ivanova from the town of Liubashivka, Odesa oblast. The second position was won by Nom de Guerre "Pianist" by Yurii Velychko from the village of Molodizhne, Dnipropetrovsk oblast. Finally, Hearth Mother by Anna Chapala from the city of Poltava placed third in the audience vote. Below, citizens of Pryluky comment on their choice and impressions. Thus, the story of our cultural dialog and fruitful cooperation with people of that city is marching on. We thank you!
Nadia MARYNOKHA-STETSENKO, a journalist and poet:
"A writer can write a novel, while a photographer can tell the story of an individual or a society through photos. It probably seems sometimes that these photos are not embellished and convey some brutality, but at the same time, they show today's reality. I think that such photos are very important and necessary for recording our history. I work for Pryluky Franko Humanities Pedagogical College, and always tell my students to emulate Den's example. Yours is quality press. Perhaps media of this type find it harder to thrive in the current realities of well-developed fast journalism, but at the same time, you are really needed. I say it because what you are doing, not only through the newspaper, but also through other projects, is really needed by this country, which is only getting on its feet. You set the benchmark of real journalism, offer historical knowledge, outline future. Fast journalism has the right to exist, especially in a time like this, but your newspaper makes people not just consume information, but think too."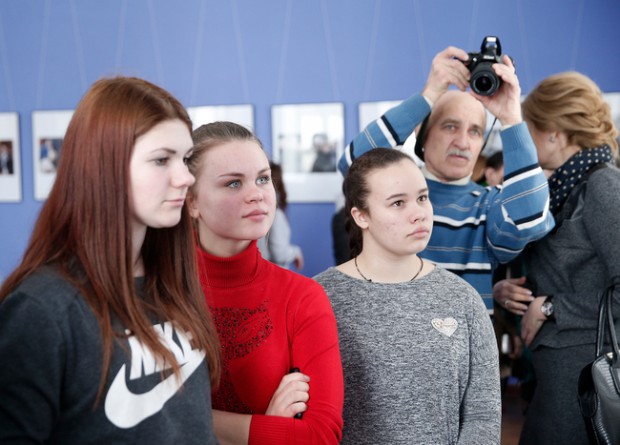 Dmytro PAVLENKO, a community activist from the town of Varva:
"Speaking of what immediately caught my eye, I would like to mention the photo Supply and Demand, which depicts an unofficial street market. For myself, I draw the comparison stating that our society is often in the position pictured in this photo.
"The exhibition's photos are selected so that they both reflect the status quo and emphasize the most striking moments, suggesting the society what we should pay attention to.
"Out of photos dealing with the war, I liked most Beside a Friend's Grave. It is dramatic and very catchy. One of the most positive features which can be seen in war is shown in the photo Regime of Silence, which depicts a gunner reading a book during a lull in fighting brought about by the regime of silence.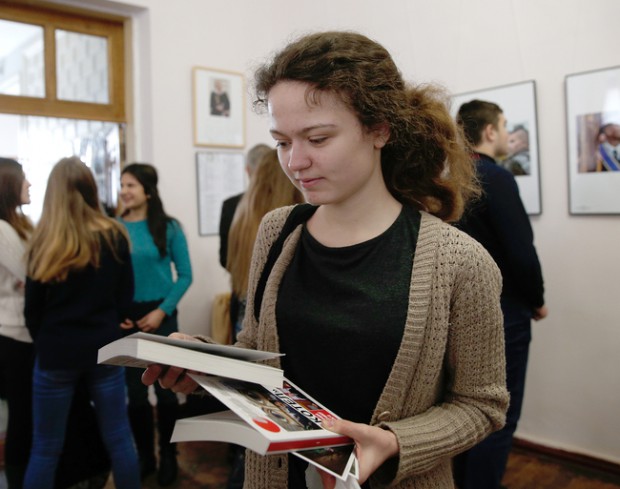 "Photos from the politics section show how caricature-like our politicians look. For example, a photo depicts Volodymyr Hroisman, Petro Poroshenko, and Arsenii Yatseniuk grimacing as they look at Joseph Biden. Meanwhile, the most terrible photo is A Vicious Circle that shows the state of our politics.
"I believe that with this photo exhibition, Den implements cultural policy. With volunteers doing what the government should do, Den does the latter's job in this field. It is not just an artistic event. Den's Photo Exhibition makes a major contribution to social development."