Artist Oleksandr Komiakhov painted a series of typical protesters' portraits
11 February, 2014 - 11:14
Illustrator Oleksandr Komiakhov has offered the Ukrainian public his reflections on Zalizniak, Dovbushykha, Kameniar, Nalyvaiko, Aunt Valia who shouts "Beat me instead of them!" and dozens of other typical Euromaidan protesters and barricade fighters from Hrushevsky Street. His drawings, which are currently actively spreading throughout social networks and the blogosphere, show typical participants of the Euromaidan: activists in makeshift armor, nurses, priests, peaceful protesters... The artist has provided each portrait with a name and a brief comment put into the character's mouth. In fact, these are not isolated drawings, but an original sketch of the Euromaidan's history as expressed in comics. For example, a girl who hands out sandwiches exclaims: "Dive in, boys!" while the protesters shout "Down with the gang!" A nurse asks the injured "Wait a little, please" just as a girl who saw firsthand a clash between activists and riot police says quietly "It was just terrible…"
According to the artist, he tried to show Maidan the way he saw it because he has participated in the protest since its earliest days.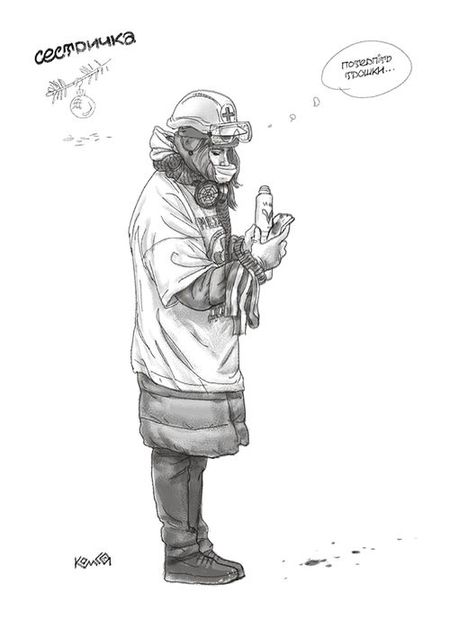 "It all started when I drew a few illustrations in this style for Andrii Pryimachenko's articles, but then I wanted to develop this theme in my own way, so I began to draw those participants whom I remembered well and those whom I had photographed at the barricades," the artist commented for The Day. "All characters have real prototypes, some people are already beginning to recognize themselves and their friends. I used conjecture only in some details. For example, inscriptions and pictures on the side come from my imagination and ideas about who these people could be in life."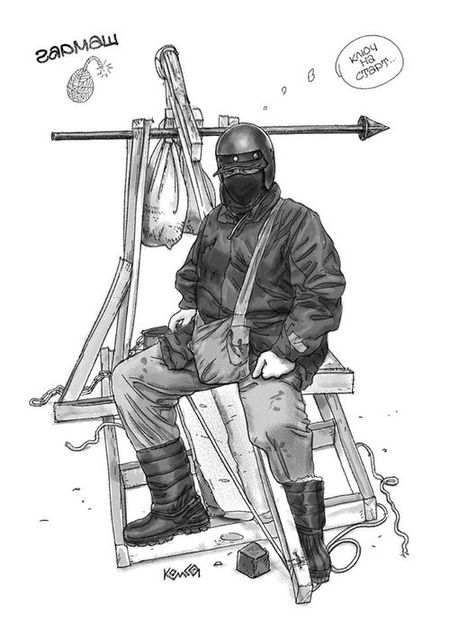 According to the artist, he currently has no plans to release a separate album of barricade fighters drawings. The revolution continues, and therefore the number of Komiakhov's portraits of typical protesters can only increase. Still, he reserves the right to organize his barricade pieces into a full-fledged art project, hold a special exhibition or publish a special album someday.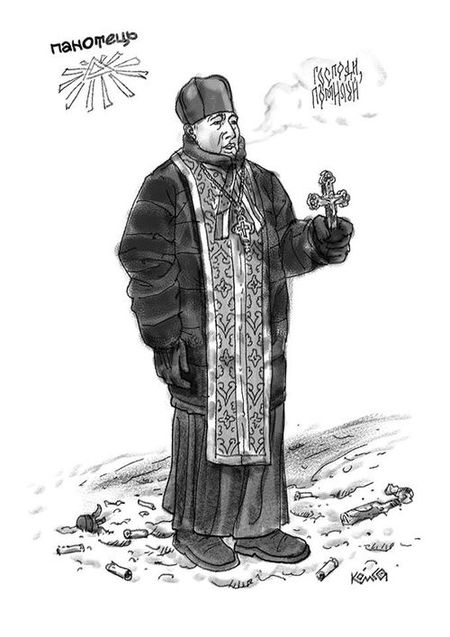 "Personally, I have been on the square since the protest's earliest days. I would not like to predict how it all will play out. I think a critical mass of people capable of civilized life is growing, and it is active," the artist remarked, and added: "I hope to see yet non-Soviet and non-gang-controlled Ukraine to emerge within my lifetime. This protest in Maidan has shown our people as they are. They are like that legendary Cossack Mamai – sitting quietly for a long time and singing sad songs accompanied by kobza, but a mighty force when they finally rise up..."