It is a really bright day for Ukrainians whenever the counter-terrorism operation press center tersely says "No casualties" in its regular updates on the front-line situation. Much to our regret, 363 Ukrainian servicemen had died by July 30. They are heroes who have given their lives for peace and for us, and we have no right to forget them. The Day continues to publish articles about our fallen defenders, each of whom was a unique personality. Among them are the very young Vitalii Tsybora, who was proud that his unit was one of the first to go to the battlefield, and Viktor Savanchuk, who decided to join up immediately after school,  and commanding officer Yurii Baran, who paternally cared about his soldiers.
---
He covered his comrades-in-arms…
Viktor Savanchuk, 20, went east in spite of his mother's entreaties. He was killed on July 10, fighting back the terrorists
After the prom, most of Viktor Savanchuk's peers decided to apply to higher educational institutions. But he only dreamed of enlisting in the army. Last year he was transferred to the Khmelnytsky Special Purpose Regiment. In spite of a young age (20), he was one of the best and was always ready to serve his fatherland. When it came to going east, Viktor was one of the first to volunteer and, despite his mother's entreaties that he was too young to do so, he never changed his decision. Only a true patriot could deliberately risk his life.
Viktor Savanchuk was born on November 12, 1993, in the village of Yalanets, Tomashpil raion, Vinnytsia oblast. His first schoolteacher Nina Bizhan remembers him as a very polite, decent, and conscientious boy. She says that when his high school years were coming to an end, he asked his schoolmaster to write him a positive reference, for wanted to join up. When the teacher asked him if he had pondered everything over, Viktor was even saddened – was he not worthy of military honor?
When he was demobilized from the army, he would clean the uniform almost daily. He used to tell mother that the military should look neat, for they are the pride of the country. The parents did not dissuade their son from continuing the service – they believed this would bring him happiness and luck.
On that ill-fated night, the last one for Viktor, a group of paratroopers was heading for a predetermined area on a combat mission and ran into an enemy ambush. Andrii Ahieiev, chief of the Defense Ministry's regional media center, says that as the group engaged into a battle to repel the terrorists, three soldiers received various-degree wounds and Viktor was killed by a bullet that hit the torso's part that was not protected by the bullet-proof vest.
Viktor's friend Serhii, who was with him on that night, recalls that when the enemy opened fire, they dismounted from the vehicle and tried to hide in the woods to be able to fight back more effectively. Viktor was covering his comrades-in-arms from aside, and this may have been the reason why the bullet hit him. Serhii says Viktor had a big and courageous heart, was an honest and decent man, a true patriot of his state, who saved the lives of others at the cost of his own life.
The whole village was paying the last tribute to the hero. About 2,000 Vinnytsia residents came to bid farewell to the young patriot. Not a single bad word was said about the killed soldier at the funeral. Viktor is survived by his mother, father, and brother. We shall always remember the heroes!
By Olesia SHUTKEVYCH, Vinnytsia
---
He promised mum to come back soon…
Vitalii Tsybora, 20, will always remain a hero in his native Movchanivka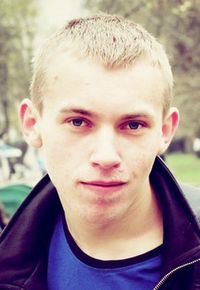 A 20-year-old hero soldier was buried in the last days of June in Ruzhyn raion, Zhytomyr oblast. Vitalii Tsybora promised his mum, whom he had not seen since March, to come home soon. At least for a few days… But his relatives never saw him alive again. Taking part in the counter-terrorism operation in eastern Ukraine, he was killed on June 24 as militants were shelling the roadblock. He had entered his social networking site page earlier that day, and his last message was: "They don't seem to want a ceasefire."
In his native Movchanivka, all the villagers paid their last respects to Vitalii. He is survived by his mother and elder sister. Neighbors say that, after leaving the Movchanivka secondary school, Vitalii entered the Zhytomyr Technological College to study computer and computerized system programming, from which he graduated in 2012. Failing to find a professional job, the youth decided to enlist in the army. He signed a contract valid until 2016. In early March Vitalii was sent to eastern Ukraine. By that time, he had served for more than a year at the 72nd Bila Tserkva Detached Mechanized Brigade.
"Vitalii was an honest and nice guy. His heart bled for his fatherland, for he was a patriot and a true son of Ukraine. He had been like this since his childhood. He was very proud that he was military and that his unit was one of the first to defend the eastern border from the enemy in March," said local school Principal Svitlana Yanchenko at the funeral ceremony.
The coffin with the fallen soldier's body was carried across the village to the cries "Glory to Heroes!" and "Heroes don't die!" His fellow countrymen are saying they will never forget their hero. A commemorative plaque will be put up on the school Vitalii Tsybora went to, and a street will be named after him. "Vitalii's heart has stopped beating, but the memory of him will never die in our hearts," villagers were saying with tears in their eyes. Heroes never die, and we will always remember them.
By Oksana KLYMCHUK, Zhytomyr oblast
---
He always encouraged soldiers
Yurii Baran, 46, chief of staff of the Prykarpattia Regiment, was killed by a terrorist sniper on July 8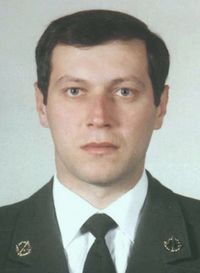 Major Yurii Baran, chief of staff, first deputy commander of the 5th Territorial Battalion, was killed on July 8 near Amvrosiivka, Donetsk oblast, a few days after the battalion was stationed in the east. A sniper's bullet hit the officer's head, claiming the life of one of the best commanders, a good son, a loving husband and father.
Yurii Baran was born on July 29, 1968, in the village of Dobryn, Iziaslav raion, Khmelnytsky oblast. He graduated from the Khmelnytsky Higher Artillery Command College in 1989. Major Baran served in the Armed Forces of Ukraine for 19 years, being stationed in Ivano-Frankivsk, Deliatyn, Tiachiv, Chernivtsi, and Velyko-Berezny. He retired as reservist in 2004.
The officer was drafted again in May this year due to a conflict with Russia. He was appointed chief of staff and first deputy commander of the 5th Territorial Battalion in Deliatyn, which moved to Donetsk oblast on July 1. The officer died a few days short of his 46th birthday after being shot in the head. On July 9 the Ivano-Frankivsk Oblast Defense Council resolved to request the Prosecutor General's Office to institute criminal proceedings into the murder of Yurii Baran.
The serviceman is survived by his wife and two children, who reside in Deliatyn, Nadvirna raion, Ivano-Frankivsk oblast. The regional authorities promised to pay the family a 100,000-hryvnia allowance.
"There are no more people like the one we've lost," his relatives are saying. Similar words are also coming from soldiers of the 5th Territorial Battalion. They will remember the major as one of the best commanding officers, who was like a father who considered it his duty to care for and encourage his soldiers.
During the funeral, a priest who had visited the battalion when it was stationed in Deliatyn and met Baran there, said he was awfully sorry for what had happened. The clergyman had personally blessed the battalion before it went east, and now he pronounces the parting words at the killed officer's grave: "There are gallant people in this country, who went to fight the enemies who are encroaching on our Ukrainian land. There are a lot of enemies, but people like Yurii are defending our peace and strengthening our state," the priest points out.
"I knew Yurii from 1975, when we went to the first grade together and then finished school also together," says the officer's school- and classmate Andrii Korzhyk. "He was a very diligent schoolboy, he was doing well. He maintained friendly relation with everybody. Pupils respected and liked him. He had no disputes or conflicts with anybody. After leaving school, he entered a military educational institution. We had not seen each other for many years, for I studied in another city. We reunited much later, after retiring from army service."
The classmate notes that Baran gave his bulletproof vest to some other soldier on the battlefield – an action that fully characterizes him. He does not know exactly about how his comrade died. He has heard several versions. One of them says the officer's head was hit by a sniper's bullet, while another says an assault rifle burst killed him.
"I had known since I was a little girl that I had a person to rely on," says the dead officer's kid sister Natalia Droniuk. "I could always rely on him. He cared about his associates and subordinates who were younger than he and for whom their parents were waiting. He considered this his duty – this was a No.1 thing for him. Yurii had a lot of friends who could turn to him any minute, knowing that he would never reject them and would do his best to help them. This is an irreparable loss for me. He was the other part of me. Parents, naturally, come first, but there was so much in common between my brother and me. I will never put up with this loss. Time may be healing wounds, but when the wound heals over, a scar will still remain forever."
Droniuk says she is praying for peace and harmony in this country, so that the grief that befell their family and the families of other killed servicemen will never touch the rest of Ukrainian families. Meanwhile, the soldiers now serving in the unit, for whom Yurii Baran cared so much, have come back safe and sound.
The fellow countrymen buried their hero on July 12 at the Memorial Park in Ivano-Frankivsk.
By Iryna FEDOLIAK, Ivano-Frankivsk