The Day continues to publish articles about our fallen defenders, each of whom was a unique personality. Today we offer you the stories of the paratrooper Viktor Boiko, who was a good father of two little daughters, commanding officer Ihor Momot, who paternally cared about his soldiers, and medical officer Dmytro Herasymchuk whose efforts helped evacuate almost 40 soldiers from the battlefield.
---
He saved the lives of many wounded on the battlefield
Dmytro Herasymchuk was a medical officer. His efforts helped evacuate almost 40 soldiers from the battlefield. He was killed by a militants' shell that hit a tent with a red cross…
A tragic piece of news also came from the Luhansk region to Novohrad-Volynsky: Dmytro Herasymchuk, a 29-year-old serviceman, was killed on July 8 near the village of Metalist much to the sorrow of his wife, a 2-year-old son, parents, and a sister. They believed and expected Dmytro to come back home alive and healthy and take his little son Ivanko in his arms… But cruel fate decreed that the explosion of a gun shell should kill the medical officer.
Dmytro's comrades-in-arms say that the Herasymchuks considered defending the Fatherland not just an honorary but a family-line profession. Dmytro's father Mykola is a retired military serviceman. Dmytro had chosen the specialty of a medical officer and did a military physician's training course at the Vinnytsia Medical College. He saw service in Ukraine's Armed Forces from 2006 on. He went to eastern Ukraine two months ago to be a resident doctor at the medical company of the 8th Corps' 30th Detached Guards Mechanized Brigade.
Thousands of Novohrad-Volynsky's residents came to the local Officers Club to pay their last respects to their fellow countryman Dmytro Herasymchuk, who had served in the 30th Mechanized Brigade, including his family, comrades-in-arms, schoolmates, friends, as well as representatives of the authorities. Speaking at the funeral ceremony, Roman Mykhalchuk, Chief Medical Officer of the 30th Detached Mechanized Brigade, said that Dmytro had been a high-skilled and experienced specialist, a reliable and decent person. In his words, Dmytro's efforts helped evacuate 32     wounded servicemen of this brigade, three of the Aidar Battalion, and three policemen from the battlefield and the roadblocks. The medical officer was doing his best to save the soldiers' lives. Sadly, nothing could save his own self – the captain died as a result of a fragment wound in the head when the Ukrainian servicemen's base camp was being shelled. A mortar shell hit a tent with a red cross.
"We are bowing our heads before our fellow countryman, comrade-in-arms, and a true hero, who has laid down his young life for the sake of peace in our state. We express condolences to Dmytro's family, friends, and relatives. Novohrad-Volynsky will always remember the heroes who were saving this country from terrorism at the cost of their lives," Novohrad-Volynsky Mayor Volodymyr Zahryvy said, paying tribute to the serviceman.
The officer, who saved the lives of many wounded on the battlefield, was buried with all military honors at a military memorial cemetery, where the words "Heroes never die" rang out for a long time thereafter.
By Oksana KLYMCHUK, Zhytomyr oblast
---
The third "lightning" was fatal
Viktor Boiko, 36, died on July 11 near Zelenopillia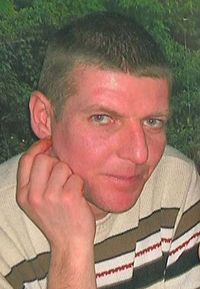 A lightning rod is installed on Viktor Boiko's house in the village of Lozuvatka, Mala Vyska raion, Kirovohrad oblast. The house has been hit with lightning twice before, as if it was hunting for someone. The third "lightning" from enemy's BM-21 Grad launcher took Viktor's life.
On Tuesday, July 22, residents of the village of Lozuvatka were saying their last farewells to Viktor Boiko, 36, who was shot by militants in a clash. He had served in the first battalion of the 79th Mykolaiv Detached Airborne Brigade. On July 11, he and his comrades came under Grad shelling near Zelenopillia, Luhansk oblast. And nine days later, Viktor's wife Olena found her husband's body in the morgue of Dnipropetrovsk Mechnykov Hospital.
Nearly a thousand people attended Viktor's funeral to walk from his earthly abode on Tchaikovsky Street to the eternal one, at the village cemetery. Viktor was buried according to Christian rituals, with funeral chime ringing in a local church, which the funeral convoy passed on the way to cemetery, a military brass band from Kirovohrad garrison, a blue and yellow flag with a black mourning ribbon and a three-volley salute over the hero's grave, for he became a hero to those he defended: his two little daughters, his wife, his fellow countrymen, all those who understand the price of peace in the country without words.
"He is not here anymore. What can we say?" Lozuvatka village head Oleksandr Holovach is lost for words. Today 30 of "his boys" (that is how he calls residents of the village he heads) received call-up papers from the recruitment center. And three Lozuvatka dwellers are in the anti-terrorist operation zone today. They are wanted back alive.
By Inna TILNOVA, Kirovohrad oblast
---
"He was an outstanding person"
Ihor Momot, who created the most efficient group of border guards, will be remembered for his humaneness. He died on July 11 near Zelenopillia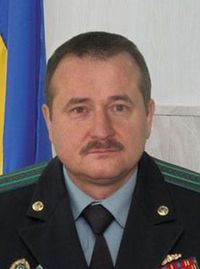 Ihor Momot died on July 11 while defending the eastern border of the country, while border guards were shelled from a BM-21 Grad launcher near Zelenopillia, Luhansk oblast. Colonel, deputy head of the Eastern Department of the State Border Service died at the age of 48, leaving a wife and a daughter behind.
The president of Ukraine awarded the deceased with the rank of Major General and the Order of Bohdan Khmelnytsky of the second degree. Cherkasy Oblast Council honored the killed with a title "For Service to Cherkasy Oblast," which included providing his family with financial aid.
Cherkasy Oblast State Administration took care of delivering Momot's body to State Border Service Training Center in Orshanka, near Cherkasy, which the colonel headed since 2007. The administration also organized the funeral. A fundraiser in favor of the family of the deceased has also been initiated by the oblast council in raions of Cherkasy oblast (for example, over 20,000 hryvnias has been collected in Cherkasy raion). Besides, head of the Oblast State Administration Yurii Tkachenko addressed the president with an initiative to award the deceased with the title Hero of Ukraine. It is planned to name one of the streets in Cherkasy and the Orshanets Border Guard Training Center after Momot.
Momot had served as a border guard since 1992. In March 2014, the colonel decided to personally lead a mobile group based at the Orshanets Training Center, which was in charge of the state border of Ukraine in the east. From March to June the subdivision was engaged in extensive warfare, defended the eastern border of the country, and destroyed convoys of terrorists, who attempted to get into Donbas from Russia.
Thanks to Momot's command (and he was an Afghanistan war veteran), the second mobile group destroyed over 50            units of equipment, and also about 500 terrorists. Besides, the border guard subdivision captured a large arsenal of weapons, arms, and ammunition.
Momot's heroic actions at the Dovzhansky checkpoint are also worth mentioning. The prevailing forces of terrorists tried to free the captured leader of the so-called LNR, Bolotov. In order to win some time before the reserves of Ukrainian army could get there, Momot risked his life and came out to terrorists holding a grenade without a safety pin and negotiated with them for three hours. This deed of the Ukrainian commander forced over 200 well-armed (with grenade launchers, machine guns, and mortars) terrorists to retreat. Thus, Momot saved lives of 30 border guards.
Virtually, Momot's mobile group was unique among similar groups on the eastern border, involved in active fights with terrorists. It was recognized by the leadership of the State Border Service as the most efficient.
During an operation in the village of Diakove, a large convoy of terrorists' equipment was destroyed, and one of the leaders of the terrorist group and his deputy were liquidated thanks to Momot's correct decisions. Momot's fighters captured the terrorists' checkpoint near Dmytrivka, and later, a convoy from the territory of the Russian Federation with an aide of the so-called Strelok [a.k.a. Girkin. – Ed.] and an FSB signal officer. During another operation, Momot's group discovered and destroyed a militants' ambush, where several Russia-made MANPADS Igla were revealed.
As for Momot's activity as leader of the Orshanets Training Center for Preparation of Junior Specialists of the State Border Service, as his colleagues told The Day, he completely overhauled the center's practices. Thanks to him, work on creation of an international diversified multifunctional law-enforcement training center has started. Besides, courses were held for Ukrainian border guards and law-enforcement employees as well as for representatives of various services and institutions from the US, Poland, Belarus, Moldova, Germany, Sweden, etc. The Center organized joint training courses with the OSCE, IAEA, UN, and the European Commission's mission.
Thanks to Momot, memorial boards dedicated to border defenders appeared in Cherkasy and some raion centers. Besides, dormitories and academic buildings of the Training Center were reconstructed, a chapel of the St. Reverend Ilya Muromets was built for residents of the military town. Also, apple orchards were planted and grown, and the Central Museum of the State Border Service was quartered on the territory of the Center.
Deputy head of the center Serhii Perepelytsia tells The Day that he served with Momot since the very start, when the latter came to lead the center.
"It became clear that he was a professional from the very first days he became commander. It could be seen in his actions, in his manner to get things going. He was an outstanding person. Virtually it is thanks to him that our center acquired a new image. Everything changed rapidly just before our very eyes. Only a person of extremely strong will and bravery could achieve that. He was not afraid of drastic changes and hard work. Everything took place simultaneously: training, building, and reconstruction," Perepelytsia says.
"They say a person must do three things during their life: build a house, raise a son, and plant a tree. Even in these things, during the time Ihor Momot was head of our Center, an entire apple orchard has been planted (about 600 trees which already bear fruit), the house has been built (during these six years, two academic buildings and two dormitories were renovated). The commander basically built new training center," Perepelytsia continues.
He says that the deceased hero was very kind-hearted and helped a lot of people, his comrades-in-arms in particular. He always supported ideas of organizing something new. He never refused under a pretext of being too busy. He used to say: "That's it, we are going to decide something now."
Also Momot was quick at making friends. "He could find common language with anyone, just as soon as he saw a person," says Momot's colleague. "The commander thought not about merrymaking or drinking with his friends, but about doing something useful together. He tried to help servicemen, the city, the training center," Perepelytsia sums up.
By Oleksandr SOLONETS, Cherkasy