We continue to publish stories of the fallen heroes: this time it is a very young ardent patriot Orest Kvach and an experienced serviceman Pavlo Yashchuk, who have been involved in the events since the Maidan times and served in the volunteer Aidar battalion.
He returned to Ukraine and became an example of a patriot
---
Pavlo Yashchuk knew that his experience would be useful where it was the hardest.
He died on July 21 in a clash with terrorists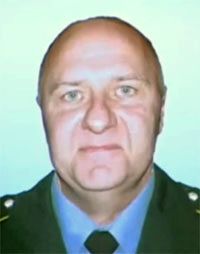 Berdychiv lost a glorious fellow countryman: Pavlo Yashchuk, 48-year-old fighter of the 24th battalion of territorial defense Aidar, died in a battle with terrorists in eastern Ukraine. Many Berdychiv dwellers knew him, he is referred to as a principled person with a special biography and fate. Yashchuk was born in the family of a regular serviceman. His parents come from Andriiashivka, Berdychiv raion. He spent his childhood and youth in Andriiashivka and Berdychiv. Later he graduated from the Krasnoyarsk Higher School of MFA of the USSR. After that he served in the elite special forces unit of Russian MFA Vityaz. He served in hotspots during the Soviet times. Yashchuk received a lot of various awards.
Even though he was a citizen of Russia, he could not but answer the call of Ukraine, his native land, which always remained in his heart. And he came back. He could have lived a calm "civilian" life at his mature age, he had a wife and long-expected seven-year-old son. But he had such a restless and caring personality that he could not tolerate injustice. When he saw on TV how students were beaten on Maidan, he told his wife one December evening: "I can't look at this." He got up and walked to a highway, and hitchhiked to Kyiv to join Maidan. With a Russian passport in his pocket, Pavlo Yashchuk went to fight for free and dignified life of his Ukraine.
Viacheslav Zlatohorsky, head of the Anti-Corruption Committee of Berdychiv Self-Defense, comrade of the fallen hero said in an interview to Berdychiv TV channel Vik: "Pavlo created Bears special unit at Maidan and was our commander. I remember when thanks to Pavlo we were able to escape encirclement with dignity and carried out all the wounded without losses. He was one of the organizers of the Berdychiv self-defense. His death is a great loss for us all. There are very few people in this world like him."
Yashchuk did receive Ukrainian citizenship on April 14, 2014 and was very fond and proud of it. Not too long before that, he and his comrades joined Aidar battalion to fight for his Ukraine in the east. He grieved and worried when he saw that young boys were fighting, he knew his expertise would be the most useful where it was the hardest.
Pavlo Yashchuk died for Ukraine, remained a legendary personality for his comrades, an example of principle stand and patriotism. He was buried on July 25 in the village of Andriiashivka, Berdychiv raion, in his native land, where his family came from.
By Oksana KLYMCHUK, Zhytomyr oblast
---
He used to say: "I am a warrior and a patriot"
Orest Kvach, 23, died in a fight for Lutuhyne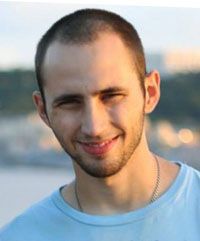 Ternopil oblast said last farewells to Orest Kvach, soldier of the 24th battalion of territorial defense Aidar. The hero only turned 23 on July 23, and he died on July 27 in a fight for the town of Lutuhyne, Luhansk oblast. He joined the anti-terrorist operation as a volunteer. The young man was buried in his native town of Zalishchyky. Almost all town dwellers came to pay the last tribute to him. Kvach grew up in a large family, he was honest, smart, a true patriot, says everyone who knew him.
Vasyl Diakiv, deputy principal, history and law teacher at Hnatiuk Brothers Zalishchyky Gymnasium where Orest studied, says: "He was a sincere and open child, always active and full of initiative, he loved life. He had his own opinion ever since childhood. Orest always remembered he was Ukrainian. He read a lot, was fond of history. His grandfather Dmytro is to receive credit for that."
The boy was the soul of the company for his friends and peers. His classmates and friends point out that he was into military science since childhood. He always used to say: "I am a warrior and a patriot." That is why he decided to study at Ivan Bohun Kyiv Military Lyceum, and later  – at law department of Vadym Hetman Kyiv National Economic University. Orest was fluent in English, was fond of martial arts. He was the best at the Ternopil sports club "Kharakternyk," a candidate master in free-fight. He lived his life with a motto "Ukraine or death."
"He was purposeful, original, unlike everyone else," Kvach's friend Yaryna Myroniuk remembered. "He smiled every time we saw each other, he just was that cheerful. He possessed only positive features." "I remember that Orest and I used to sit near the Dnister River and think about life," his classmate Ivanna Kushniruk says. "Back then he advised me to read Paulo Coelho's book Manual of the Warrior of Light. In it, the main character has features of a true knight, who fights for justice, peace, and love. That is who Orest was, a Warrior of Light." The girl wrote the same words on her VKontakte page.
During the funeral speech, vicar general of the Buchach Eparchy of the Ukrainian Greek Catholic Church, Father Volodymyr Zabolotny emphasized: "We cannot remain what we have been yesterday after these deaths. We have to change our attitude towards life. There are so many young people who do not know what to do with themselves, they waste time, and patriots of our country, such as Orest, are sitting in trenches and praying to God: 'Let this bullet fly past me!' We must remember that in these minutes someone dies for our freedom. Orest Kvach asked himself: 'Who, if not me? When, if not today? He knew that the time had come when he could help his country. Not some abstract Ukraine, but the people who know him, who want happiness and peace."
By Larysa OSADCHUK, Ternopil