Despite the fact that the Photo Exhibit opening took place at the Lviv Polytechnic University a week ago, the interest towards the 150 photos, winners of Den's 13th International Contest, is only increasing, according to the university staff, who even "complained" to Den's journalist that they could not close the building at 6 p.m., because "more and more people are coming! The place is packed!"
Ballot boxes for voting for the best photo and the guest book were full too, with "thank you" dominating: "for the impressions, sensuality, humor, lyricism, sincerity, truth, perfectly captured moment, optimism... And thank you for just being there!"
According to the approximate calculations, the exhibit is visited by almost 500 people every day.
Let us remind that as a part of Den's stay in Lviv, a roundtable "Modernization of the National Character" took place at the Lviv Polytechnic National University with the participation of Den/The Day's editor-in-chief Larysa Ivshyna, an action "Smart Easter Basket" was launched, and an original project "Den with coffee" was initiated.
"I know from my own experience how important it is to meet people who influence the formation of your worldview," says Iryna KLIUCHKOVSKA, coordinator of Den's Days in Lviv, great friend and sympathizer of the newspaper, director of the International Institute of Education, Culture and Contacts with Diaspora at the Lviv Polytechnic National University. "I was extremely lucky to meet such people. That is why it is very important for me that our youth has an opportunity to meet Larysa Ivshyna, whom I consider to be an outstanding person. And not only her, but her brainchild, Den newspaper, which I think is a textbook on formation of a Ukrainian citizen. As Larysa Ivshyna joked at the meeting, coming to the Lviv Polytechnic University is like a seasonal phenomenon: 'The spring is coming, and so does Den newspaper.' And this is genuinely pleasing, because it is extremely important right now for the young people to find the point of support which will let them build an individual system of values not only as a person, but as a Ukrainian citizen. Another period of an unfinished revolution is going on in Ukraine now. Maidan has taken place, but the change of political elites did not, nor did the drastic change of our country's course. In addition, our neighbor, the Russian Federation, has occupied a part of our territory. It is hard for young people to orient themselves and feel solid ground under their feet. That is why this meeting is of crucial importance for them. Frankly speaking, I was surprised by the wide range of themes that were brought up during the roundtable. Questions from the sphere of practical journalism were asked not by journalists, but by future chemists, managers, architects. I believe this conversation will be a good motivation for reflections and progress, because they read Den. And the fact they are reading it was proved during the roundtable, because they operated the facts they could only find in Den/The Day. I truly think that the newspaper gives a fantastic, powerful weapon we all lack today: knowledge, the greatest and the most precious asset of a person."
We offer our readers the most interesting excerpts of the conversation between Ivshyna and Lviv dwellers. Let us remind that the full video version of the roundtable "Modernization of the National Character" can be seen at Den's website day.kiev.ua.
"I will never grow tired of repeating that the unbelievable Lviv atmosphere with its splendid architecture and artistic aura stimulates Ukraine to be successful," said Ivshyna in her opening speech. "And this atmosphere must spread on other cities, where architecture is simpler, where it 'evens out brains.' Uniformity does not promote development. But Lviv, with its symphony and richness of details, encourages people to be interesting and diverse, love this and at the same time, be able to group up around the main thing."
Den's editor-in-chief was asked questions about investigative journalism in particular, mass media's information policy in general, Internet journalism, but the audience was interested the most in what Ukrainians should do to build a strong Ukraine.
"We are facing a new challenge," believes Ivshyna. "Identity is crucial, but now we have to talk about the modernization of the national character. Perhaps, the question itself will cause many other questions to appear: what is archaic about our character? Many say that we are the best (and this is rightly so). But at the same time, we have something that has very little in common with practical skills. It seems we can do incredible things, but we often lack something to accomplish a simple task. Like building a 'turnkey' state according to the recipes created by other countries. But this is not fun for us. We have to do something extremely complicated, something heroic. Is there a paradox in this? Is this a problem?
"We can be fantastic in the dearest, the most important things for us, but can we learn to be simpler, more pragmatic and rational in what is related to institutional things? Can we use the know-how of other countries in a way that would not hamper our uniqueness and fabulousness, but would help us become practical, competitive, successful, and rich? Otherwise we can be fantastic – and stay poor forever. The successful Japan, basically without any resources, after the defeat in the World War II made a super-effort. Japanese are not ashamed of holding nationwide discussions and ask: is the national character developing correctly? Which features are not necessary? Which features are positive and should be strengthened? It seems that it is important for young Ukrainians to carry out such discussions even in small groups. What is wrong with our national character?"
L.I.: "I was recently on air at one of the radio stations, and I was asked (not without a hint): 'You are well-informed... What are your special sources of information that you know everything so well and can predict the future?' Perhaps, I disappointed them a little, because I indicated Ivan Lysiak-Rudnytsky, Yevhen Malaniuk, Yurii Shevelov as my sources. It is a pity this did not become a brand and a trend in our journalism. I think, this is a necessary condition, and journalism that does not quote these authors is not interesting for me.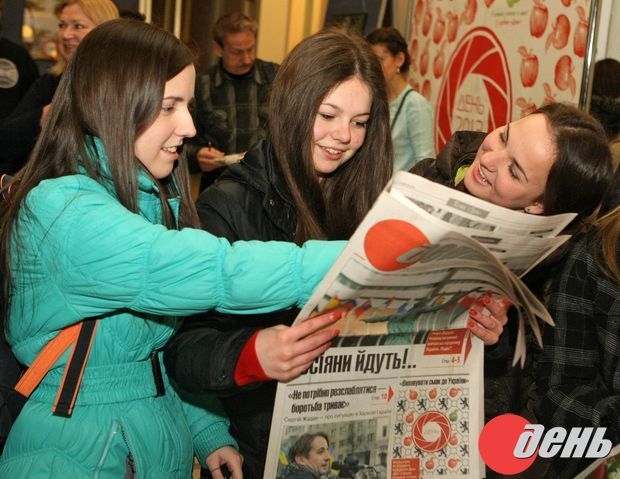 "We have a crooked coordinate reference system, because we did not study our own heritage. We often talk about Gandhi or Mandela only. But Yevhen Hrytsiak's experience is even more relevant for us. We do not study the history of GULAG or the Norilsk uprising, thanks to which the Soviet Union collapsed. It was the leaders of the Norilsk uprising, such as Hrytsiak and others, who shattered the USSR from the camps. Stalinism did not have its former power after the uprisings. Khrushchev even delivered a speech at the 20th party congress, which shocked his contemporaries, 'On the cult of Stalin's persona.' The majority of the Ukrainian society and journalists skimmed over this information and did not have time to receive an extremely powerful vaccination, which should have become the foundation for teaching all social sciences. And when I came to my alma-mater, the Institute of Journalism in Kyiv, I asked many years in a row: 'For which country are you training your journalists?' This question is acutely relevant in the applied sphere today. Because if our course was directed at becoming an EU country, or such that will be completely independent from Russia, believe me, our whole immune system should have been trained to never allow what happened in 2013 and 2014. So we would never have that many victims in peacetime, and would not have lost a part of our territory. Russia is breathing neo-Stalinism now, it never lost it. But we did not learn this, and we did not teach our children. So when the information war is being flared up now, in many cases our mass media are absolutely helpless. They know nothing about these necessary things. That is why there is a book by Hrytsiak History of the Norilsk Uprising – A Brief Record of Events is in the top books-to-read chart on our website."
L.I.: "I often quote Kipling: 'We must be ready.' I would like to quote the example of Israel, surrounded by hostile countries, which learned to live in such a way that each of its citizens is a walking fortress, armed with knowledge and skill to detect quality information. And what about us? A total mess! It is politicians' fault in particular. Journalism cannot overcome this, but it can bring up topics for discussion, make emphases, set standards, and think how to overcome this. Den has been doing all this. It prepared everyone it could. We acted basically as a guerrilla band. The other thing is when you do it, and the state instantly directs universities: 'please, provide a special course,' for example, on James Mace, who wrote brilliant texts for Den. Now we see that our territories in the east and south are truly injured, post-genocide. But they were not treated, they received no help. People did not want their children to grow up as Ukrainians, because being Ukrainian meant being punished with death. And that is why this theme in Donetsk and Luhansk is so painful. We may not reproach Easterners for this, because it is a painful wound. But how can Ukraine be restored, how can it be grown in the east? It is like with restorers who work with a lost ancient painting: very long, painstaking efforts are needed. One of my acquaintances spent 10 years working on the Icon of Our Lady of Khelm! Moreover, he did it single-handedly! It is delicate, spiritual work, which is needed to heal the wounds. Intellectual work which would inspire people is needed. It cannot appear boring and dull. Intellectual patriotism works miracles. The recipe is simple, but the labor is hard.
"On the eve of all the recent events, I said that we were standing at the doorstep of a great happiness of loving our country. And it seems to me that this moment has come, it is sharper when problems arise. But often, in order to love, one must know, and in order to know, one must read. In particular, Den newspaper."
Volodymyr Tsapuk, student of the Lviv Institute of Architecture, was the last one to ask Ivshyna a question. He reminded about the article featuring the village of Levky, whose dwellers planted a park [the first publication "Forty defiant pensioners from Levky" was published in The Day's issue No. 24 on April 19, 2011. – Ed.]. Let us remind that the article was about the villagers' initiative, which the future architect compared to the self-organization on Maidan. He asked what Ukrainians needed in order to love their country "to the depth of their wallets" without politicians' mottoes or "manna from the state" and jointly build their home, Ukraine?
"We lack millions of such readers as you," replied Ivshyna. "I have a 'treasure chest,' which also contains the story of the village of Levky in Chernihiv oblast. The villagers, and there are only 20 households there, said: 'We do not want to vegetate.' The retirees created a landscape park on their own, and as soon as they did that, their life changed, their children started coming back, the village started growing. We must establish these standards, show more of such people and their activity of this kind. And it will gradually gather pace and show what the criterion really is. At the moment, our space is cluttered. This distorts the conscience, does not let the people see the picture of their country, or the perception of values of the people who accomplish such deeds. The structure of our news and television space disorients even the most prepared ones. You can change something for a long time, but the 'picture' should be changed in the first place. We must fight for the clarity of the image in the foreground and make sure that this position is well-deserved. The light must suppress the darkness, not vice versa."