Dmytro Komarov on Japanese lessons to Ukraine and readiness to surprise and be surprised
12 September, 2017 - 11:02
The well-known TV presenter Dmytro Komarov launched a new season of the travel show "The World Inside Out" on September 7 at the 1+1 TV channel – this time about Japan. The traveler said what awaits viewers this fall and shared his impression and emotions about the Land of the Rising Sun. In the words of Komarov, the program's 9th season is particular in being focused not on some exotic and little-known countries but on one of the world's most developed states. For even such advanced countries as Japan have their own specifics.
Shortly before the new season started, The Day spoke to Komarov about what we should learn from the Japanese, how he handles difficulties and criticism for participating in the project "Dancing with Stars," and why he always carries the flag of Ukraine, his main talisman, with him on his journeys.
Dmytro, what astonished you in Japan most of all?
"What astonished me very much is the number of long-livers, their level, and lifestyle. I dream that our pensioners could also afford to live long. It's enough to make you weep when you see 90-year-old Japanese grandpas and grandmas play golf, travel on cutting-edge trains at a speed of 300 km/h, and eat quality food. And when you draw a parallel with our pensioners, you see that they cannot even afford to eat well for a monthly 1,600 hryvnias. It is, of course, very sad. We must strive for such living standards as in Japan. There is the island of Okinawa, unofficially called the island of long-livers. Can you imagine that more than 1,000 people aged over 100 live there? Scientists from all over the world come there to learn the secret of this longevity.
"One more aspect is technologies that are so far inaccessible to us. But, frankly speaking, this economic success did not simply fall from the sky – the Japanese achieved it with hard work. Lights are on until midnight in all offices. Losing a job is the most terrible thing that may happen in life. We noticed that most of the Japanese exert themselves at work as much as they can and have almost no opportunity to relax. But when they retire, they begin to cut loose. The minimal pension is 1,500 dollars. An active way of life, adequate nourishment, and positive emotions are the secrets of a long life. Yet excessive workaholism does not go by without leaving a trace. Work often leads people to a fatal outcome, and we are also going to speak in our program about this awful page in the life of Japan – the largest number of suicides in the world, total loneliness and reticence.
"We found some unsuccessful suicides who failed to die by their own hand. They told us why they dared take this step. We also found a person who leads a volunteer organization that rescues self-killers. He is a unique hero, a true superstar, who gives people a second chance.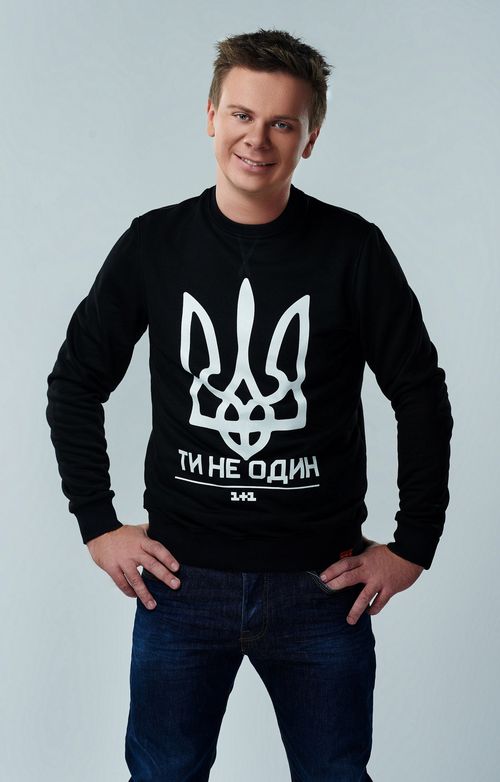 Photo courtesy of the press service of 1+1 TV channel
"Besides, we were pleasantly surprised with the level of safety in Japan. It is so high that they leave backpacks with gadgets worth 15,000 dollars in trains without fearing that this will be stolen. As we were going to film in Fukushima, where there had been an accident at the nuclear power plant after a tsunami, I carried two dosimeters with me. One was up-to-date, really 'cool.' The other was homemade – my father, an optical physicist, made it in 1986, when such things were not yet sold openly. It measured the radiation level very precisely. The meter was wrapped with a blue insulation tape and looked awful, but it worked very well. I wanted to measure the radiation level with this Ukrainian dosimeter. But I forgot it in the train. I was furious because you can't buy a thing like this for any money. Two days had passed since the loss, and it seemed to be futile to hope that it would be returned. But then I suddenly realized that I was in Japan and asked the guide to phone the railway company. We told them the number of my ticket and the train, and in just 15 minutes the dispatcher called us back and asked to what address they should send our bag with the dosimeter. Naturally, I would like our country to have the same standards, when you are not afraid to leave your car or apartment unlocked."
Den's new book, The Crown, or Heritage of the Rus' Kingdom, which broaches the subject of monarchy, came out just the other day. Have you ever focused on this page in the history of Japan? Why do monarchic countries – from Japan to Britain – usually prosper?
"Japan is a parliamentary constitutional monarchy, and political traditions are very strong there. The current leadership is undoubtedly aware of historical continuity and their responsibility. Incidentally, it gave me great pleasure to visit the Japanese parliament, where I met some of the elected representatives. Incidentally, the subway station exits right to the steps of parliament. Very many MPs use the subway. Those driving a car cannot even approach the parliament building. An interesting detail: the parliament premises have an exit right to the subway turnstiles. Can you imagine this in our country? And such thing as corruption does not seem to exist at all. It is practically impossible to bribe a top-level official in Japan. This is also a secret of the country's success."
Japan is a high-tech country. But, at the same time, national newspapers come out twice a day with million-copy circulations…
"Yes, the Japanese like reading very much. There seems to be a cult of the printed word there. And they read not only newspapers. For example, comics are very popular in Japan. There are big newsstands in any supermarket or other public place, and everybody reads comics. You are right: Japan applies a lot of cutting-edge technologies, but, at the same time, many people feel lonely there. This is why the gadget attachment 'virtual wife' is gaining popularity here. It is a program with which you form a longtime relationship, as if it were your wife. You can quarrel and make peace – and people sincerely believe in this kind of relationships. There have even been instances of marriage with a virtual wife."
I know that, wherever you travel, you carry with you the Ukrainian flag as a talisman. Besides, you take as many national symbols as possible. Does it help?
"Yes, I've been always carrying with me a flag of Ukraine since 2005, when President Viktor Yushchenko gave his first press conference. The flag is really very important to me, as are Ukrainian ethnic memorabilia. No matter where I am, I always make it clear that I've come from Ukraine and try to transfer at least a bit of our culture and good will to foreigners. For example, these ethnic attributes very often help establish contacts, including with the mafia. I'm not joking – our vodka and fatback helped me penetrate into the very heart of the Japanese mafia.
"Like in any country 'The World Inside Out' filming crew has ever visited, we tried hard in Japan to find Ukrainians and show how they live and adapt, where they spend their vacations, and what they do. We often come across successful Ukrainians who have managed to realize themselves thousands of miles away from their fatherland. They have nobody to rely upon, they expect nothing from the state – on the contrary, they remit money to their families and relatives. Likewise, I think we must also build our country, Ukraine, beginning from our own selves. Somebody may say that we are unlucky to have the wrong authorities – MPs, presidents… But let us be frank: it is not the president who litters in our entrance doorway and urinates right in the elevator's cab. As I said above, the Japanese are incredible workaholics. They work very hard and watch very closely over the place they live in. Take, for example, garbage. We throw away garbage very simply – into a general receptacle. Yes, in some places garbage is sorted into separate bins, but there are very few of them. The lion's share of Ukrainians is saying: 'It's a bit too thick to rummage in and sort trash.' In Japan, the situation is incredible – they divide garbage into 20-30 sorts. Glass – clean and dirty, plastic – clean and dirty, plastic bottles and labels – separately; flashlight batteries – in this bin, some wires and cans – in that bin… And every individual who comes into the garbage collection room will rummage in his bag for a long time and painstakingly sort everything. After all, they even built an airport on a garbage-based island. It's hard to believe, but the Japanese use garbage to create islands. We should also learn to do so."
Incidentally, we've brought a present – one of the latest issues of Den's glossy Route No. 1 with the theme "Living in the Eco Style." It also includes an interesting interview with Shigeki Sumi, Ambassador Extraordinary and Plenipotentiary of Japan to Ukraine, about nature conservation which is now a principle of governmental policy and public awareness.
"O great! It's very important that you write about it. I'm sure to read it. Thank you for the gift."
Have you studied the possibility of broadcasting "The World Inside Out" in Ukrainian?
"You see, my parents brought me up in the Russian language, and Russian was the medium of instruction in school. So, frankly speaking, it would be difficult for me to carry out the project in Ukrainian. But there is nothing impossible in the world. Maybe, 'The World Inside Out' will come out in Ukrainian in the future. We'll see."
This year you are taking part in "Dancing with Stars" for the first time. What is your attitude to scathing criticism after the very first appearances?
"Yes, I've already written in Facebook that I was called in so many ways – 'dullard,' 'lumberjack,' 'robot,' 'club-footed,' etc. – after the start of the project. Here I quote the mildest critical and condemning comments on my performance. I take no offense at all. I am taking a sober view of myself, and I knew what I was up to. Unlike many of my colleagues at the show, I don't happen to dance at work, give concerts, and film in clips. I began from scratch, at 34, at a breakneck pace, barely snatching a few hours from the tight schedule of me as a journalist. There are no miracles or magic tablets. It is a show, and I came to it on purpose – to show how a 'numbskull non-dancer' takes the first steps and changes. He falls, gets bruised, but goes on. He transforms. This is the sense of the show. If I were a dancing pro, it wouldn't be interesting to watch. I am not afraid of experiments on myself. And the main thing is that I'm not afraid to change.
"I thought very long before agreeing to take part in the project, for I'm busy making 'The World Inside Out.' 'Dancing with Stars' is also 'a world inside out' for me. I'm trying to do something incredible there. It is in fact a new profession. I confess that I was not prepared for this load when I was agreeing. But you can't imagine what my life is now. I haven't been thrilled like this for a long time to see that I've learned something new."