Den's Days in Dnipro have been described as a landmark event for the city
23 January, 2018 - 11:49
The 19th International Photo Exhibition Den-2017 opened in Dnipro on January 19, with the Mayor Borys Filatov and Den's editor-in-chief Larysa Ivshyna in attendance. Once again, our newspaper presents the results of the annual photo competition, which has gained popularity and authority in Ukraine, at the best cultural platform of the city. Overall, 126 Den's photo exhibitions took place in cities of this country over 18 years of existence of this unusual photo chronicle, 866 artists received awards, and the number of people who saw our photographs probably runs in the millions by now. It is precisely what Den's editor-in-chief Ivshyna calls "the national unity in action." Housed at the Dnipro Museum of Ukrainian Painting, the photo exhibition presents almost 200 best photos of the 2017 photo contest.
 As usual, the format of Den's Days in Dnipro involved not only a review of photographic works. This year, they started with a charity event. This newspaper's employees visited the Mechnikov Dnipropetrovsk Regional Clinical Hospital and donated to doctors two dozen books and brochures issued by our team. Books from Den's Library series have been added to the book crossing shelf, which was opened in the hospital's main building about a month ago. These are publications devoted to unknown pages of Ukrainian history, among them The Crown, or Heritage of the Rus' Kingdom, which was published only recently, but has already become a bestseller. According to the chief doctor Serhii Ryzhenko, the book crossing facility appeared in the hospital as a joint initiative with the Dnipropetrovsk Oblast State Administration. As is known, the Mechnikov Hospital regularly admits not only ordinary patients, but also wounded soldiers from the ATO. The process of healing and recovery takes a lot of time. Therefore, books on Ukrainian history will become a kind of medicine for the soul.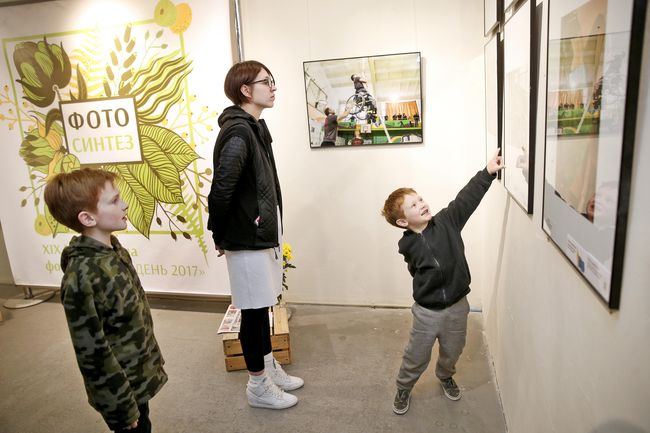 And immediately before the opening of the photo exhibition, a lively and interesting conversation took place at the Museum of Ukrainian Painting. The meeting with Ivshyna brought together members of the public and officials, educators, librarians, museum workers, and readers of Den newspaper. Within the framework of the dialog, The Crown, or Heritage of the Rus' Kingdom was launched. As many as 1,000 copies (!) of this book will be handed over to educational institutions and libraries of the city, more than on any previous occasion. Similar educational events took place on numerous previous occasions in Dnipro with the participation of Den newspaper and thanks to the support of the city authorities, headed by the mayor Filatov. Book sets from Den's Library series are used by students of almost all schools and patrons of libraries of that million-strong city.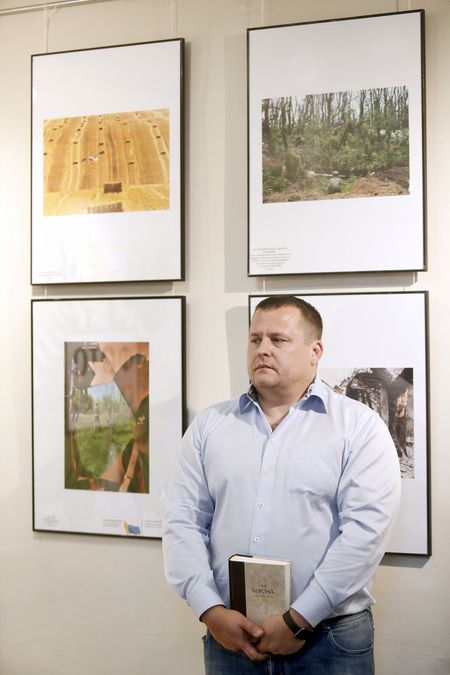 "YOU ALWAYS OFFER BRIGHTNESS AND OPENNESS"
Hennadii PIVNIAK, Academician of the National Academy of Sciences of Ukraine, rector of Dnipro Polytechnic National Technical University (until recently known as the National Mining University):
"Den's Photo Exhibitions are always amazing in their brightness and openness. I have been visiting them for many years, so I can compare. To convey the mood of people, you need a lot of skill. These are not just photos, but rather psychological portraits of our era, the past and present of Ukraine. It is actually the secret of photo art – to convey the inner world of a person who is emotional, anxious, who dreams and wants to achieve their goal. Of course, this is wonderful and impressive."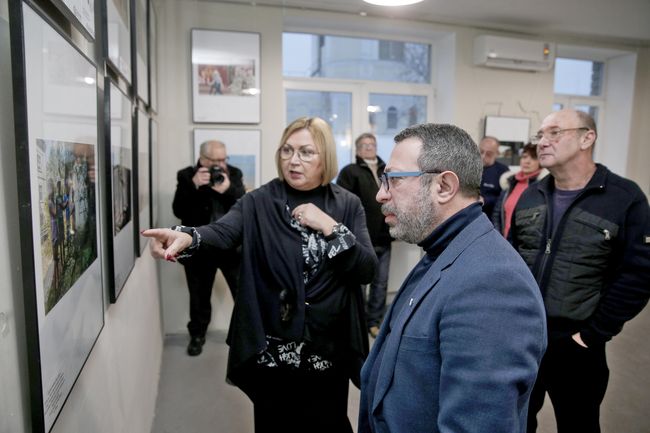 "REFLECTING LIFE ATTITUDE THROUGH THE LENS"
Anatolii BODROV, photographer:
"I like the photo exhibition very much. I teach photography to kids, so I want to bring my students here on some later occasion to look at the real life of this country as shown by photos. Because here you can find photos from all regions of this country. The people who participated in the contest express their life attitude through the lens. Many photos were taken by professional photographers, and I believe that almost all spheres of life are displayed here. It is good that a lot of attention is paid to ATO veterans, who, despite all the difficulties, are thirsty for life. In short, the exhibition is very useful. And the fact that people are watching and discussing it creates a lot of positive emotions, gives grounds for reflection and creative ability. I thank the organizers of the exhibition for such a gift to the city of Dnipro."