Den's Days in the city on the Southern Buh have only just ended, but citizens of Vinnytsia are already hoping for another meeting
8 May, 2018 - 11:01
From April 25 till May 6, the art center of Mykhailo Kotsiubynsky State Pedagogical University of Vinnytsia hosted the 19th International Photo Exhibition "Den-2017." Over these few days, the exposition had hundreds of visitors. They came both individually and in organized groups: for example, some schools arranged tours and used the photo exhibition as a venue for homeroom meetings. "Each visitor received their share of 'vitamin extract' from inspecting the photos, and most importantly, they were able to see a different Ukraine, which we do not have enough time to explore and understand as we go about our petty everyday affairs," remarked rector of Mykhailo Kotsiubynsky State Pedagogical University of Vinnytsia Natalia Lazarenko.
"It is a great honor and great pleasure for us to host such an exhibition on the premises of our university. There are many impressions and they are diverse, because when you look at these pictures, you experience alternating tears and joy, anxiety and excitement. All these feelings came forward not only within me, but, I am sure, within all visitors. I am highly impressed by our dialog with editor-in-chief of Den newspaper Larysa Ivshyna. She is a strong analyst, a good psychologist and a great aesthete, and a very sensual person as well, because Ivshyna takes to heart all these events, which are depicted in the photos and are happening now in our country. I feel it," said Lazarenko. "We have received a powerful energy boost that will remain in memory for many years. But at the same time, we plan to join projects of Den, because many of our students practice photography or major in journalism. Let us maintain this connection, because it is priceless for us. And I would like to see Den's Days in Vinnytsia, on the premises of the pedagogical university, becoming a good tradition. Hoping for future cooperation with the newspaper, we thank all the organizers, especially our city mayor Serhii Morhunov and Den's editor-in-chief Ivshyna."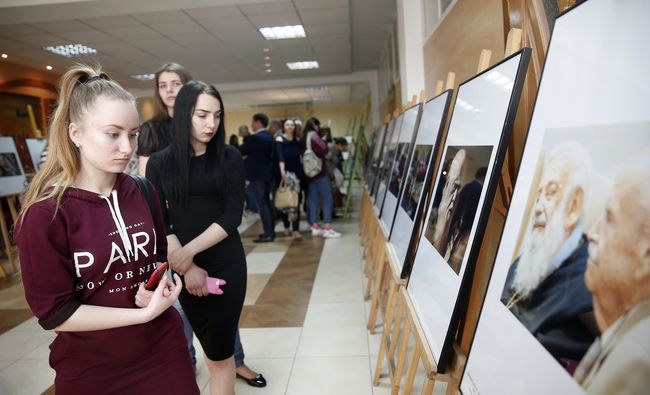 Let us recall that Den's Days in Vinnytsia were held with the support of the Vinnytsia City Council and mayor Morhunov in particular. Last year, the city joined the philanthropic campaign "Gift the Den's Library to the School You Went to" by purchasing books from the newspaper's Library series for all local school reading rooms. Meanwhile, this year, new sets of our publications entered collections of all city libraries, making this literature accessible to all citizens of Vinnytsia. The sets include collections Extract-150 (2 volumes each), Extract 200+ (2 volumes each), photo album Living History, as well as Den's new book, which has already become a bestseller: The Crown, or Heritage of the Rus' Kingdom.
"READERS HAVE RECEIVED HIGH-QUALITY LITERATURE"
"Den's publications have already been put on our shelves, where they sit among other novelties," director of the Vinnytsia City Centralized Library System Iryna Ivasiuk noted at once. "The fact that the patrons of our system have received high-quality literature is most pleasing. Editor of Den newspaper Larysa Ivshyna recruited as contributors reputable people, prominent figures of Ukrainian culture as well as major figures of specific regions: Stanislav Kulchytskyi, Roman Lubkivskyi, Ivan Dziuba, Yurii Shcherbak, Oxana Pachlowska, Hanna Hopko, Mykola Zhulynskyi, Yurii Shapoval... These, of course, are only a few names out of a longer list... The authors of these contributions dealt with magic and painful topics together with their readers. These are the burning issues of our society. They include the preservation of the Ukrainian language and culture, the establishment of democratic institutions, historical memory, and the comprehensive development of the individual. Texts about Ukrainian writers who faced much hardship are well-represented too. As an example, I can name Ihor Siundiukov and his articles: 'A Tragic Laughter-Maker' (Ostap Vyshnia: Life Drama and Creative Courage of the Writer), 'The One Who Refused to Bow Down' (Vasyl Stus's Civic and Ethical Position according to Primary Sources), and 'The Courage of Acting on Strongly-Held Beliefs' (Rereading Oleh Olzhych's Journalistic Works). The authors of the publication set themselves the overarching task of supporting all that is living and intelligent in our society, focusing on issues of ancient history of Ukraine, Ukraine's international relations, and finally, what has been happening in Ukraine recently... These book contributions are different, like their readers. They are not better or worse, just different. And it is important to find the book made for you precisely at a time when it can become a turning point in your life on coming into your possession. And this makes for the magic of reading, the magic of books from Den's Library series."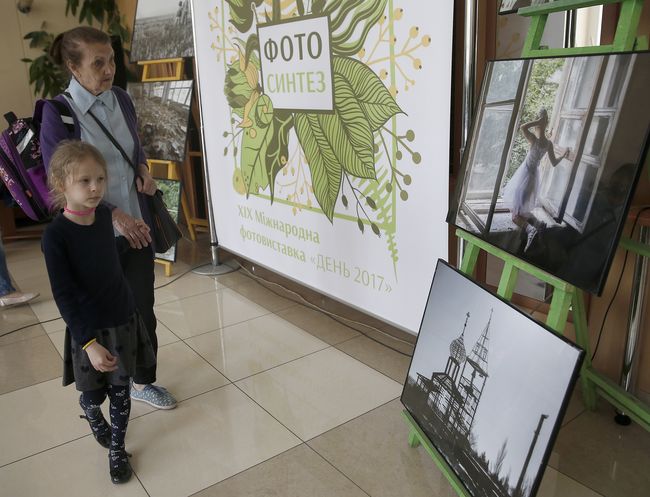 The next city to host International Photo Exhibition "Den-2017" is Lutsk. Follow our announcements!