The Day begins publishing a series of stories about the Ukrainian soldiers who fell in battle with terrorists in eastern Ukraine
15 May, 2014 - 10:39
Two soldiers from the Zhytomyr 95th Separate Airmobile Brigade were killed in a terrorist attack near Sloviansk, Donetsk oblast on May 2. They were 20 and 28.
It happened on a bridge over the Sukhy Torets River on the southern outskirts of Sloviansk, as a Ukrainian military convoy was blocked by civilians and militants.
As they were negotiating a truce, the terrorists, hidden behind women and children, opened fire on our troops.
They killed two soldiers from the Zhytomyr 95th Separate Airmobile Brigade, 28-year-old reserve soldier Corporal Serhii Panasiuk from Korostyshiv and 20-year-old contract serviceman Private Petro Kovalenko from the village of Rakhnivka, Vinnytsia region.
Panasiuk was killed by a sniper bullet that hit the paratrooper in the neck, while Kovalenko was killed by a VOG grenade fired from an under-barrel grenade launcher and exploding at his feet. These are the stories of two heroes whose lives were cut short by a real war...
---
Petro Kovalenko saved seven fellow soldiers in Sloviansk
A street and his native school will be named after a private soldier from Rakhnivka. He will also be written up for the title "Hero of Ukraine"
On Monday, May 5, the whole village of Rakhnivka (Haisyn raion, Vinnytsia oblast) was mourning, young and old alike were crying for their Petro. On May 2, a young life was taken by terrorists on the outskirts of Sloviansk, when two paratroopers of the 95th Zhytomyr Airmobile Brigade were killed in an attack. A Russian sniper shot Viktor Panasiuk (Zhytomyr oblast) in the neck from behind a live shield of women and children. And fellow villager of the great poet Vasyl Stus, Petro Kovalenko protected his comrades with his body from an explosion of an enemy grenade. Not even his lucky bulletproof vest, which stopped a separatist's bullet a week before, saved Kovalenko from lethal splinters. The private contract soldier from Haisyn raion was only 20 years old.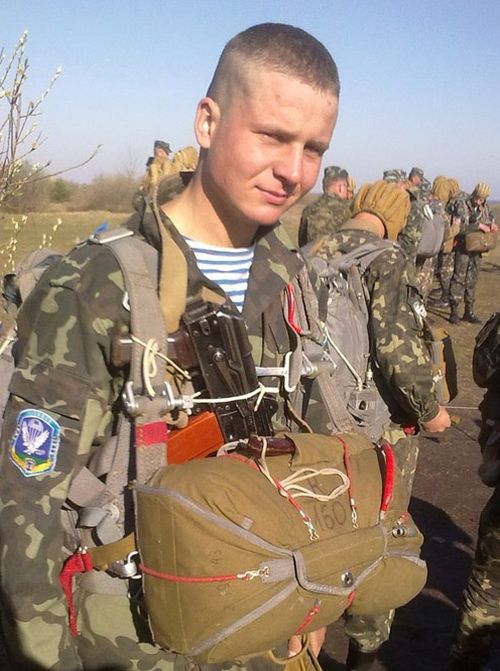 A WEEK BEFORE HIS DEATH 20-YEAR-OLD PETRO KOVALENKO WROTE ON HIS VKONTAKTE PAGE: "YOU WON'T BELIEVE THIS, GUYS, BUT MY FLAK JACKET SAVED MY LIFE. THERE WAS A BULLET STUCK IN IT. AFTER THIS MESS IS OVER, I'LL COME AND BRING IT FOR YOU ALL TO SEE..." / Photo from the social networks
"Petro had been dreaming about army, feats, and real men's work for his whole childhood," said Kovalenko's classmate Dmytro Savchenko during the funeral ceremony. "And so his dream came true, he became a paratrooper at an elite unit! Boys envied him, and girls considered him to be a good catch. We talked on Vkontakte all this time, and literally a week before the tragedy, Petro wrote on his page: 'You won't believe this, guys, but my flak jacket saved my life. There was a bullet stuck in it. After this mess is over, I'll come and bring it for you all to see...' Three hours before death, he was still online, saying hello. But he was not destined to come back. On May 3, his parents received a phone call from the recruitment center and were told Petro was killed."
Major of the 95th Airmobile Brigade told about the tragic events of the evening of May 2, when two paratroopers died at the blockhouse near Sloviansk:
"It was a terrible night for all of us, when we lost private Kovalenko from Vinnytsia oblast and draft soldier Panasiuk from Korostyshiv, Zhytomyr oblast," said representative of the military unit Illia Khomenko. "This happened at 10:15 p.m., when a column of our first battalion was blocked from early morning till late night on a bridge in a northern outskirt of Sloviansk. We were stopped mostly by women with icons and children. Nobody would have ever given an order to advance onto them or shoot at the peaceful live shield! And then, under the cover of people and dusk, we were attacked! Militants shot from behind people, and senior soldier Panasiuk was killed with a sniper's bullet that reached his neck. Our Petro died from a VOG grenade fired from an under-barrel grenade launcher, which exploded right under his feet. He absorbed all impact force and numerous splinters, and basically protected his comrades with his body. These seven men stayed alive thanks to him and received only light injuries and concussions. We could not save Petro... Bodies were taken to Kharkiv from the place of death, and an aviation university bus took private Kovalenko's body home at midnight. It is unbearably hard for me to look his relatives in the eye today, because nobody will be able to bring him back to his mother Tetiana, father Mykola, and sister Khrystyna. Petro died as a hero."
After an hour long service at the village church of Saint John the Apostle, at which only close relatives, general of the General Staff, and fellow soldiers were present, the sad mourning procession carried their hero through the whole Rakhnivka. Private Kovalenko was buried at the central alley of the local cemetery near the most famous people who came from Rakhnivka.
"On this spring day, when everything is blooming and pleasing the eye, when birds are signing, we are saying last goodbyes to our hero, our warrior Petro," Kovalenko's class teacher addressed fellow villagers without holding her tears back. "Rest in peace, our son, brother, student, sincere patriot and protector! You died for all of us and for Ukraine! A damned bullet in a war that nobody needs took you. (…) I cannot refrain from remembering his prom dance. The way our boys danced with girls, you just could not take your eyes off of them... It has been only three years since that May dance, and now we are standing in tears near a coffin of our son and student. We are proud of you, you are a hero for us and for the whole country! Unspeakable pain and sadness enveloped our whole village, Haisyn area, and Vinnytsia region! Rest in peace!"
"Petro, Petro... I knew it! Why did not you tell me you were going to get killed there," his mother was weeping. And his father kissed son's forehead, hit with splinters, hands and feet: "My golden boy! You promised to come back from war. But your friends brought you in a coffin... How are we supposed to live without you now!"
After a minute of silence, private soldier Kovalenko was buried at the central alley of Rakhnivka cemetery to the sounds of the anthem of Ukraine and farewell rifle volley. Head of the village promised to name Kovalenko's native street and school in his honor. And Major General Mykola Popilsky stated that private Kovalenko from Vinnytsia oblast, as a participant of combat operation, will be posthumously written up by the Ministry of Defense for the state title "Hero of Ukraine" along with Panasiuk from Korostyshiv.
May the memory of the heroes live forever.
"He was one of the first to come to the recruitment center"
By Roman KOVALSKY, Vinnytsia – Rakhnivka
---
Serhii Panasiuk from Korostyshiv died for each one of us
Serhii Panasiuk from Korostyshiv died for each one of us
He had his whole life ahead, but a separatist's bullet took his life away. Hundreds of Korostyshiv residents came to say the last farewells to their fellow countryman who died near Sloviansk. He is a hero for all of them, who laid his young life for the independence of Ukraine. The paratrooper, senior reservist soldier was buried with all military honors at the local cemetery's alley of fame, where honorary citizens of the town are buried.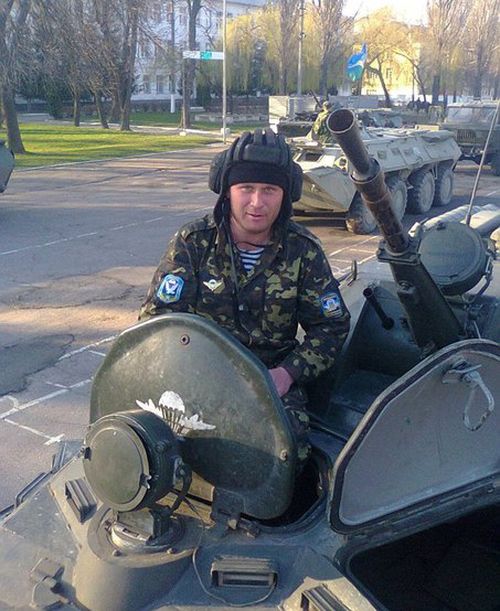 SERHII PANASIUK – PARATROOPER, SENIOR RESERVIST SOLDIER. DIED FROM A SEPARATIST'S BULLET ON MAY 2, 2014 / Photo from the social networks
Panasiuk, who was 28 years old, will forever remain a sincere, decent man, always ready to help others, in the memory of his fellow countrymen, friends, and relatives, his sister Lilia Panasiuk said. He did not have time to create his own family and lived in father's house with his sister. Their parents died long ago, so his three older sisters were the closest people he had. Lilia says that after graduating from the local agricultural college, Serhii wanted to serve in the army as soon as possible. He even passed his exams ahead of schedule to be ready for the spring draft. After serving, he worked at various places, lately it was a local stone-working enterprise. He went in for sports, and was always in a hurry to get to a workout after work, Lilia recollects. After mobilization was announced, he was one of the first to come to the recruitment center. That is how the sturdy and strong man got in the 95th Separate Airmobile Brigade.
His relatives were worried about him, since they knew how hard it is for our soldiers today to defend the integrity of the state. They knew about it from the television news mostly, because in short phone conversations Serhii always said: "I am fine, do not worry, the term of service will be over and I will come back home." But these words did not come true.
Lilia says that called him on May 2. Nobody picked up the phone. Later she tried to reach him several more times. The phone was ringing for some time, but later at night it was off. Relatives started worrying when they heard information on the news about the two killed near Sloviansk. They went to the recruitment center immediately, but the specific data about the last names of the killed men was not yet available. But very soon they were visited by military representatives and governor of Zhytomyr, they all expressed condolences, tried to provide moral support, asked if they could help with anything... And said that Serhii died as a hero, he gave his life for peace and independence of Ukraine, for each one of us.
The sisters heard from the military men what happened on the night their brother died. It was a terrible night for all soldiers, who lost two of their comrades. A harsh conflict was going on. A column of the first battalion, which was going to execute a military task within the framework of the anti-terrorist operation, was blocked on the bridge in the northern outskirt of Sloviansk for a significant period of time. They were not allowed to advance by women with icons and children mostly. Soldiers were forced to stop to avoid injuring them, and they could not shoot at the peaceful live shield. When negotiations with separatists, who hid behind the peaceful people, were in process, a sniper's shot killed senior soldier Panasiuk. He was shot in the neck. At the same time, Petro Kovalenko from Vinnytsia died from a VOG grenade fired from an under-barrel grenade launcher, which exploded under his feet.
On May 5, at the Korostyshiv House of Culture, the funeral ceremony for Panasiuk took place. People said their last farewells to their fellow compatriot, brother, beloved one, friend, and comrade. There were also representatives of military units, oblast and local governments. The oblast government assured that it would provide financial help to relatives, local stone masons would make a monument for the hero at their own expense. There is hope that the street Serhii used to live at will be named after him – head of the Zhytomyr Oblast State Administration Sydir Kizin addressed the local authorities with such proposal. However, Serhii is considered to be a hero in Korostyshiv anyway. And many of his friends have a photo of the brave soldier with a caption "Serhii Panasiuk! Heroes never die! You will remain in our hearts forever" in their social network profiles.
By Oksana KLYMCHUK, Zhytomyr oblast