The Day continues publishing a series of articles about Ukrainian military servants who died in the east of Ukraine in the fight against militants and terrorists. Read the first two stories about 28-year-old senior reserve soldier Serhii Panasiuk and 20-year-old contract soldier Petro Kovalenko, who died on May 2 near Sloviansk during the peaceful negotiations with separatist militants, in the article "They Died for Us" (The Day's issue No. 32, May 15).
Today we publish two more tragic stories: about the 34-year-old National Guard Warrant Officer Viktor Dolinsky, who died during the anti-terrorist operation on May 5 near Sloviansk, and 21-year-old Bohdan Shlemkevych from Subcarpathia, who died on May 9.
---
The only son in the family was buried in a closed coffin
Special unit Yahuar soldiers: "Viktor was sitting on top of the armored carrier, a bullet hit a grenade on his belt and caused an explosion, he had no chances to survive..."
On the night of May 7, Vinnytsia oblast received the second mournful "cargo 200" from Sloviansk in the past few days – a coffin with the body of Viktor Dolinsky, warrant officer at the special unit Yahuar. Dolinsky, 34, warrant officer of the National Guard of Ukraine, who celebrated his birthday less than a month ago, died during the anti-terrorist operation near Sloviansk on May 5. He was killed by a grenade, which exploded on his belt from being hit by a bullet during a terrorist attack launched against a column of Yahuar and Alfa soldiers. His comrades could take away his body only after repelling the attack.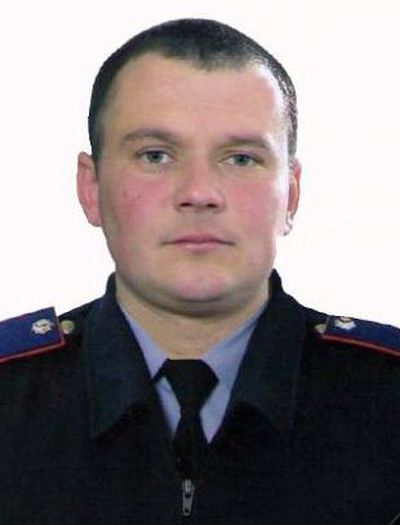 34-YEAR-OLD NATIONAL GUARD WARRANT OFFICER VIKTOR DOLINSKY,  WHO CELEBRATED HIS BIRTHDAY LESS THAN A MONTH AGO, DIED DURING THE ANTI-TERRORIST OPERATION NEAR SLOVIANSK ON MAY 5
The funeral cortege stopped at 3 a.m. near a sanctified cross for a memorial service in Kalynivka, a stationing location of the former unit of internal forces. Mothers, wives, and children of Dolinsky's fellow soldiers, who protect the unity of Ukraine in the east, came there to say the last goodbye to the killed soldier. And at noon, the house of Dolinsky family in the village of Nyzhchy Olchedaiiv (Mohyliv-Podilsky raion) was visited by the local community, relatives, friends, and 15 Yahuar fighters, who came from the front line with sad, teary eyes. The soldier was buried in a closed coffin to avoid shocking his relatives. Nearly whole village where Dolinsky was born came to the funeral. Before the burial, the coffin was covered with the national flag of Ukraine.
"Farewell, dear friend... I am so sorry, Viktor, that we did not protect you... Any one of us could have been in your place," said his comrades through clenched teeth.
They say that on that day they were moving in a column with fighters of Alfa, SBU special unit. "As soon as the danger warning sounded in headphones of the SBU officers, we were attacked. All kinds of weapons were used against us, up to a heavy machine gun! Viktor sat on top of an armored carrier, when a bullet hit a grenade on his belt, causing an explosion, he had no chances to survive. That is why he is in a closed coffin. There are wounded, but all of them are alive. 'Peaceful shields' of women and children stand in front of us. But the majority of separatists are local trash: the unemployed, criminals, petty thieves, who were given money, weapons, drugs, alcohol, and an order to create chaos. There are hirelings: Serbs, Russians, Chechens, Ossetians, Crimeans... Russians rule them from afar with the help of radios and cellphones. They have seized Ukrainian and modern Russian weapons. They have such bullets for AK-100 rifles, that one of them pierced a bulletproof vest of the best sixth class. But neither of us refused to fight, even though nobody wants to die. And Viktor did not want either... May he rest in peace! May his memory live for ever," they say.
Dolinsky had a wife and 12-year-old son Vitalii, who now rent a place in Kalynivka, where Yahuar is located. At the funeral the National Guard leadership promised to settle the problem with housing for the family of the deceased.
Dolinsky had studied at the vocational school. After graduating, he served at the Mykolaiv military unit. Since 2000, he was a contract soldier at the Yahuar special unit. May the hero's memory live for ever.
By Roman KOVALSKY
---
A hero from Ivano-Frankivsk oblast
 
Bohdan Shlemkevych's call-up period was over on April 10. But he stayed in the army due to the mobilization and died during an anti-terrorist operation on May 9
The whole Subcarpathia talks about the young man who wanted to become a priest and was killed in Mariupol. Bohdan Shlemkevych, who turned 21 in March, was buried in his native village of Biloberizka (Verkhovyna raion) on May 13.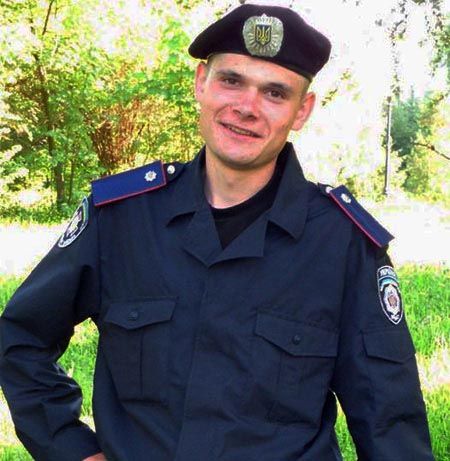 21-YEAR-OLD BOHDAN SHLEMKEVYCH FROM SUBCARPATHIA WANTED TO SERVE IN THE ARMY FIRST, TO EXECUTE HIS CIVIC DUTY, AND IN THE FUTURE HE SAW HIMSELF AS A PRIEST ONLY. HE DIED ON MAY 9 / Photo from the website VIKNA.IF.UA
"Bohdan's funeral struck me," said the head of the Ivano-Frankivsk Oblast Council Vasyl Skrypnychuk. "Everyone who could show up did so. People wept throughout the whole funeral. Soldiers who served with Bohdan, and also came to pay their last respects to him, were shocked. They were impressed by the amount of respect, since residents of the entire village, priests, representatives of all levels of government were there. And also, Bohdan is a hero. The state has not issued this title to him yet, but it was written on the wreaths that were brought to his grave. I think the situation that formed in the country today should have been better. The government must take resolute action and bear responsibility so boys do not lose their young lives and parents do not give their sons to the earth."
Shlemkevych was the youngest son in a family with three more children. Relatives say that the boy was kind and gentle. "Bohdan was a simple guy," tells Dmytro Sharaburiak, a relative and childhood friend of Shlemkevych. "He was my uncle, but we were like brothers. He liked fishing, gathering mushrooms, he used to breed rabbits. Just like all the boys, he liked playing computer games. He was very sociable and friendly, he did not have any enemies." After the ninth grade he joined the Volyn Seminary of the Ukrainian Orthodox Church (Kyiv Patriarchate), which later became the Orthodox Theological Academy. He was led to Lutsk by an example of his elder brother Roman, who received theological education in the same seminary and then served as a priest in Volyn oblast for several years. Now Father Roman carries the word of God in Kolomyia diocese in his native Ivano-Frankivsk oblast.
Bohdan received bachelor's degree at the academy, but he did not go into further education. They remember in the diocese that he wanted to serve in the army first, to execute his civic duty. However, in the future he saw himself as a priest only. On April 10 this year, Bohdan's call-up period was supposed to be over. But he continued serving because of the mobilization. He was assassinated in Mariupol.
On May 8, the young man arrived in Mariupol, Donetsk oblast. And on May 9, when marches took place all over the country and flowers were laid at monuments to the deceased during the World War II, he was killed. Shlemkevych guarded a MIA building, when suddenly someone from the crowd started shooting. He was shot three times, which left him no chances for surviving. On May 10, Metropolitan of Lutsk and Volhynia Mykhail in a speech after the divine liturgy at the Holy Trinity Cathedral in Lutsk informed about the death of one of the best graduates of the theological academy. Metropolitan Mykhail and the spiritual consistory expressed condolences to Father Roman Shlemkevych and the whole family of the deceased and prayed for the repose of his soul.
May 12 and 13 were the days of mourning in Verkhovyna raion, Ivano-Frankivsk oblast. The oblast authorities ordered to pay 100,000 hryvnias to the family of the deceased. In social networks Shlemkevych is called a national hero and a hero of Ukraine. May his memory live for ever.
By Natalia MALIMON, The Day, Lutsk; Iryna FEDOLIAK, Ivano-Frankivsk