The Day continues publishing a series of articles about Ukrainian soldiers, who were killed in fights with terrorists in eastern Ukraine. The Day has already published tragic stories of senior reserve soldier Serhii Panasiuk, 28, and contract soldier Petro Kovalenko, 20, who died on May 2 near Sloviansk during peaceful negotiations with separatist militants. About National Guard Warrant Officer Viktor Dolinsky, 34, who died in the course of the anti-terrorist operation on May 5 near Sloviansk, and Bohdan Shlemkevych, 21, from Subcarpathia, who died on May 9. Also stories of killed paratroopers from Zhytomyr oblast: Vadym Zabrodsky, Vitalii Dulchyk, Vitalii Rudy, Oleh Slavytsky, Serhii Khrushch, and Hennadii Beliak. They were ambushed by terrorists near Kramatorsk. Today, more stories are added: about 39-year-old mobilized soldier Oleh Eismant from Dnipropetrovsk, who died on May 9 in Mariupol, and 20-year-old Oleksandr Yakymov, who was waiting for his first child to be born, but died on May 13 near Kramatorsk. May the memory of the heroes live for ever.
---
"He went into battle without hesitating"
Mobilized soldier Oleh Eismant from Dnipropetrovsk died on May 9 in Mariupol "for the future and for each one of us"
A funeral of the member of the Armed forces of Ukraine, soldier Oleh Eismant, who died during an active phase of the anti-terrorist operation in Mariupol on May 9, took place in Dnipropetrovsk on May 14. Hundreds of city dwellers came to pay a last tribute to their compatriot. Citizens who never met Eismant asked for permissions to leave work and brought flowers and wreaths to the Taras Shevchenko Theater, where the funeral service took place.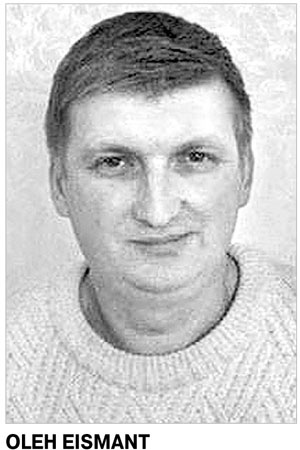 Eismant served as a border guard near Transnistria. He had been working as a trolleybus driver for a long time, and then went into construction and repair works, and worked as a security guard for the last year. During mobilization, he received a call-up paper and joined the service. On April 28 he was included to the 20th battalion. In a few days, Eismant ended up in the epicenter of fighting: Mariupol, Donetsk oblast. On May 9 Eismant was killed by submachine-gun fire near a Mariupol police station. National Guard subdivisions and national defense battalions arrived there to fight terrorists and came under fire.
The funeral service took place at the Taras Shevchenko Theater. It was attended by the family and friends of the killed soldier, leadership of the Oblast State Administration, and representatives of military units. Eismant's memory was honored by a moment of silence and the national anthem of Ukraine, performed by a military band. The coffin with the body of the deceased was escorted with chants "Heroes don't die."
"Soldier Oleh Eismant was one of those Ukrainian patriots who voluntarily joined the numbers of the territorial defense battalion. He sincerely loved his motherland and gave his life for it. He will always remain a hero in our memories and will become an example of valor and honor for us," said Colonel Oleksii Makarenko.
"He did not flinch and run away in the battle, but received this bullet. A bullet fired by a bandit and terrorist. And he left us," said Oleksandr Rashevsky, territorial defense battalion commander.
"Oleh died for the sake of the future, for each one of us! For his sacrifice, we must build a new country with no place for poverty, lawlessness, where every free citizen will bear responsibility for their country. Rest in peace, soldier. We will remember you forever!" said Borys Filatov, deputy head of the Dnipropetrovsk Oblast State Administration.
One of the fighters who was next to Eismant during the storm of the city police station in Mariupol recollects: "Oleh went into battle without hesitating, since he understood: if we did not stop the bandits then, they would come to our homes the following day."
Eismant would turn 40 on May 16. He left a mother, a wife, and a little daughter Diana. The Ukrainian soldier was buried at the Krasnopilske cemetery with military honors.
Eismant's friend Oleksii remembers: "I knew him well. Our families spent a lot of time together, visited each other often, talked. The main thing I can say about Oleh is that he had a very kind soul." "Oleh Eismant was our neighbor, a very pleasant man, caring husband and father. He was hard-working, honest, and dutiful. He was excellent at household work: he always was busy with fixing something, working in the garden, and helping others around him. Oleh always was cheerful, hospitable, kind, and an interesting interlocutor," says Artem Pavlenko. "He was kind, thoughtful, never refused to help, he was a loving husband, a great father (he was always very gentle with his daughter), and a faithful friend. Oleh did not have any bad habits, he always was the life and soul of a party. We still cannot accept Oleh's death, even though we were present at the funeral," says Eismant's friend Oksana Nazarenko.
Being lost in nervousness and sadness, Oleh Eismant's wife Olena says: "I can only say good things about him, there was nothing bad. Oleh was a wonderful husband and father, he was devoted to bringing up his daughter, she meant everything to him."
As soon as the aggressor came to Ukraine, this kind man forgot about the peaceful labor. Eismant gave his life for the sake of the independent Ukraine.
By Natalia PONEDILOK, Dnipropetrovsk
---
"He was inspiring and kind. He was the best!"
Kharkiv mourns the 20-year-old paratrooper Oleksandr Yakymov, who was shot by terrorist on May 13 near Kramatorsk
In a small village of Kulynychi, which recently was a suburb of Kharkiv, where everybody knows each other, Yakymov grew up in sight of everyone. "He was inspiring and kind. He was the best!" say his fellow villagers and neighbors about him. "He pushed himself to the limit in everything," his friends share. "He was loved by everyone," repeat teachers and principal of the School No. 175. "As a student and as a good boy, who could always help you carry your bag."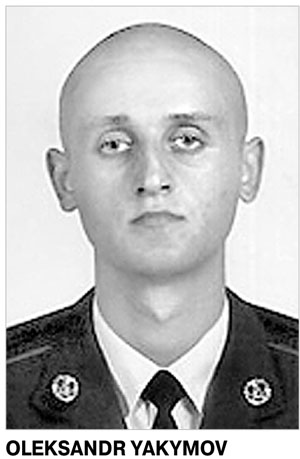 Graduates of the recent years, pedagogues, family, fellow soldiers came to Yakymov's funeral that took place on May 16. There were tears, warm words, and military honors during the funeral service.
"He was the best and a hero, he had already had a clear goal back in school. At the age of 20, he had the type of thinking people have at 40. A lot of our peers did not know which university to enroll in, which profession to choose, but he determined from the childhood that he would serve in military and was seriously preparing for this," says third-year student of the law academy Serhii Biedny, Yakymov's childhood friend, almost his brother, since his mother replaced Yakymov's mother, who left him when he was little with his father and grandmother. "I followed his example in everything, especially in sports. We went in for football, basketball, boxing, trained at the gym together. Oleksandr also played chess, he said that a soldier needs not only physical training, but strategic thinking as well."
Money issues did not "inspire" him, his friends assure. Courage, military science, work on himself were important for the future paratrooper. In order not to have any problems with military service, Yakymov voluntarily went for surgery before a medical examination and corrected an old nose fracture. The young man prepared for a military career and was going to continue education at the airmobile forces after service.
A bullet fired by militants in a village near Kramatorsk took the life of a light warrior, made a widow out of his young wife Tetiana, who is expecting a child. Yakymov did not live till his 21st birthday on June 4 only a few weeks. His comrades from all over Ukraine continue coming to his fresh grave.
It is unthinkable that a wonderful, full of life and plans for future young man died in an undeclared, cunning, and brutally cruel war.
He died protecting the land from whom? From terrorists, saboteurs, and criminal gangs that flooded the southeast of the country. And from a horde of anonymous Internet trolls and pseudo-journalists, who substitute notions and dare call those who love Ukraine fascists. Today, when it is told about killings of Ukrainian soldiers on web pages, invisible liars sling mud at them, distort facts and truth cynically and with impunity, switch defenders and attackers, kill the country's heroes once more by calling them hirelings, and at the same time call saboteurs and thugs, armed with the newest samples of Russian weapons, "peaceful protesters."
"Oleksandr was in his third year of serving as a contract soldier, he became a paratrooper back in 2011, when a possibility of war was not even discussed. But some people on the Internet write that he went to fight for money. How can they do that?" Liudmyla Kotii worries. She has been working at the School No. 175 for more than 30 years, she worked as a cook and as a librarian, she is friends with Yakymov's family: "Lately, we have been worrying about him a lot. We watched news from Sloviansk and Kramatorsk and realized that real fighting is going on there. But Oleksandr called us, calmed us down, saying, don't worry, everything will be alright, we are coming back soon! And all of a sudden, this terrible message arrived! He never came back..."
The attack on the column of paratroopers on the outskirts of the village of Zhovtneve was prepared in advance and took place in broad daylight. "None of the locals warned soldiers about the ambush, they did not give a single signal!" Biedny tries to understand what happened. "Village dwellers saw that young soldiers were going to be shot and calmly observed it, some even captured it on video! If at least one person shouted or whistled, the men would have been alive... Is everyone that scared? Or did they joined the invaders' side?"
Perhaps, it is the invisible war, which was started by Russia's lies on the Internet and which turned common people into accomplices of murderers. However, not a single lie can justify those who brought hatred and pain to somebody else's land.
Kulynychi villagers wish the state does not forget about Yakymov after the war. Of course, friends help Tetiana, but there must be official help to raise the child, a boy is expected. And the main thing they worry about is that Yakymov's death is not in vain. They dream that his son would never know what war is like and would live in a better country, which his father, a true warrior of Ukraine, protected.
By Aliona SOKOLYNSKA, Kharkiv
---
Today, more stories are added about two soldiers from Volyn oblast who died near Volnovakha: 30-year-old commander of the 3rd battalion of the 51th Separate Mechanized Brigade Major Leonid Polinkevych, and 36-year-old Sergeant Oleksandr Artemuk. And also, a story about 35-year-old paratrooper Hennadii Beliak from Zhytomyr oblast, who died on May 19 near Sloviansk, and the following day, his father's heart stopped.
Read previous stories about the heroes in The Day's issues No. 32 of May 15 and No. 33 of May 20, and No. 35 of May 27, or on The Day's website under the heading "They Died for Us."
"Black Thursday" near Volnovakha
The Volyn account of an undeclared war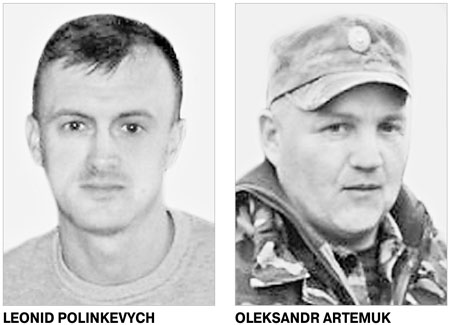 "My Volhynia, my beauty. You paid a terrible price," these tormented words that were written by bard and pianist Serhii Shyshkin on Facebook are very often used now. Shyshkin lives in Volodymyr-Volynsk, an ancient princely town with a thousand years of history, in which the 51st Separate Mechanized Brigade was located. Having lived in Volyn oblast for my whole life and having been in that brigade multiple times, I never remembered its full name for some reason. And now, after its fighters, recruited in Volhynian towns and villages, died near Volnovakha, the numbers and terms have been imprinted into memory with bitterness. "To order May not to bloom, to tell a nightingale to keep silent. Because a grief-stricken mother does not have the strength to walk. More and more widows the enemy makes. Sons, lovers, fathers are not there anymore. And loss turns into stone again. There are no tears. There are no words..." it seems as if editor-in-chief of Slovo Volyni Natalia Shepel has read what each of Volhynia residents has deep in their souls.
A similar grief, which Volhynia suffered on May 22 (it was immediately called a "black Thursday"), has already come to our land. In February, thousands of people in Lutsk and three villages of the oblast came to funerals of young men from the Heavenly Sotnia. The region has never experienced such mass gatherings of people wishing to pay their last tribute. Three Lutsk dwellers, fighters of the battalion from the 51th brigade, are to be buried near the grave of one of the Heavenly Sotnia heroes Vasyl Moisei, on the central alley of the Lutsk Memorial. Parents decided to bury the fourth soldier from Lutsk who was killed near Volnovakha in a village where his grandmother lives, in order to be able to rest beside him when the time comes.
The 51st Separate Mechanized Brigade is that military formation, which the society has been taking special care of during the past few months. The brigade was restored from shambles thanks to people's financial help, services, connections, materials, and their own labor. Next day after the "black Thursday," 38,000 hryvnias were collected in a neighboring town of Novovolynsk to buy soldiers bulletproof vests. In just one day. And in Volodymyr-Volynsk, even retirees stood in lines to donate money. Even though in various periodicals one can read all kinds of views on that battle, which often represent opposing opinions, but people in Volhynia sincerely mourn, grieve for the lost lives, and with heavy hearts count the number of widows, orphans, and parents, who have to go through an unnatural experience: bury their children.
LEONID POLINKEVYCH. MOST OF THE PHOTOS ON HIS SOCIAL NETWORK PAGE WERE THOSE OF HIS DAUGHTER
Five-year-old Oleksandra will undoubtedly remember her father, because a social network page of the commander of the 3rd battalion Major Leonid Polinkevych features an incredible number of his daughter's photos, which very often depict the two of them.
"Nobody at the village administration can work since that 'black Thursday.' Leonid's father, Oleksandr Polinkevych, is a village head. He has been elected to the post for three times in a row, and it does mean something. The parents were so proud of their son! And during the last two weeks they were so worried about him they could not sleep at night. The father learned the map of the Donetsk oblast by heart, because Leonid tried not to worry him and his mother. On Wednesday, at half past nine in the evening, the mother still talked to him: everything is alright, mom, he said. The father was using the map to determine where the son's battalion is located, but who could have thought that Leonid was to find death far from Sloviansk, near Volnovakha? The parents gave away their son to the state just so he died like that... May God give patience to the parents to endure their pain," says Hanna LOTVYN, secretary of the Kolky Village Administration, Manevychi raion. "Leonid would have turned 31 in September. He married early; his father said: perhaps, it would be better if you waited for a little longer, because family is a great responsibility. But Leonid replied: father, I want to have a family, I love my wife. And oh, he loved his daughter so much! And she loved her daddy as well. What is to happen to our Ukraine if an undeclared war is going on in the east?"
"He was a wonderful child for his parents, a good friend for his peers, a great student for us, teachers. He had always been courteous and polite, as we say here, cultured. He was loved and respected in Kolky not for being a son of the village head. No one even remembered that. Leonid had a rather not 'trendy' profession of protecting his homeland. I remember he said last fall he wanted to enter a university, he loved military science. And perhaps, there was not a single time that he came to see his parents and did not visit school. He was so fit, wearing his uniform. He was an excellent example for students, and teachers gladly talked to him. They taught hundreds of children, and only a few came back to thank for it. Leonid was always thorough in his work, he did everything he said he would. That is how he had always been," says Vitalii KOTELENETS, principal of the Kolky school. "I came to visit the Polinkevych family as soon as I learned about that disaster. I have health problems myself, and who would go through that: having a conversation with grief-stricken parents? But I had to go, talk, console, because it is a humane way to do, I had to do it for Leonid. He would not want his parents to be alone. We are going to make a memorial room dedicated to Leonid Polinkevych at school. We have a wonderful artist, I will ask him to make a memorial plaque, which we are going to install at school. We are going to honor him at the school museum as well. I am surprised by the so-called statesmen: there have to be trained combat-ready military units, but not the ones mobilized from villages and towns."
"Battalion commander Leonid – everyone knew him by that name. When it was revealed that during the independence years the 51st brigade became virtually unfit for combat, people who wanted to help Ukrainian army started gathering in Novovolynsk, where I live. I was looking for men who used to be mechanics in the army, who could help repair the equipment. I took them to Volodymyr-Volynsk, to the brigade, and that is how I met Polinkevych. He had over 80 units of equipment for various purposes and only two soldiers to maintain them. This is the level to which the military unit was destroyed by the previous governments. I never had a slightest idea the army was in that state of decay. And now we demand feats from it on a daily basis. Leonid was so happy to receive assistance! Actually, whole Volhynia actively engaged into helping the 51st brigade. It all was necessary. Each time we went to repair the equipment, we took a sack of buckwheat or pasta, or a dozen liters of oil, or several sausages. Novovolynsk residents collected 200,000 hryvnias for the Volodymyr-Volynsk brigade. And all these boys, whom we have virtually equipped, so they could protect the territorial integrity of Ukraine, they are like family to us. Leonid Polinkevych was a very positive person, he was simple in communication, and an expert in equipment," remembers Yevhen NEDYSHCHUK, MP of the Volyn Oblast Administration.
OLEKSANDR ARTEMUK. HE CONSIDERED PROTECTION OF HOMELAND TO BE A POINT OF HONOR
36-year-old Kovel dweller Oleksandr Artemuk was among the 17 Volhynia residents who were killed or died from wounds on May 22 in Donetsk oblast. A story about him is posted on the website of the Kovel City Administration. "Kovel resident Sergeant Oleksandr Artemuk was one of those who considered protection of homeland to be not a mere duty, but a point of honor. This is what he said to his family when he helped Maidan. He went to Kyiv many times, delivered collected money and goods to Maidan protesters. Worries over the fate of Ukraine and his sense of patriotism were enhanced by the thought he had two sons growing up: 10-year-old Maksym and 9-year-old Ivan, and he wanted a better future for them in their own country. When the events in Maidan were gaining more social and political importance, the long-awaited daughter Daryna was born in Artemuk's family, who will turn four months at the end of May.
In the first days after mobilization was announced, Artemuk went to the recruitment center to learn more about what awaited servicemen. And soon after that he received a call-up paper. Three minors in the family could have probably been a sufficient reason not to join the Armed Forces of Ukraine. But Artemuk did not look for easy ways. His family remembers his words: "If I don't go, you will lose respect for me yourselves." It was the hardest for his wife Valentyna. The reasons for that are obvious. But she respected her husband's choice. Now it is hard for everyone: his wife, children, parents, relatives, and friends. For everyone, who knew Oleksandr. He was a good person, excellent family man, caring son and brother, faithful friend.
Artemuk was born and grew up in Kovel, he graduated from secondary school No. 2, and later – from vocational school No. 5. He joined army and served in Sevastopol. He returned home in the rank of sergeant and started building up his life. He worked as a driver and started a private business. He created a wonderful family. Happy family life was ended by the news about a terrorist attack on the checkpoint of the 51st Mechanized Brigade, in which Artemuk had served. He died near Volnovakha on May 22. He was only 36 years old."
By Natalia MALIMON, The Day, Lutsk
---
"He knew it was his duty to protect"
Zhytomyr oblast pays last respects to paratrooper Hennadii Beliak, killed in Sloviansk, and his father
Sad news arrived in the village of Rykhalske, Yemilchyne raion, Zhytomyr oblast, in the morning of May 19: 35-year-old Hennadii Beliak who lived in that village was killed in the east of Ukraine. He served at the same 95th airmobile brigade, which lost 6 paratroopers on May 13. As Zhytomyr Governor Sydir Kizin said, the oblast suffers from the largest human losses in Ukraine, because the east of Ukraine is protected by paratroopers from Zhytomyr oblast, who form the most qualified and combat-ready units of the Armed Forces of Ukraine.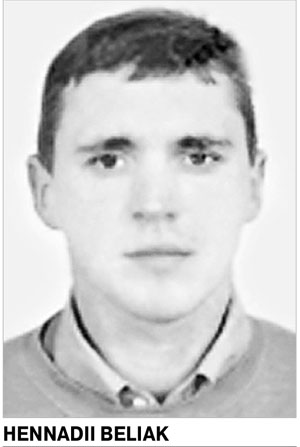 What happened on that early morning of May 19, how did a young man from a Polissia village, who protected the integrity of Ukraine, die? On that day, at 4:30 a.m., a checkpoint of Ukrainian soldiers, located near Sloviansk, was shelled from mortars. Terrorists acted in a traditionally cynical and perfidious way, they fired from an ambush located on the territory of a kindergarten near the railroad station. Militants provoked soldiers to act in reply, to fire at the kindergarten, the press service of the Ministry of Defense informed. Hennadii Beliak's death was caused by injuries received from mortar shelling. One soldier received injuries (he is from the village of Rykhalske as well), two more were contused. According to Dmytro Tymchuk, head of the Informational Resistance, Ukrainian fighters were exposed to mortar fire on the Karachun Mountain near Sloviansk, where a television tower is located.
What was the killed hero soldier from a Polissia village in life like? Recruitment center workers remembered Beliak when he was mobilized. After having received a call-up paper, he came to the recruitment center in Yemilchyne without delay, exactly at the appointed hour. He acted as a disciplined, even-tempered person, who knows it is his duty to protect.
In his native village Beliak was known as a kind, honest, and hard-working person, said Hryhorii Shrol, Rykhalske village head. After finishing school, he took driving classes at the raion department of the Society of Assistance to Defense of Ukraine. Later, he went to serve in the army. After coming back, he created a family and did his best to provide the well-being of his loved ones. He was employed in various working fields. Lately he worked for one of Kyiv companies. His wife Olha works at the local creamery.
Fellow villagers say that the Beliak family managed the household in an excellent way, they were a model couple. The family was very happy they could buy an elegant house. They have fitted it out, installed new windows. The area around the house is neat with a lot of colorful flowers blooming. The family was waiting for Beliak's return, he said he would come soon. Now the wife and children are in tremendous despair. It is a horrible blow for parents too. The village head said Beliak's parents are very respectable and hard-working people, his mother is an honored worker of agriculture, and his father is a builder. They brought up their sons to be honest and humane. We talked to the village head on the day of May 20. And as I found out the next day, Beliak's father died in the evening... He had a stroke over a week ago.
The father and son were buried together. Their fellow villagers, a lot of people from surrounding villages, raion center, representatives of local, raion, and oblast authorities, and servicemen came to the funeral service. No one held their tears back, people could not recover from the unexpected loss. It was the hardest for the family: wife Olha with two children, Hennadii's younger brother Eduard, and their mother. It is impossible to find words to describe the grief of a soldier's mother, a village working woman, who lost her son on May 19, and her husband on the next day.
Rykhalske has never seen a funeral like that. A huge procession of people paid their last tribute to the hero soldier and his father. The whole village was crying. It seemed that even trees at the village cemetery were shedding tears of sorrow. May their memory live forever.
By Oksana KLYMCHUK, Zhytomyr oblast