The Day continues publishing articles about the servicemen who died in the warfare in the east of Ukraine. Today we present stories of those who were killed on May 29 near Sloviansk: Major General Serhii Kulchytsky, Senior Warrant Officer of the police forces Volodymyr Sharaburiak, Senior Police Lieutenant Vasyl Semaniuk, Warrant Officer of the police forces Volodymyr Lysenchuk, Senior Police Lieutenant, deputy platoon commander Petro Bezpalko. We talked to friends and wives of the killed soldiers.
 See the previous stories in the section "They Died for Us" on The Day's website (www.day.kiev.ua).
Soldiers called him "Dad and Mom"
General Serhii Kulchytsky remained a Human in all situations
Major General Serhii Kulchytsky died on May 29 near Sloviansk. He was in the helicopter Mi-8, which was fired at by terrorists. His friend, associate professor of Vasyl Stefanyk Subcarpathian University Stepan Borchuk, who had known Kulchytsky since 1997, told The Day about the first general, head of the combat and special training of the Main Department of the National Guard of Ukraine, killed in independent Ukraine. "He was fond of discipline and order. He was always a man of his word. His first rule was that a soldier always must be well-fed and equipped," Borchuk says.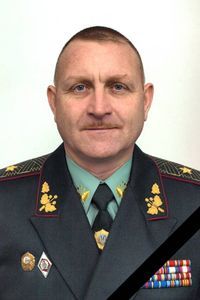 He also remembers Kulchytsky telling once how he entered the military academy. His parents were against it: he submitted an application to the academy after school and only after he was accepted, he notified the family about his choice. He graduated from the institution as a naval officer.
Borchuk told a story of the times when Kulchytsky transferred from the Far East to the Crimean marine battalion. It was a transitional period of the Soviet Union's collapse. At the time, 90 people at that military unit were on the run. He understood right away why it happened. In half a year, he brought order to the kitchen and established discipline in the whole unit.
Borchuk says about the deceased: "He always noted our soldiers are resourceful and brave. As far as I know, he always won the favor of soldiers. There never were any bullying or serious conflicts in the military units where Serhii served. He used to say: 'When there is a common goal and a united team, a lot of things can be done.'"
When Kulchytsky took command of a regiment, his friend recollects, the facilities were in shambles. When it was raining, water trickled all the way to the first floor. It was simply impossible to live in such conditions. However, thanks to the commander's expertise, humanity, social skills, and ability to find common language with others, everything was done to amend the situation. He found people who understood the situation in the army at the time. He had friends in business who helped him repair the roof and did everything necessary. He found a way to survive at the time when there was no funding. "Besides military skills, he also had good administrative skills in the time when everything had to be revived. And he succeeded, since the unit under Kulchytsky's command was one of the best," Borchuk comments.
He says that at the time when the general died, he was on the road. That is when his friend called him and told the terrible news. It was extremely hard to accept the information or believe in what had happened, because only a day before that Borchuk talked to Kulchytsky. It took him several minutes to recover after he heard the news, and he could not come to his senses for a while. "My relative serves in the east and he told that the general was trying to ensure his soldiers had everything necessary, including ammunition and food. He always tried to be close to people, he could even grab a spade and dig along with other soldiers," Borchuk notes.
He also remembers that in personal conversations the general joked that soldiers called him "Dad and Mom," since he took care of them as if they were his own children. When asked about the situation in the east and the state of affairs there, he said "We are holding out," there was no opportunity to talk about it in detail.
"Despite the conditions he ended up in or the place where he had to serve, he always found a way to remain a Human," Borchuk sums up.
"A demonstration performance took place in 1999 – a joint training with the internal forces, special unit Berkut. Ivano-Frankivsk oblast was assessed by the Ministry of Defense," recollects Oleksandr Nidzelsky, former Berkut chief in Ivano-Frankivsk. "That is when I met Serhii Kulchytsky. Later, he worked at the navy administration, so we saw each other less, because there was less work at the headquarters. However, he was always present at various trainings. He was an officer who always had everything sorted out. He had a sense of humor and made witty jokes."
"I was also told that before the flight he said he did not want to get into that 'can.' He just wanted to do a better thing, give soldiers an ability to rest for a while," Nidzelsky says.
Before that, Major General Serhii  Kulchytsky headed a military unit No. 3002, located on Naukova Street in Lviv. His family lives in Lviv. And Kulchytsky himself found eternal rest at the Lychakivske Cemetery on the Field of Honorary Burials.
---
"They defended Ukraine, their families, and took care of their future"
Petro Bezpalko, Vasyl Semaniuk, Volodymyr Sharaburiak, Volodymyr Lysenchuk will remain heroes in our memory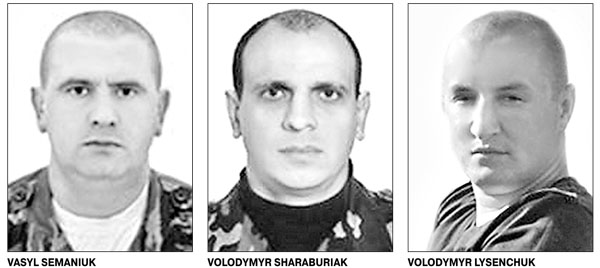 Former Berkut head in Ivano-Frankivsk, Major Oleksandr Nidzelsky knew Sharaburiak well, and he personally recruited Bezpalko and Semaniuk. Nidzelsky remembers an incident on Mount Hoverla, when the then president of Ukraine Viktor Yushchenko arrived and a mass ascent to the top was organized. A violent thunderstorm broke out, it was extremely hard to work. Sharaburiak escorted the president to a helicopter. He held a radio station, and a lightning struck it. At that moment, his left arm was barely functioning, but despite this, he performed his duty till the end. After that he did not feel well, but he managed to descend on his own. This endurance, courage, and self-control are impressive, Nidzelsky says.
"We were eager to get Volodymyr to marry," says colleague about Sharaburiak. "We often joked that we wanted to have fun at his wedding. But he was a peculiar person."
On the other hand, Vasyl Semaniuk was very sociable and admirable fellow. "He was not quarrelsome at all," Nidzelsky comments.
"He took the best care of Nastia and me," shares Semaniuk's wife Anna in a conversation. "But he did not neglect his job duties either. That is why he went to the east, because he knew he had to be there. He defended Ukraine, his family, and took care of the future. He wanted all of us to live better."
The woman also says that the ongoing events are hard for her ten-year-old daughter. She sees it hurts the girl, but she is holding on. "Nastia takes after her father, she is very strong," Anna shares. "I have lost the dearest person in the world who protected me. I can say I have lost everything," the woman confesses.
Nidzelsky recollects that one more hero he got to work with, Petro Bezpalko, was a good person. He also was perky, but only in a good sense. And he always was straightforward about speaking what he thought.
"Work was everything for all these boys," says Bezpalko's widow Natalia. "They were true patriots and went to the east to come back as heroes. Two hours before that they were called and ordered to pack their things. Nobody questioned the decision, they just packed. It was their job, their duty to their fatherland."
Besides, Bezpalko was a wonderful father. "We have two children," Natalia continues. "Our daughter Nastia is five, and when Petro died, she had a prom at the kindergarten. She told me, 'Mommy, take a picture of me, let Daddy see what a princess I was.' And in two hours he was just not there anymore, and there is no one to show this photo to..."
The girl does not share her emotions, the widow comments. "At first she said that Dad should be taken to the hospital, and perhaps he would be cured there. And some days ago she told me that she dreamed about Daddy, who came back to life and returned to us," says the woman through tears. Natalia Bezpalko's son is two years old. He does not understand what happened and still waits for his dad to come back. When the boy sees people in military uniform, he runs towards them, thinking it is Daddy.
The woman also recollects she called her husband in the last days before his death. "I told him to come back, because I had lived alone for 39 days, absolutely helpless. I do not know anyone in the city, because I come from Kalush. He took Nastia to the kindergarten in the morning and picked her up in the evening, settled all the problems by himself, and I was on maternity leave with the baby. I do not know how I am supposed to learn to do all this on my own. To take one child to the kindergarten, and the other to school, since she starts school this year," says the woman sharing her worries.
"He never told about his problems, even though now it turns out there were quite a few of them," Natalia continues. "Neither friends, nor neighbors ever saw him in a bad mood. There was no such thing as bad mood for him. He was always joyful, happy, and now when I learn about his problems, I cannot imagine how he managed to hold it all within himself."
"During the six years we lived together, we did not go on vacation a single time," the woman confesses. "I often blamed him for that, and now I reproach myself for it, because we paid off a loan, raised the children, there was no way for him to find the money for a vacation."
Volodymyr Lysenchuk's wife also told The Day about him. "He was a great man, cheerful and very kind," Svitlana Lysenchuk says. "He never refused anyone. Even when one of the friends addressed him with a need, he helped them in the first place, and settled our problems later. He dreamed of a son, and our boy is eight months old already. Volodia wanted our son to be a police officer just like him, he would joke that a young Berkut was growing up."
There is also a little girl, five and a half years old. She still cannot accept the loss of her father. She is constantly crying and praying for him. She says that angels have taken Daddy to protect him from the bandits' bullets. Her mother says that the girl is prone to sudden violent changes of the mood after the tragedy.
Svitlana recalls that her husband had big plans. They had been thinking to take a joint loan from a bank and buy an apartment in Ivano-Frankivsk. They did not have a home of their own and had to live together with her parents at their place. She hopes for some help from the state, since it is virtually impossible for a widow with two young children to afford an apartment.
She also adds that for her father-in-law the death of his son was a terrible blow. Recently he lost a brother, soon afterwards another one, and now he had to bury his younger son.
The young widow recalls that last year her mother asked her and Volodymyr to go to the Crimea for a holiday. Svitlana would not do it because she was expecting her second baby, but her mother insisted. Now she says she is very glad she had gone: there will be no second chance. "This year I lost my husband. Even Crimea is lost. One has to live for the moment, for the second such moment might never come," summarizes the widow.
Volodymyr Lysenchuk would have turned 30 on June 10, but he did not live to see that day. He was buried in his home village of Lisny Khlibychyn near Kolomyia in Ivano-Frankivsk oblast. More than a thousand people came to see the hero off on his last voyage. Among them were his fellow villagers, family and friends, representatives of the local government, Berkut, and law enforcers.
This is an entry from the group Typical Khlibychyn in social networks: "Today a resident of our village Volodymyr Lysenchuk was killed. He took part in the anti-terrorist operation. He died for Ukraine, for us, leaving a wife and two children. Eternal memory to the hero. Heroes never die!" His photo in a black frame, with a link to the song "Plyve kacha" below. And a long poem, where the hero apologizes to his wife for what has happened and tells how his helicopter was shot down, shares his pain and sadness and says how sorry he is to leave her, his parents, and his children alone.
The family and friends, the entire nation promise to remember their heroes.
By Iryna FEDOLIAK, Ivano-Frankivsk