Guests of the Spring Den event talk about 20 years of their favorite newspaper
7 June, 2016 - 12:22
Yet again, Ukrainian media workers have little cause for celebration on the Journalism Day. Spinelessness and a lack of solidarity in matters of principle, servility, false objectivity which is bordering on collaboration, the Gongadze-Podolsky case which is hanging as a sword of Damocles but ignored by most media, lack of corporate unity where it is needed – with this baggage, the nation's media community has no moral right to indulge in narcissism.
What is a media outlet which consistently takes an "insular" position, one of quality alternatives, to do under such circumstances? It has to look for allies among socially responsible business, public, and cultural figures, politicians with consistent stances, progressive universities. For the fourth time already, Charitable Foundation in Support of the Newspaper Den's Initiatives, headed by Mykola Hrytsenko, invited precisely such citizens to the Spring-Summer Den event on June 3. The evening brought together real friends of Den who support projects of the intellectual holding by crowd-funding its books, partnering with its glossy supplement Route No.1 and participating in the newspaper's promotion and expansion of its territorial reach.
"This year, Den is celebrating its 20th birthday surrounded by our unique, dedicated readers," editor-in-chief Larysa Ivshyna said addressing the audience. "Readers of this newspaper represent a 'gold reserve' of the country, which, unfortunately, is, for some reason, usually not involved in nation-building. I find it hard to associate myself with what is happening outside our 'kingdom.' I am convinced that we can and should do things differently, and we have to learn it. For 20 years, Den has shown a high-quality alternative. We have an answer for every turn of Ukraine's difficult history. The roots from which malignant weed of these days has grown were planted in the mid-1990s. The tree of Den's initiatives offers a high-quality alternative. These meanings exist due to a small but very powerful army of Ukrainian and foreign readers, as well as the financial support of our partners. With their help, and just in the past six months as part of Den's Days, 490 provincial schools received 1,600 copies of the books from our Library series, while 60 libraries in cities and regions received 240 copies more, and universities got 58 book sets... I am sure that the Ukrainian state in its present condition needs our self-organization."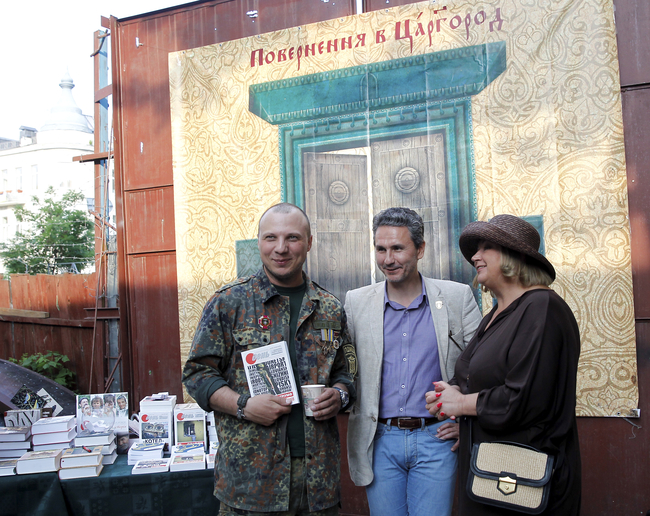 "I KNOW FOR SURE THAT OUR DEFENDERS IN EASTERN UKRAINE NEED INFORMATION SUPPORT, AND DEN IS ALWAYS AMONG THOSE WHO COVER SENSITIVE ISSUES OF THE WAR IN THE DONBAS IN THE GREATEST DETAIL," SAID IHOR BUIVOL, VETERAN OF THE ANTI-TERRORIST OPERATION, NOW SERVING WITH THE PIROGOV FIRST MOBILE VOLUNTEER HOSPITAL (PICTURED WITH EXECUTIVE DIRECTOR OF THE PIROGOV HOSPITAL CHARITABLE FOUNDATION HENNADII DRUZENKO AND LARYSA IVSHYNA) / Photo by Ruslan KANIUKA, The Day
Ways to organize ourselves and expand "the territory of the mind" were revealed by guests of the evening. Let them speak for themselves.
"AN ENVIRONMENT THAT GENERATES NEW MEANINGS"
Hanna HOPKO, MP, chairwoman of the Foreign Affairs Committee:
"I think that Den is more than a newspaper. This is an environment that generates new meanings, operates, creates, enriches, and shapes an army of intelligent people who are able to defend our identity, to create a plan for our age with a firm schedule. Den is preparing the next generation of not only those journalists who contribute to it, but also readers for whom the information is prepared, and the resulting change transforms society from a paternalist one into a generation of builders who are ready to take responsibility for the state.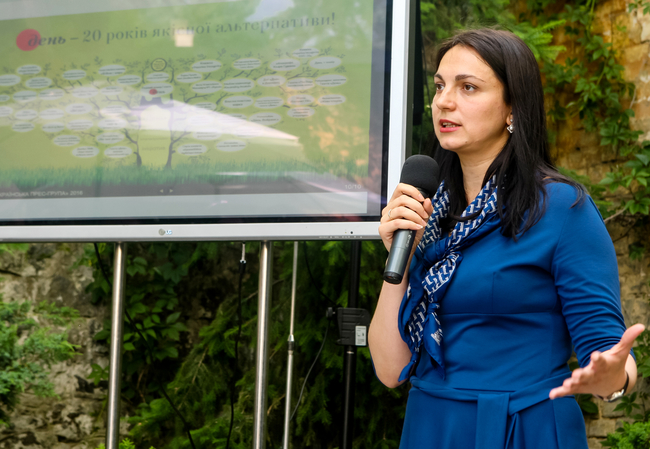 MP HANNA HOPKO IS SURE THAT "DEN'S PARTNERS ARE THE PEOPLE WHO BELIEVE IN UKRAINE AND NOT IN SOME 'PROJECT UKRAINE.' THEY BELIEVE IN UKRAINE AS A DISTINCT STATE WITH OVER A THOUSAND YEARS OF HISTORY. ALL MY RELATIVES AND MY UNIVERSITY ARE DEN'S SUBSCRIBERS. I URGE EVERYONE TO DO IT!" / Photo by Mykola TYMCHENKO, The Day
"All Den's projects are special, starting with publication of books that shape our philosophy and modern Ukrainian nation as such. Every photo exhibition offers an opportunity to catch eternity in a moment, which may be one of love, sadness, or even the beauty of Ukrainian nature. These moments provide a holistic view of our existence. Meanwhile, Den's Summer School is a real university, where journalists are taught to think and produce new meanings, while Den's English version is a major means of combating enemy propaganda and enabling the world to learn more about Ukraine. After the Russian aggression, people around the world know and talk more about our country, and it is to allow them to get objective information that The Day exists."
"A VERITABLE BEACON"
Viktoria PODHORNA, political analyst:
"To celebrate the Spring Den, I presented a gift with meaning – a model of beacon. It is because for me, Den has been a veritable beacon shining for 20 years, setting benchmarks for thinking in the right direction. This is, unfortunately, one of the few publications that have an independent line and serve as intellectual centers of journalism and ideas whose implementation would ensure Ukraine's movement in the right direction.
"The unique feature of Den is its ability to shape opinion leaders, interesting journalists and columnists. Ivshyna created a real school of journalism. In addition, it is not only a newspaper but an intellectual center as well, which has a lot of projects, one of which is a summer school which prepares high-quality journalists with firm spine. In addition, your books are absolutely fantastic. Meanwhile, Den's photo exhibitions are events of national importance because they cover the whole of Ukraine and seriously alter consciousness since modern culture is visual.
"Den's roundtables in which I took part many times are not just gatherings of a set of talking experts, but a very interesting format, through which you see your own views dynamically changing, feel the pulse of the country.
"I am pleased to know that of Den's 20 years, we have been together for 18, since my first article was published in 1998. So I am very grateful to Ivshyna and all journalists of this newspaper for cooperation and an opportunity to communicate my thoughts."
"DEN KEEPS TRUE TO FORM"
Pavlo KUZHEIEV, anchor of the 112 Ukraina TV channel:
"At the beginning of my TV career in the capital, when I was still in college, Den's folder was a special one for me, I saw it as the most interesting publication. It always raised issues and offered interviews which one would have vainly sought in other newspapers, mostly targeting tabloid consumer tastes. The content and depth of contributions always allowed to learn more in some way, every theme was revealed from the broadest perspective on the pages of Den.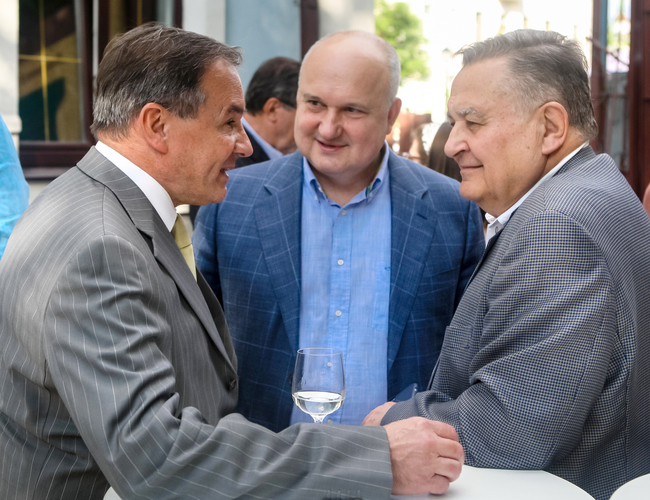 "I WILL NEVER FORGET ALL THAT DEN DID FOR ME AND HLUKHIV. A WEEK BEFORE THE ELECTION, YOU PUBLISHED SEVERAL ARTICLES ABOUT OUR CITY, AND ALL THE PEOPLE REALIZED THAT THERE WAS SOMETHING TRULY NEW ON OFFER, THERE WERE REAL PROSPECTS. IT CHANGED THE WHOLE SITUATION. IT IS DUE TO THIS SUPPORT THAT ALL IS QUIET IN HLUKHIV TODAY. DEN IS A TRULY EUROPEAN NEWSPAPER," MAYOR OF HLUKHIV MICHEL TERESTCHENKO SHARED HIS THOUGHTS (PICTURED WITH FORMER CHIEF OF THE SECURITY SERVICE OF UKRAINE IHOR SMESHKO AND STATESMAN YEVHEN MARCHUK) / Photo by Mykola TYMCHENKO, The Day
"I know for sure that Den has been for many fellow journalists a source of new themes, a certain guiding light showing the direction to choose to fully present an event or phenomenon. Den's specialty is its penchant for tracing and seeing trends. People who get interviewed by it or work for it as journalists or columnists always exhibit the highest grade of professionalism and top skills. I am sure that many materials deserve to be published as collections, and it is nice to know that you have done it already. They are so interesting that contributions of 1998 or 2000 remain as relevant as those published the previous day.
"Each initiative of Den is a major event advancing Ukrainian journalism. I enjoy your Library books, and plan to take part in the project 'Give a Set of Den's Library Books to Your School.' I advise everyone to read these must-have books, and thus to get truly literate. At a time when food malls replace libraries, and not many ambitious book events occur, Den keeps true to form and offers daily quality lecture."
"AN ILLUSTRATION OF 'ARISTOCRATIC' APPROACH"
Hanna SURZHKO, representative of Exclusive-Group:
"We became acquainted with Den mainly due to its supplement Route No.1. We are pleased to be one of the stations of the route being walked by many Kyivites in search of beautiful and useful things.
"For us, Den is a newspaper with a spine that adheres to its exclusively pro-European vision of Ukraine and its socio-political development, and does all its can to make it happen. Den's initiatives in cultural, political, and public spheres are always interesting. Even today's event can serve as an illustration of 'aristocratic' approach, which is a symbiosis of music, intelligent dialog, fine cuisine, and elusive charm of Kyiv's Andriivsky Uzviz. This is precisely the essence of the things for which we love and appreciate Den. I would like to see your glossy supplement developing in parallel with social and political orientation of the main outlet, so that Route No.1 contains more and more new attractions and continues forever."
"DEN'S SUBSCRIBERS ARE UKRAINE'S TRUE ELITE"
Volodymyr NECHYPORUK, general producer of the Ukrainian Fashion Week:
"The very existence of Den is important. Were it not for this publication, we would have lacked the force that unites progressive and thoughtful Ukrainians, those ready to read, think, and argue, not only look at cats on Facebook. Meanwhile, educational value of Den's Library is just priceless. Perhaps only my grandchildren will understand how important this is. Thus, I am trying to collect as many books as I can from your Library series and hope that Den's books will educate my grandchildren to be clever and thoughtful people.
"All good things are rarely fashionable, and fashion itself is a niche product. Unfortunately, theater and intellectual cinema are unfashionable, while action films become blockbusters. I think that Den's subscribers are Ukraine's true elite.
"Fortunately, human intelligence can maintain and develop itself. Those who can support intellectual initiatives financially not always are intellectuals themselves, so their help can even harm. Creative economy, based on intellectual work, is very popular nowadays. The example of Estonia shows that intelligence can earn money and be an active player in the market. Artificial support for intelligence is just as unworkable as its artificial creation. We must unite and vote for quality Ukrainian product with our purses – subscribe to Den, buy CDs of Ukrainian musicians and Ukrainian books, not just admire their efforts and whine how hard it is to promote something Ukrainian, patriotic, and intelligent in this country. We must pay money for Ukrainian products. Not only Ukrainian sausage, but precisely Ukrainian intelligence."