The best paintings, displaying the artistic expression of the Ukrainian will, are exhibited in Vienna
4 March, 2014 - 11:05
An exhibition "Ukraine. The Archetype of Freedom," featuring works by famous Ukrainian artists, will be open at the large-scale exhibition center Novomatic Forum (Vienna) from February 22 through March 9. The exhibition was initiated by the Mystetska Zbirka Gallery, Kyiv.
Freedom is a conditio sine qua non for Ukrainian artists, so the very archetype of freedom is revealed in their works through open spaces, free shapes, dynamic strokes, and bright colors.
The exhibition mastermind Yulia Voloshyna thinks that the contemporary Ukrainian art should be shown abroad more. "Since the very beginning of our exhibition activity, we were sincerely convinced that the civilization level of the country is determined by the level of its culture. Hence the importance of showing our art around the world. It shapes the concept of the country and its positive image. I am convinced the level of Ukrainian art is very high, that is why it should integrate into the European art space. In fact, we can become a new phenomenon in the international art market. This is the reason we decided to organize a collective exhibition and represent creative works by the leading Ukrainian artists in Vienna, one of the major European cultural centers."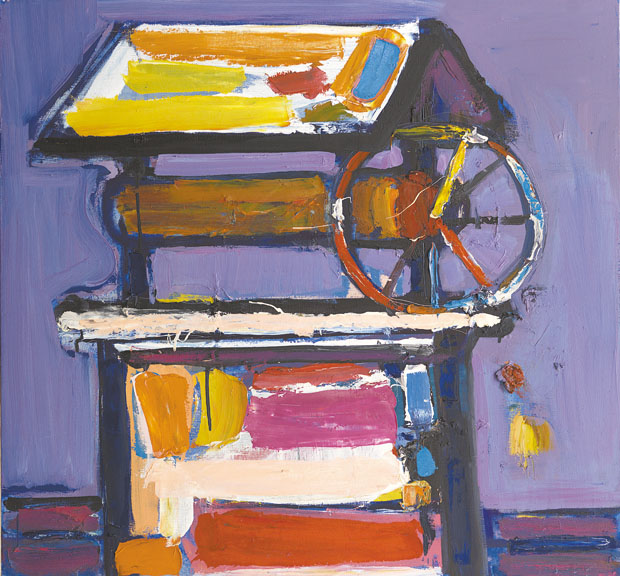 HANNA KRYVOLAP, A WELL. 2011
Artists from different generations who dared go over the limits and break stereotypes participated in the exhibition. They are Ivan Marchuk, Anatolii Kryvolap, Hanna Kryvolap, Oleksandr Roitburd, Borys Buriak, Mykola Zhuravel, Mykhailo Demtsiu, Maks Vityk, Matvey Vaisberg, Petro Lebedynets, Mykhailo Deiak, Oleksandr Zhyvotkov, Viktor Sydorenko, Viktor Deisun, Leonid Kozlov, Stepan Riabchenko.
"We were thinking: what are the main things we should tell about our nation?" Voloshyna goes on. "What do our artists have in common, what do all Ukrainians have in common? Which is our main feature? Is it assiduity, or is it individualism? And then the events in the country showed us it is freedom. The desire to be free, in the worldview, actions, creativity. To be the genuine master of our land, of our own lives. We realized that freedom is an archetype for Ukrainians, it is a sustainable system of collective mentality."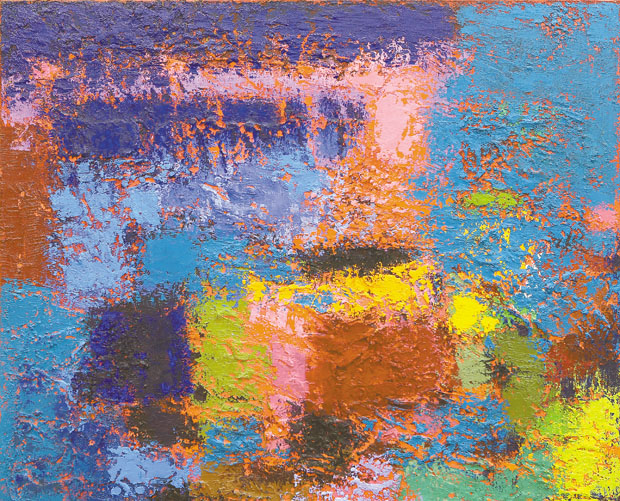 PETRO LEBEDYNETS, FOREBODING. 2010
The project also brings up the question of freedom in creative work. Only one style, social realism, was acknowledged in Ukraine for a long time. And now a whole generation has a stereotype that art must be realistic. That is why the exhibition united artists who are not afraid of thinking differently and being non-understandable. Personal freedom is the main principle in their work. No matter how paradoxical it sounds, but it becomes the pledge of their success.
"Our project is not about the politics, it is about the people," the exhibition organizer continues. "Art is a mirror of the society. Phenomenal historic events are taking place now: protection of human rights, unification based on common desire for freedom. Of course, these events served as inspiration for creation of the project's concept. We have a work by Mykola Zhuravel, in which Taras Shevchenko goes out to the riot police Berkut. Or Vitalii Klitschko's portrait by Mykhailo Deiak. Its concept appeared long before the political events. The majority of the works are not directly related to revolutionary themes. Art hardly ever speaks literally, but it reflects social and cultural sentiments and phenomena in the context of images, emotions, and symbols. Our project is philosophical rather than relevant to current events. It is about the eternal values, not about a specific period. Maidan is just one of the manifestations of what has been living within Ukrainians for centuries."