Dare to innovate: how-to tips from "Startup Kultur-2017"
9 October, 2017 - 17:05
"Startup" is more than just a fancy word. The products of innovators from Odesa-based Pixelated Realities project could help restore monuments. The members of the team make 3D scans of monuments and historical buildings to subsequently create their three-dimensional replicas. So far they have mostly worked with sites in Odesa, but their ambition is to create a nationwide database. Their project has an additional, entertainment dimension: Pixelated Realities wants to create an app for 3D postcards. Hold your smartphone in front of such a card, and an animated image reads birthday wishes to you. Zelenew, a recycling lab from Lviv, and Precious Plastic Ukraine from Odesa make fancy decorative items from processed plastic waste.
These and other proposals were presented last weekend at "Startup Kultur-2017," a festival of cultural and social projects. The event took place at IZONE (Kyiv) under the auspices of Goethe-Institut in Ukraine. The organizers' ambition was to look into Ukrainian creative startups and help those who are busy with such projects.
VIRTUAL REALITIES
Children crowded around the stand of Hennadii Zhuha and Dmytro Makhonko, from the Kharkiv-based project Global DJ. The latter show the kids how to play computer games using their midi controller in the shape of gloves. This device is already being used by artists (ONUKA, for one) to create visual effects and control music during performances. These computerized gloves are a universal control means, they let the user interact with quadcopters and robots. Currently Zhuha and Makhonko are improving their device for virtual reality-based technology.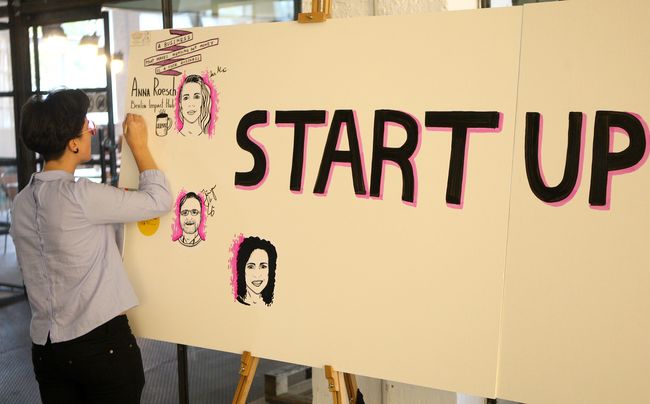 The innovators from Kharkiv invested almost all of their savings in the project, and they make a point of using only Ukrainian components. However, as it turns out, making PCBs in Kharkiv is ridiculously much more expensive than in China. At present Global DJ are cooperating with a Kyiv-based project keen on introducing VR technology in healthcare. Makhonko thinks highly of the engineers from Kyiv: "They boldly embark on projects which are not to be implemented in Israel or the US."
Makhonko says that virtual reality technology is already being used in the US, for instance, to pick out an apartment. 3D models of houses to sell are gathered in the real estate agent's database. The customer wearing a special mask can examine them as if from inside. "But now people have to hold two hammer-shaped devices to do that," the engineer goes on to say. "Let us look at how this technology could be applied in healthcare: a doctor is learning to give first aid. He runs up to the victim holding these 'hammers' in his hands, and he cannot do anything else. In our gloves we place the sensors around the wrists, so the doctor will be able to interact with the patient."
GERMAN EXPERTISE
Ukrainians have a lively interest in cutting-edge designs and their development. At some presentations during the festival there was not enough room for the audience. Educational component is another great advantage of "Startup Kultur-2017." During the festival, there were more than 20 public presentations and workshops, given by specialists from Germany and Ukraine, while major companies offered consultations in the sphere of finance and copyright.
"Creative startups are a very popular topic in Europe, Germany in particular. We thought it would be fun to do something of the sort in Ukraine, but the stuff was not really familiar to us. That is why we launched a sort of research, invited everyone to take part, and the results will tell us more about Ukrainian creative startups," explained Ilona Demchenko, organizer of "Startup Kultur-2017."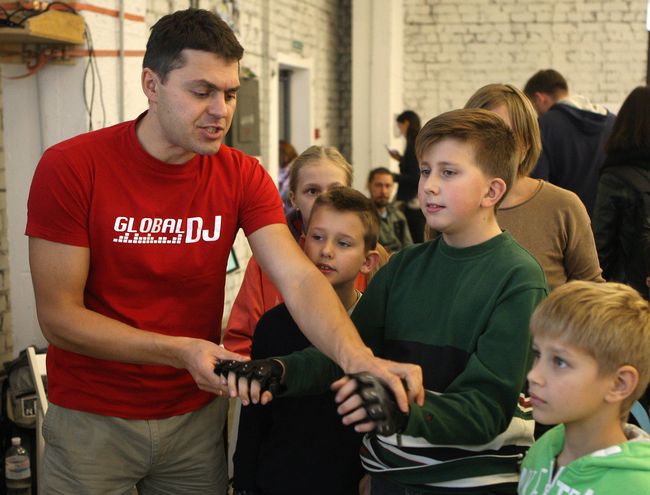 According to Demchenko, after the fall of the Berlin Wall many people in East Germany lost their jobs, and a focus on creative startups helped them find a lacuna. Remarkably, the country's government launched a program of developing such projects in order to employ the unemployed. Their experience proved successful, the Ruhr region being the favorite example for the media. The residents of the area had to shift from the coal-mining industry to non-industrial branches, like IT and creative projects.
"A lot of people in Ukraine are experiencing economic hardships. Maybe, some of the ideas spotted here will help them find a new format and new ways to earn an income," muses Demchenko. "Some in Germany used to believe that it is a stupid idea, and no one would engage in creativity on an empty stomach. But this is where some successful projects grew from."
Launching a creative startup is a risky business (like any small business, emphasizes Demchenko). But it is promising, necessary, and engaging. That is why Ukrainian innovators will not think of giving up the implementation of their technological dreams, and the organizers of "Startup Kultur-2017" plan to expand their project in the future.