A dedication to the Maidan
13 March, 2014 - 10:54
In the difficult winter days, most of artists and writers were on the Maidan – either physically or mentally. This has brought forth dozens of unique creations dedicated to the latest events in this country. Some of them can be seen at the exhibit "Flame of Love" which displays pictures by the well-known and very young Ukrainian artists. Among the project participants are Volodymyr Bovkun, Oleksandr Roitburd, Matvey Vaisberg, Boris Yeghiazaryan, Petro Bevza, Ihor Husiev, Stas Zhalobniuk, Willy L'Eplattenier (Spain), and many others.
According to project curators Yelyzaveta Bielska and Olesia Avramenko, the displayed pictures may form the core of a new Ukraine's image. They will help create symbols that will promote a better understanding of this country in the world and rouse a fighting spirit among the Ukrainians themselves.
"The soul of every artist who decided to take part in this project was a tight knot of emotions. So it is only natural that these sentiments splashed onto canvases, photographs, sculptures, and installations. But we asked artists to express their feelings and reflections through the prism of love," says Olesia AVRAMENKO, art historian, project curator.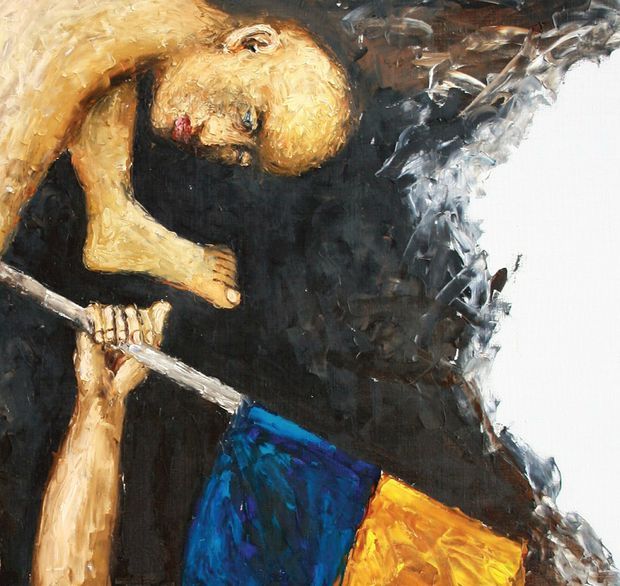 OLEKSANDR ROITBURD, FLAG RAISER
The exhibit will remain open until March 17 from 11 a.m. till 8 p.m. Admission is free.