Mykhailo Deiak presents his new works at the Spiritual Treasures of Ukraine Museum in Kyiv
11 June, 2014 - 17:05
The name of this young artist from Transcarpathia has been known to art fans for years, making his exhibition's opening a crowded occasion even in this difficult time. Unexpected, inspired and bright, Deiak had decided to impress the audience with a flash of color.
The artist is a bold experimenter. He works extremely efficiently, creating, one by one, series of paintings which then go on display in thematic exhibitions not only in Ukraine, but also abroad – in Hungary, Canada, China, and the UK. His paintings are becoming recognizable, thus assuring success of his solo exhibitions.
By what has the artist attracted attention of admirers of the contemporary art – that extremely diverse, emotionally unrestrained and sometimes bizarre world of colors and feelings? His images appear in the subconscious as a flash of feelings and experienced impressions. This is how his "Dialogs with the Subconscious" project took shape, which features works from three recent series: "Klitschko Brothers Emotions," "The Essence of Things," and "Landscapes."
"Each painting," gallerist and art critic Yulia Voloshyna told The Day, "is a conversation involving the artist and the viewer, or the artist and the artist's subconscious. The arguments in these dialogs are powerful irrational images that are not subject to the laws of logic and the rules of censorship. The color replaces one's voice just as shades and texture replace one's intonation. This way of painting things resonates with the deep unconscious emotions of the viewer. It is shocking, impressive, exciting, provoking. Psychological insight, sensual tension, and minimalist elegance make exhibition 'Dialogs with the Subconscious' one of the brightest artistic events of this season."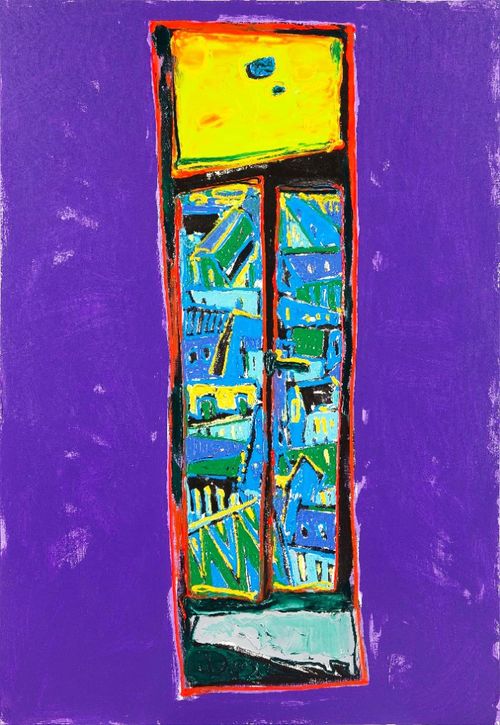 A WINDOW
To convey fuller all the depth of his feelings, the artist employs experiment and research to create his personal paints which he then uses exclusively. Interestingly, domestic artistic elite also appreciates them. For example, Anatolii Kryvolap, one of the most expensive artists of Ukraine, prefers this creation of Deiak. He says these fluorescent paints allow him to depict picturesque sunsets and sunrises.
"The color causes positive emotions in people, and it is a pleasure to work with different colors. It brings such powerful emotions. Artists who paint in gray are probably having a bleak worldview as well," Deiak maintained. "I want the viewer to stand in front of a painting and experience a total immersion, without interference from any shadow or something, making the viewer as close to this art form as possible."
What makes the originality of his creative thinking, brushwork, style? It is probably Deiak's reliance on the subconscious, on his emotional nature. The acuteness of his impressions is conveyed mainly through color structure of his works.
"Deiak is discreet and not too emotional in real life, but when he paints something, he enters some kind of trance and becomes totally immersed in the painting and its plot. He sees and hears no one while he is at it. On completion, he returns to his usual ways," Voloshyna remarked.
The artist travels a lot, enriching himself with new impressions. He often starts painting in the middle of the street to quickly capture what he just saw. He admits to dreaming about creating his own artistic trends in the future, like Andy Warhol's pop art or Henri Matisse's Fauvism. To make it happen, he is immersed in creative quests and research.
On contemplating Deiak's paintings, one unwittingly enters into that amazing art space, merges with it, becomes imbued with the artist's emotions by learning something one's own, in-depth... His style revolutionizes in order to surprise the audience every time with new solutions and unexpected discoveries.
The exhibition can be visited until June 14.