Volodymyr Ohloblin's exhibit "Riga" is underway in Kharkiv
13 May, 2014 - 10:47
Volodymyr Ohloblin's exhibit "Riga" has opened in a private gallery in Kharkiv. The photographer thinks that people should continue to create in any time, especially in the time of war, because it is only creative work that helps one survive in the atmosphere of hatred and madness.
The harmony of ancient and modern architecture, wonderful portraits and theater masks, street sketches. The photos from Riga are a result of two shootings Ohloblin made in December 2012 and March 2014. The photographer has compiled the current exposition following the proposal of the Latvian side within the culture program of the country's embassy, because Riga has been named the culture capital of Europe.
The Kharkiv exhibit was spontaneous, yet not accidental, Ohloblin is sure. He reminds that during the World War One about 20,000 Latvians came to Kharkiv in 1915, most of them continued to live there till 1923, when they founded a republic of their own. Part of them stayed in Kharkiv, and many enterprises there were built by Latvians, for example, the well-known Bicycle-Making Plant.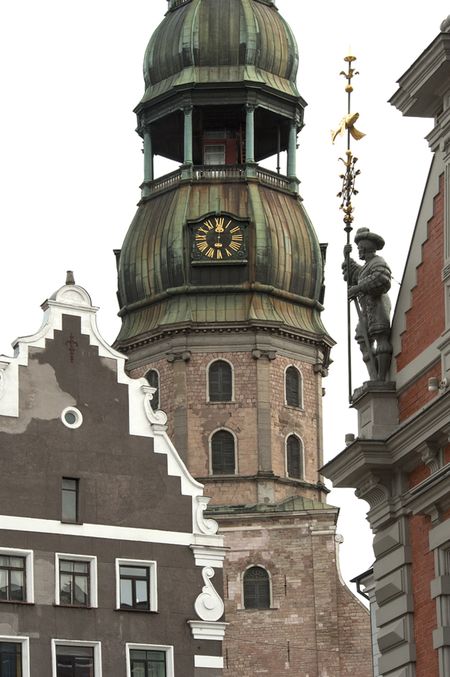 THE PHOTOGRAPHER SHOWED NOT ONLY THE HARMONY OF ANCIENT AND MODERN ARCHITECTURE, BUT ALSO WONDERFUL PORTRAITS, THEATER MASKS, AND STREET SKETCHES
In December 2012 Ohloblin received a proposal to show Kharkiv to Riga, because many people wanted to know where their ancestors had lived. This exhibit was called "Face to Face" and for the most part showed Ukrainian nature. The photographer brought home the cityscapes of Riga. This year Ohloblin has shown in Latvia different, not peaceful photos of the events of Kyiv Maidan made by his colleague, Mstyslav Chernov. As well during the exhibit he for several days was making photos on the streets of Riga. Today Kharkivites can see these pictures within the framework of the cultural advance made by the capital of Latvia in Europe. The exhibit will last till May 17, after which it will start its travel across Ukraine. The artist thinks that it will probably take place in Kirovohrad, and then – Rivne or Khmelnytsky, but there are no precise agreements yet. However, he builds his creative plans in spite of political events.
"If we don't do anything, we will become animals. Only fear and hatred will remain in people. I understand, no matter how hard it is, but we should find strength to shoot, write, like Tsvetaeva wrote, when it was incredibly hard, when she did not have anything to eat. And she was sitting and writing even without light, because that was the only way for her to survive. Creative potential preserves human things in us."
The photographer is outraged by the events in Odesa, the fact that the criminal representatives of the overthrown power are instigating peaceful population to take part in disorders for the money they stole from the people. Comparing 2012 and 2014 years in Riga, Ohloblin says that he felt the same atmosphere of disturbance, which has overtaken the east of Ukraine. "Outwardly nothing has changed since 2012, but the anxiety emerged because of the imperial self-confidence of Russia. There the situation is being 'rocked.' Russian organizations demand to make Russian a state language. I have already seen these Russian marches with slogans about rights of Russians. This is in the air, and Latvians are very worried. And everyone is aware that protection of the European Union is needed against the threat of Putin's dictatorship."
The photographer considers the need to continue to live and do what you do a way out in the atmosphere of war threat. "People went to dancing on June 22, 1941. Many people came up to me and thanked for this 'gulp of peace' during the vernissage. Because it is impossible to live by the war."