Lessons in life and creativity from monumentalist artist Antonina Ivanova
28 May, 2014 - 17:53
Antonina Ivanova was born on April 25, 1893, in the town of Kaharlyk near Kyiv. Thanks to her parents' assistance, the talented 15-year-old girl received an opportunity to go to Saint Petersburg to study art under the famous contemporary artists: Ivan Bilibin, Nicholas Roerich, Vladimir Shchuko, who worked at the Society for the Encouragement of Arts.
After coming back to Kyiv, the young artist decides to continue her education and enrolls in the Ukrainian Academy of Arts in 1919. She studied together with Vasyl Sedliar, Ivan Padalka, Tymko Boichuk, Oksana Pavlenko, and others at the monumental painting studio led by professor Mykhailo Boichuk.
Having become a member of the Association of Revolutionary Art of Ukraine, Ivanova creates a number of easel paintings in tempera, in particular Gathering of Apples in the Garden (1920), Work in the Field, Spinner, A Woman with a Rake, Washwomen (mid-1920s).
Despite her moving to Moscow, the artist took an active part in the painting of the Central Executive Committee of Ukraine Peasant Sanatorium in Odesa (along with a group of Boichuk's students), where together with her teacher she created the mural Peasant Family (1928). This composition is the closest to the original approaches of Boichuk's school: it is integral and rhythmically balanced. An image of a peasant with a newspaper, a woman with a sickle, and a boy with a book against the background of the traditional "hill" landscape has the whole set of symbolic elements of a painting of a Ukrainian village of the first years of collectivization.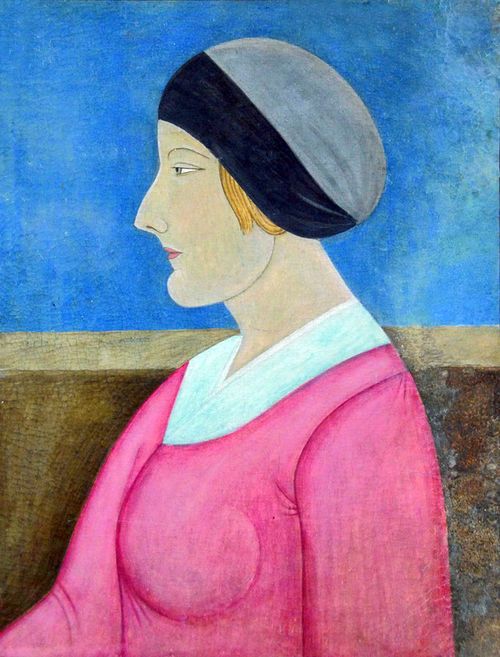 FEMALE SIDE PORTRAIT. LATE 1920s
After finishing working on the murals, Ivanova comes back to Moscow. There, together with Oleksandr Myzin and Iryna Zhdanko, the artist creates a series of paintings at the reception room of the Moscow Workers' Deputies Council (early 1930s).
But after a grave illness, which condemned her to a wheelchair, Ivanova was forced to leave murals and take up other kinds of art, painting on china, wooden toys from Zahorsk, and decoration of fabrics (painting on silk). At the same time, she kept on creating small easel paintings in the technique of egg tempera and preserved all foundations of monumentalism in them and her sketches: generalized forms, the planeness of compositions, the architectonics and rhythm of composition, fresco color range, sacredly guarding the Boichuk school's traditions in her works (In the Field, Agitator in a Village, A Head of a Girl, Under a Tree, A Boy).
When Ukraine was overwhelmed with repressions and executions in 1937, the artist started receiving sidelong looks and being avoided, because she was a boichukist. Her physical loneliness was aggravated by psychological alienation. However, during the further years of Stalin's repressions, even though Ivanova was bound to her bed, she continued working doggedly and participating in exhibitions of Moscow artists. And although she was forced to develop themes of Soviet patriotism in large decorative silk paintings (30th Anniversary of the October Revolution (1947), Soviet Army (1951)), in the small lyrical compositions of Round Dances, filled with images of stylized human figures, intertwined in patterns with whimsical birds and plants, the artist managed to render "not only the joyful nature of the folk dance, but also the buoyant rhythm which seems compressed in a spring and plastically represents the elated and merry perception of life" (Decorative Arts of the USSR, No. 7, 1970).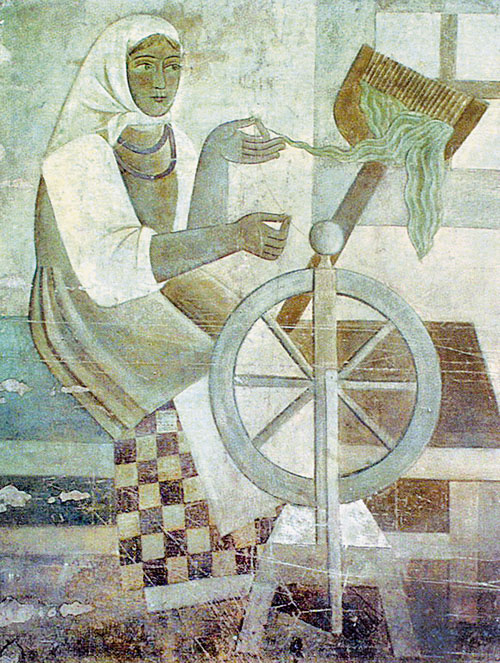 SPINNER. 1920
In keeping contact with her boichukist friends (Oksana Pavlenko in Moscow, Serhii Kolos, Halyna Hisler, Maria Yunak, Vira Kutynska in Kyiv, Yaroslava Muzyka and Okhrim Kravchenko in Lviv), in conversations with them, in letters, where "laughter is intertwined with sadness," the artist often remembers Boichuk, paints small but "truly monumental" tempera compositions "for herself," perpetuating her beloved teacher's principles: Portrait of Oksana Pavlenko, Folk Dance (1950), Washwomen, Kateryna (1963), Shepherd (1969), A Woman in the Garden (1971).
"I have always been a boichukist," Ivanova wrote with optimism in one of the letters to her Kyiv-based friend Vira Kutynska. And in her letter to Yunak we read the following lines: "At least a small group must be created. I would like you to team up with Vira Kutynska and Musia Trubetska. Musia has a book by Ceninno Cennini on how to ground and gild boards. Musia can gild. She has already created four miniatures. You will teach Vira and Musia how to make plaster and paint on it while it is still wet. All three of you, when you are done with works, will organize an exhibition of your group at a Lviv museum. They will be glad, because they love Mykhailo Boichuk as an artist and pedagogue." Unfortunately, this remained just a dream. On March 12, 1972 the artist passed away. She suffocated in the smoke in a tiny room when the silk lampshade (her own work) caught fire from the heated bulb.
At the first personal exhibition of the 70-year-old artist, which took place in Moscow in 1970, exhibited works of the 1920s logically continued in the works of the 1960s. As the art critic Kostin (Moscow) said, Ivanova displayed "high monumental style, which Mykhailo Boichuk's school strived to achieve."