Kyiv presents a project of topical trends, retrospectives, and achievements of contemporary Ukrainian artists
5 April, 2018 - 10:55
By holding a high-profile exhibit, "More than Sculpture," at Art Ukraine Gallery, Natalia Zabolotna begins a new stage in her career as art manager. It will be recalled that Art Ukraine Gallery she founded is located under the roof of the well-known M17 Contemporary Art Center (CAC). From now on, it is going to be one of the leading Ukrainian art centers.
The large sculpture salon is living! This is the first that comes to mind whenever you find yourself on Kyiv's Antonovycha Street once the premises of M17 CAC. If you come to Art Ukraine Gallery for the first time, you feel dazzled and the large number of sculptures and installations, either well known to the audience or exhibited as part of the project "More than Sculpture," will take your breath away.
The exhibit displays works by almost 40 best-known and most shocking Ukrainian sculptors, including Oleksandr Sukholit, Said Ahmadi, Viktor Sydorenko, Petro Hronskyi, Yehor Zihura, Anatolii Tverdyi, Roman Minin, Anton Lohov, and even indefatigable Oleksandr Liapin who, in addition to doing photography and painting, is successfully creating installations.
What cause a particular stir among visitors are projects of Roman Minin and Yulia Beliaieva, which employ the "augmented reality" technique. By means of "virtual" sculptures, Beliaieva draws our attention to the destiny of the almost defunct porcelain production in Ukraine. "Reviving" a coal black statuette of "The Alien" by means of a special program attachment to the smartphone, Minin "virtualizes" ordinariness.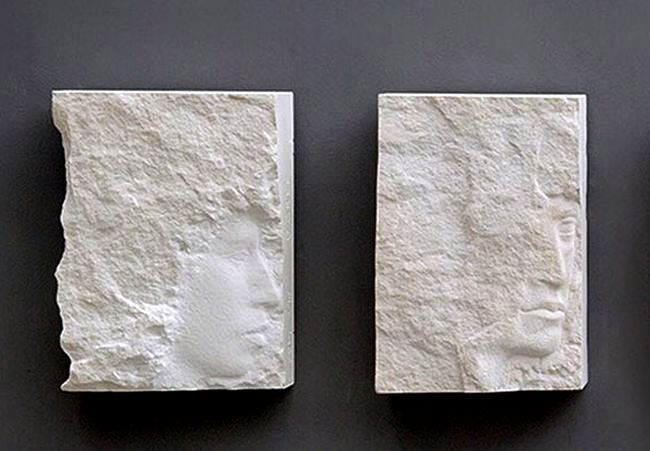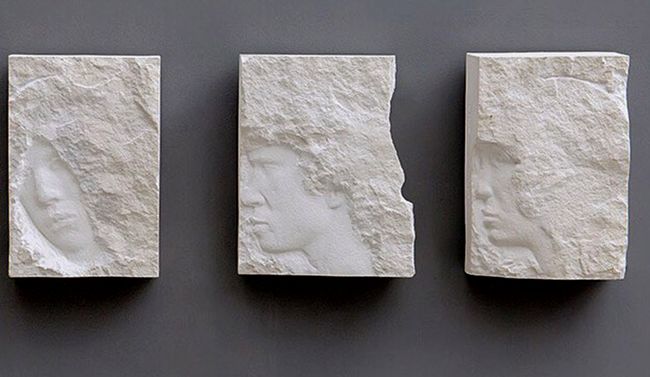 Exhibit organizers point out that "a sculpture can reproduce images bereft of visual noise. It is sort of a deconstruction of reality to the "pure" form and sense, which can form the foundation of a society full of artificial and trivial things."
"This is an experimental project that is expected to create a space for discussion by attracting both artists and visitors," project co-curator Daryna MOMOT says.
The incredible number of art stars and the industrial scale of a collective exposition of works is not the only thing by which "More than Sculpture" will be remembered. Add to this also the impression of a clamorous and excited crowd, consisting by half of VIP persons, at the opening. Plus the overall bustle and a very "creative" confusion of the ceremony. Plus the whole month of a "cultural program" that runs not-stop until the end of the exposition on April 7. In the end, we feel that M17, i.e. Art Ukraine Gallery, seems to have "reincarnated" all for which we loved and, at the same time, a little scolded the "old" Mystetsky Arsenal of Natalia Zabolotna's time. How terribly we happen to be missing these old things!
Indeed, art always turns into a fascinating show, a moveable feast, in the hands of Ms. Zabolotna. A feast that bubbles like splashes of champagne…
It will be recalled that in November 2016, almost immediately after losing the competition for the office of Mystetsky Arsenal director general, Zabolotna announced the opening of her private Art Ukraine Gallery in a building rented on Hrushevskoho Street. "Quite recently, M17 owner Andrii Adamovskyi entrusted me to run his CAC so that I could organize exhibits here without reshaping the center," Natalia ZABOLOTNA said. "So nothing has ended – everything is only beginning! The ambitious project "More than Sculpture" is a bid for Art Ukraine Gallery's intentions. Dropping all the old bad things but keeping intact all the good things, my like-minded people and I are coming back to the 'big stage.' I am sure our premises on Antonovycha Street will very soon become a new center of contemporary art in Kyiv."
The plans are ambitious, but only time will show whether Ms. Zabolotna has managed to shift the little world of contemporary Ukrainian art.