A candid talk about life and creative work with a significant figure in Ukrainian pictorial art
9 April, 2014 - 17:27
His name at the turn of the 1970s entered the constellation of the names of outstanding Ukrainian painters after the series of works by Liubomyr Medvid "Suburbs (Periphery)" (1962-68) and "Evacuation" (1964-68) confidently won recognition in the artistic circles of the country. His positions of an original artist became even stronger after in 1970s-1980s the master created a gallery of portraits of outstanding personalities of national and world culture, in particular Lesia Ukrainka, Leo Tolstoy, Mykola Hohol, Mykhailo Hrushevsky, Ivan Franko, et al.
In 2001 Medvid received the academic degree of a professor of the department of monumental-decorative painting, the Lviv Academy of Arts. A significant event in the artist's creative bio was creation of the ensemble (painting, stained glass, icon-painting, installation-iconostasis), which is impressive in terms of artistic resolution, in John the Baptist Church in Ottawa, Canada. For his large-scale series of paintings "Reminiscences (Prodigal Son)" he won the Taras Shevchenko National Prize.
At the turn of the 1960s-1970s you were fond of the creative work of American artist Andrew Wyeth. What influence did he have on your paintings of that time?
"In the end of the 1960s I painted the series 'Reminiscences of Childhood,' where irrational world was hidden behind the seemingly realistic form of presentation. This language allowed me to express my views, which were incompatible with the then official ideology at unofficial exhibits (I mean in particular the series of paintings entitled 'First Collective Farms in Lviv Region'; in summer of 1972 this series was mercilessly criticized; I was recommended in no uncertain terms to 'open the dusty windows,' in 1973 my exposition was removed from the exhibit hall in Kyiv). It was then that Volodymyr Pylyshenko, a Ukrainian graphic artist from the US, presented me with an album of replicas of Andrew Wyeth's works. I was impressed: the stylistics I managed to master, incidentally, thanks to applying the tempera technique, turned out to be almost a twin of the stylistic manner which brought popularity to the author of Christina's World. Apparently, the stylistic manner of Wyeth's works belongs to the cultural phenomenon which is traditionally called postmodernism, but in my point of view this term is controversial and blank. The main impact produced by the outstanding American on me was above all in my ability without any essential effort to exceed the limits of the manner in which the American was the only master due to his right of a pioneer."
How can modern person be saved from degeneration caused by mass hysteria, provoked by mass media? Can pictorial art become a kind of a barrier which will not only protect Homo sapiens from collective psychosis, but will make them think and make correct conclusions?
"The epithet 'mass hysteria,' is accurate, without doubt. I can say it is symbolical. The mass hysteria has been raging up to the frontline where art wins the battle here and there, but is incapable of winning the war. Technological luxury at present-day stage of civilization turn does not help the modest luxury to which human soul has been aiming since primordial times."
Why don't you accept the commercialization of modern art? For we are living in market conditions. Should not a culture product created by an artist be aimed at the consumer, i.e., be in demand?
"An artist must paint for the sake of something. He must not paint with an inclination to nowhere, be splashing the paints because he is drunk or silly. Our drilled time is nonsensical enough without a brazen enthusiast who decides to pushily become an artist because he has nothing else to do. I am disturbed and don't accept any commercialization of modern art on the level of kitsch of any kind and quality."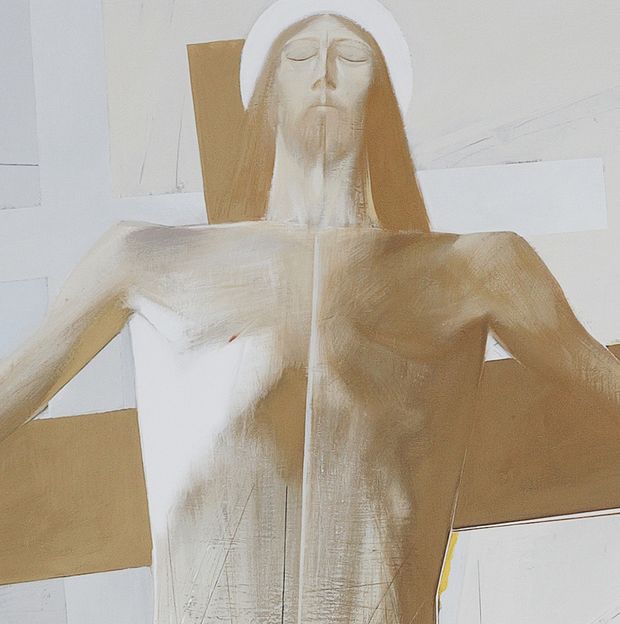 COME TO A GREEN DALE (A FRAGMENT)
Can natural fear be a powerful impetus in creative work of an artist? If you did not face danger for your life during the Vistula operation, maybe your series of works "Evacuation" (1964-68, 1986-96, 1996-2004) would not have seen the light?
"Fear and feeling of danger are obligatory for a broad soul and deep mind. If soul and mind are abandoned, fear stirs a beast in a person. The evacuation I experienced in childhood obliged my mind with a quality of concentration and ability to use this concentration when the thing is about worthy perception of the many-faced world of things and circumstances."
Why out of the huge number of biblical stories you paid attention to the Parable of the Prodigal Son, so that with the help of artistic means to try to show relationships between man and God? I mean the series of paintings "Reminiscences" (2009-14)?
"I am an aware Christian not only owing to my kin and tradition, but above all due to the revelation which pierced my essence, helps me endure, and gives a feeling of balance in the complicated intertwining of life circumstances. I am deeply convinced that without realization of Christian values in the life of society, modern civilization (based on an important Christian component) does not have any prospect other than fading, in spite of material successes. The protection of Father is possible only when the concerned and self-willed Prodigal Son fully returns to the House of Father. Therefore in 1995-96 in Lviv and later in Khmelnytsky and Kyiv I exhibited the series 'Parables' ('Prodigal Son'). This series preceded the 'Reminiscences' of 2009-14. In 'Reminiscences' the thing is about the wanderings of Evangelic Prodigal Son through seductions and sinful turns of modern civilization with application of not quite polite expressions in certain cases."
Where do you find support to overcome depression, disappointment, and apathy, which you probably feel because of creative dissatisfaction?
"The feeling of dissatisfaction is able to safeguard the dignity of an artist, so he should properly perceive the vibration of dissatisfaction with himself. I think art is not an elegant appendix, but an organic quality of humankind, with the help of which it is able to perceive adequately its place in the universe. High art, maybe first music, purifies a man from the refuse burnout of the metabolism and helps to reach the greatness of limitlessly great God, even in 'a petal of a smallest plant,' like Shevchenko reminded in a letter to Bronislaw Zaleski."
Why have you become so interested in French artist Jean August Dominique Ingres over the past years, so much that influential art expert Olha Petrova mentioned this at the launch of your solo exhibit in the Academy of Arts of Ukraine?
"Olha Petrova noticed what is important for me personally. She said that if 'Reminiscences' (Prodigal Son) were to some extent marked with falsehood, it would seem blasphemy when the Heavenly Sotnia was killed. I am thankful to God for saving me from blasphemy both in the case with 'Reminiscences,' and in my other works, even the most contradictory ones."