The idea of a series of Anna Vasylieva's works is to show how thin the line is between the past, the present, and the future
7 August, 2017 - 18:24
"Kitch'EN," an exhibit of Anna Vasylieva, opened on August 1 at Lviv's gallery "Zelena Kanapa" ("Green Sofa"). All the pictures show common kitchens. This kind of kitchens can be found in many cities of this country. In these kitchens, people essentially spend their time and share their innermost secrets with relatives and close friends. But in the case of Vasylieva, it is the heroes of pictures by Picasso, Van Gogh, Modigliani, et al. who share their secrets with us.
"She knows, like no one else, that each of us receives the first sessions of 'psychotherapy' in the kitchen under the watchful eye of mother or a friend. No wonder then that Anna, who focuses her attention on the individual with his or her inimitable and extremely complicated inner world, has placed them into a variable space of post-communist interiors populated by modern-day people who create every year the future in which we already live. It is also no wonder that she chose characters for her reminiscences from among the artists of art nouveau, a period at the turn of the 20th century, when psychology and art saw rapid development. The artists of that period also concentrated their attention on the state of mind and sentiments of an ordinary – unheroized and unmythologized – person," Olesia Domaradzka, artist and owner of "Zelena Kanapa," says.
Anna Vasylieva was born in Kyiv. Before launching the career of an artist, she had to work in various fields and gained two educations – market studies and psychology. The knowledge she received, particularly in psychology, helps her in art now. She began to paint and draw at Heorhii and Taisia Zaichenko's studio in 2011. In 2012 she entered the Lviv National Academy of Arts to study interior design. After staying there for a year, she transferred to the graphic design department of the Boichuk Institute of Decorative and Applied Art in Kyiv. At the moment, the artist works at the Akt Gallery on the territory of the Platforma art facility, paints new pictures, and conceives new projects.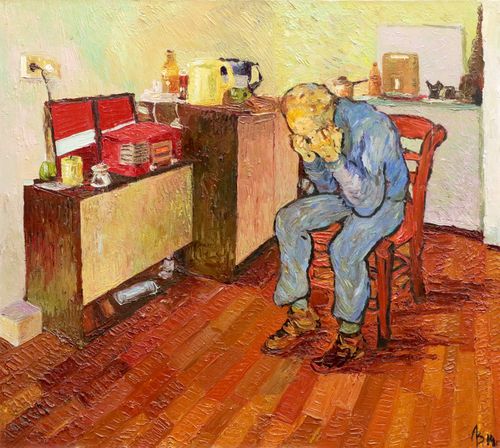 The exhibit will remain open until August 27.