Little-known pages in the life and oeuvre of Mykhailo Boichuk's pupil
19 March, 2014 - 18:01
Maria Yunak avoided the fate of her teacher and senior colleagues, but her life could not escape the terrible shadow of repressions that befell Boichuk's followers who had remained behind in Kyiv. As a result of the accusations of nationalism and formalism, the mistress was not admitted to the Artists League, did not get "lucrative and moneyed" orders, her name was not entered into most of Ukrainian art history books and encyclopedias. But the worst was that she, a muralist, was kept from painting frescoes, a thing she had dreamed of throughout her lifetime.
The would-be artist was born on February 15, 1902, on Kyiv's Fundukleivska Street in the building of Pavlo Halahan's Collegium, where her father worked as "technical employee." Brought up in a laborious Ukrainian Cossack family, Maria finished a 4-grade non-classical school as "first pupil" and was admitted to Kyiv's Saint Princess Olha Girls Gymnasium in 1914.
On graduating with honors from the gymnasium in 1920, the young graceful and shapely Cossack girl entered the Ukrainian Academy of Art, where she was immediately enrolled in Professor Mykhailo Boichuk's studio of mural painting.
"The academy's atmosphere, a brilliant and colorful personality of the professor, an opportunity to learn very much about the history and art of nations and discover something new every day inspired students although it was a hard time of starvation, battles, and gangster forays," Kyiv-based art historian Valentyna Ruban says. "The passionate sermons of Boichuk, who was profoundly devoted to art and vested with a brilliant gift of organizer and teacher, would inspire young people to dedicate art to the people and create beauty for them."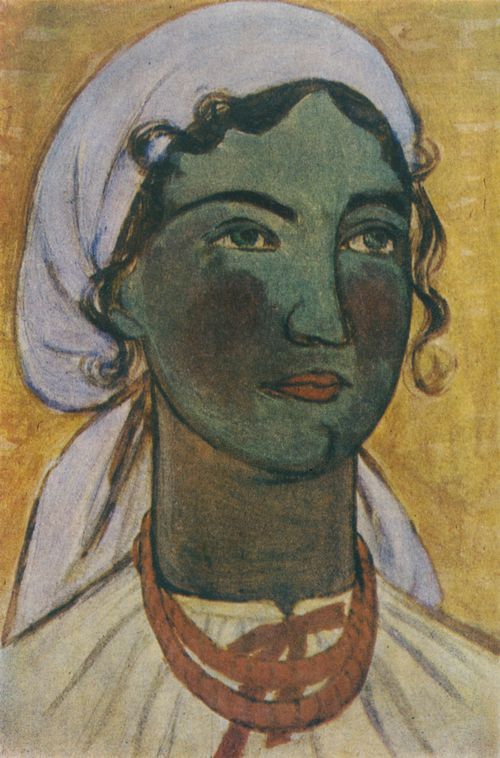 A GIRL IN A HEADSCARF, 1921
Maria Yunak herself says in her Autobiography that the professor often invited several students to the orchard near the one-story building in Tatarka, where he lived, and showed them and analyzed interesting books and looked through their sketches. And next to this, "on the coals," there was a basin with cherry jam and "it was all fun."
For Boichuk's students, the Tatarka house was not only a place to meet their favorite professor and his friends, but also a classroom and a painting studio and sometimes even lodging. O. Panchenko also reminiscences about those wonderful times on a "bright little island" in the troubled Kyiv.
Many students had also to work, not only to study, in the difficult period of the early 1920s. Yunak found a job at a post office and then, in February 1922, she got employed as secretary-typist at the Institute of Plastic Arts. The institute rector Ivan Vrona often emphasized that he had a typist "of the highest category and with higher education."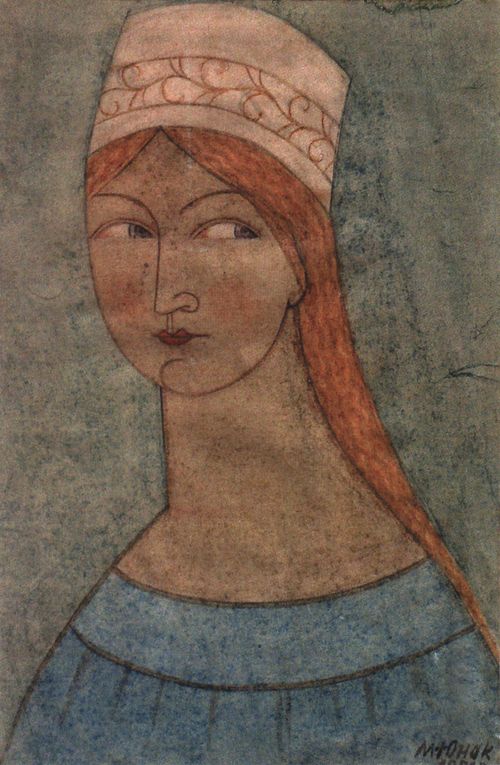 FAIRY TALE, 1921
The hardworking Maria managed to combine studies and "survival work" with creative activities – in the fall of 1921 she took part in the second annual Art Academy exhibition, displaying the works A Girl in a Headscarf and Fairy Tale. According to art researcher Ruban, it is probable that Yunak also took part in decorating the Kyiv Opera House to celebrate the first anniversaries of the revolution and to house the All-Ukrainian Congress of Regional Executive Committees Representatives in the spring of 1921, as well as in painting a series of the portraits of cooperative movement activists for the Kyiv Cooperative Institute.
In 1927 the mistress finished her studies at the Kyiv Art Institute but defended her diploma later, in 1929, because she traveled to Odesa "with a group of senior students" to paint over, under the guidance of Prof. Boichuk, a health center in the Hadji Bey estuary. Yunak executed the portraits of Taras Shevchenko and Ivan Franko, which "fitted in with the overall gamut of paintings" on the end wall of a club hall.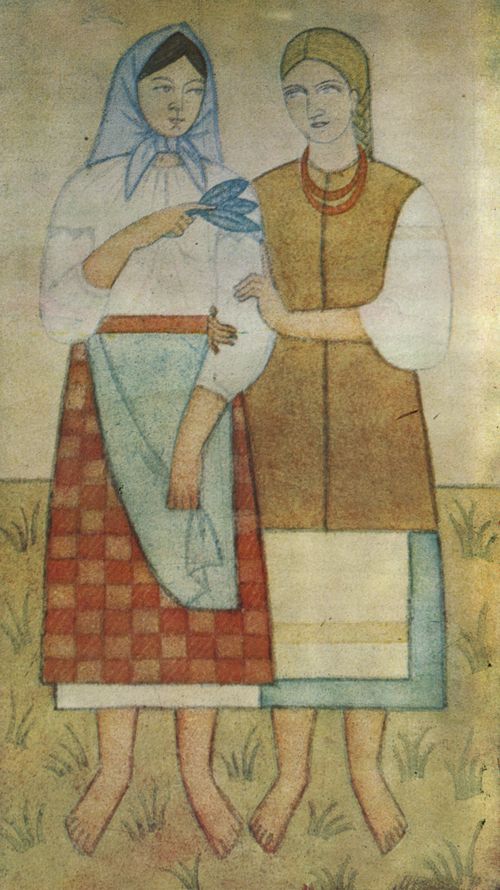 UKRAINIAN WOMEN, 1921
After being awarded a diploma, the artist continued to work as Prof. Boichuk's assistant.
Then Yunak was invited to take part in painting over the Red Factory Theater in Kharkiv. It is unknown which of the frescoes she painted personally, but those were the last works by Boichuk's pupils and the mistress herself in the domain of mural painting. They were all declared "enemies of the people" a year later.
It was the end of 1937. Boichuk and his closest pupils were no longer living. Kyivites O. Biziukov, K. Hvozdyk, and O. Kravchenko were repressed. A. Ivanova, O. Panchenko, and O. Sakhnovska were in Moscow, S. Kolos in Leningrad, and the rest no one knows where.
In March 1947, with the help of old friends, including G. Dovzhenko, Yunak was employed as "author artist" at the Institute of Mural Painting and Sculpture of the Ukrainian SSR Academy of Architecture, where she created a series of "easel frescoes" (she, as Boichuk's pupil, was still kept off mural painting): The Head of a Girl (1948), A Female Welder (1968), and A Part-Time Student (1969) as well as sketches of the unexecuted paintings Sadness, A Woman in the Garden, and The Portrait of a Woman (1968-72). But her attempt to join the Ukrainian SSR League of Artists ended in a fiasco. Boichuk's pupil Yunak was rejected by a Jesuit logic – due to "absence of mural paintings."
The artist found some of her old acquaintances and was corresponding with her friends A. Ivanova, V. Kutynska, and Ye. Ovsiienko. Those letters contain reminiscences about the Teacher and his pupils, professional advice, stories about some artists, and moral support for each other.
"Hello, my sweet dear Maria, look cheerful! Cheer up, we will still fight in this world" were the words from Ivanova's last letter. She died in August 1972. The death of an older friend, a person who, in spite of a serious illness, remained active and loyal to the exalted principles of Boichuk's art, was a heavy blow to the artist. Thus "broke one of the last threads that had linked Yunak for many years with the past and inspired faith and optimism in her."
The artist's last artwork, which brought her the joy of creation, were the four meter-size frescoes The Seasons painted in 1975-76 on the walls of her old friend Vira Kutynska's country house in Tarasivka near Kyiv.
As Ruban wrote, "those were the last works… in the fresco technique, a farewell to mural painting… It was in fact a farewell to life itself." Maria Yunak passed away on August 1, 1977.
Yaroslav Kravchenko is Candidate of Art History