An exhibition "Priceless Gift" opens at the Kyiv National Museum of Russian Art
16 April, 2014 - 17:39
The exhibition is dedicated to the 120th birthday anniversary of the famous Kyiv collector and pediatrician Davyd Sihalov (b. 1894 – d. 1985). About a hundred paintings and drawings of the late 19th – early 20th centuries are displayed in several museum halls. Let us remind that Sihalov dedicated his life to collecting paintings, which he later presented to the Kyiv Museum of Russian Art. This story begins in the 1960s: Sihalov was in close relations with the museum, consulted experts in matters of collectibles. It is known that in 1963 he presented the museum with a painting by Fyodor Rokotov Portrait of Pyotr Golitsyn. Later, in the 1970s, he gave 63 works to the museum funds, and in his will he marked about 400 paintings, drawings and decorative art works as those to be given to the museum (a large part of these works is in the museum's storerooms now).
Sihalov's exquisite taste and his persistence in the desire to complete his collection with only the best works let us admire rare masterpieces today: Mikhail Vrubel's and Konstantin Somov's watercolors, self-portraits by Zinaida Serebriakova, theater sketches by Alexandre Benois, etc.
By the way, Sihalov had been a fervent collector of landscape postcards and beautiful book illustrations since childhood. When he grew up and became financially independent, he got into serious collecting. However, according to him, the joy of owning first-class works came to him at an older age.
Sihalov was sent to the front of the World War I when he was a medicine student. In 1916, he was gravely wounded, and demobilized after receiving medical treatment. After coming back to medicine, Sihalov studied the most complicated cases in the pediatric practice with great enthusiasm. He wrote over 90 scientific articles dedicated to the most relevant medical issues, including tuberculosis. A number of outstanding Ukrainian medics were raised under his leadership, who shaped the future of Ukrainian medicine. Sihalov's students defended about 15 doctoral theses.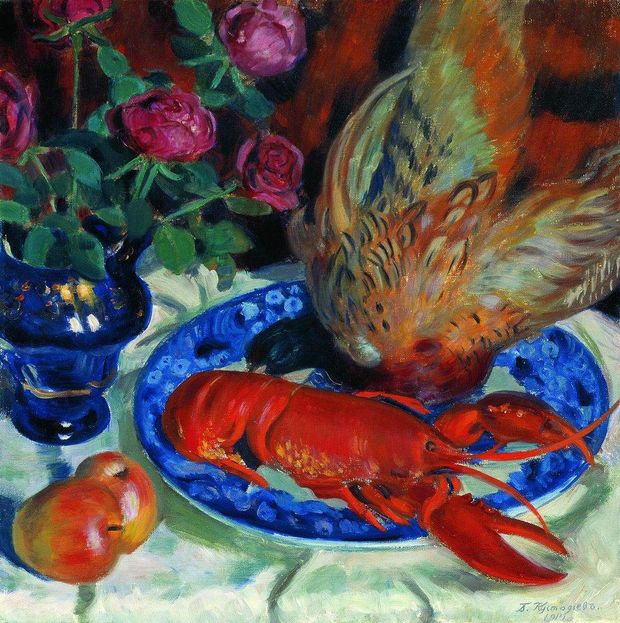 BORIS KUSTODIEV, STILL LIFE. LOBSTER AND PHEASANT, 1912
A lot of valuable works disappeared from Sihalov's collection during the World War II, but he returned to his hobby during the peace time. A significant part of his collection consists of works by famous realism masters of the late 19th century: Vasily Surikov, Isaac Levitan, Viktor Vasnetsov, and artists from the Union of Russian Artists, who were under the strong influence of impressionism (Konstantin Korovin, Leonard Turzhansky, Stanislav Zhukovsky, Konstantin Yuon, and others). However, the purchasing of small sketches and drawings by the leading artists Mikhail Vrubel and Valentin Serov at the break of the centuries was the most important for Sihalov.
One of the richest parts of the exhibition is dedicated to the works of artists who belonged to "Mir Iskusstva" ("The World of Art"), who studied the history and culture of previous epochs with profound depth and inspiration. The exhibition introduces "strolls," watercolors by Somov which depict courteous relations between a lady and a gentleman, views of Oranienbaum and Versailles by Benois, theater sketches of costumes and works by talented innovators Nikolai Rerikh, Konstantin Korovin, Nikolai Sapunov, and Dmitry Bushen.
Zinaida Serebriakova's works are a true gem of Sihalov's collection. He passionately loved her art and purchased fantastic works: Self-Portrait in a White Blouse, the watercolor Self-Portrait in a Black Dress with a White Collar, lively images of beautiful peasant women in traditional costumes, which were noticeably idealized, as well as landscapes.
Epic Crimean landscapes painted by Konstantin Bogaevsky and Ivan Bilibin bring the audience back to the topic of southern beauty. Fans of the Blue Rose will be thrilled to see transparent and exquisite watercolors by Viktor Borisov-Musatov. Pavel Kuznetsov's landscape series "Apple Trees in Bloom" and a countryside landscape by David Burliuk are dedicated to the beauty of the nature, and the color feast is completed by the wonderful expressive Flowers of Armenia by Martiros Saryan.
Those who are interested not in the exhibition alone, but also in the collector's personality, will find the information about his activity useful. A separate stand displays Sihalov's photos from various years from the archive of the National Museum of Medicine of Ukraine and the Kyiv National Museum of Russian Art.