Anatolii Varvarov's solo exhibition "I Live!" launched at the M17 Kyiv Center for Contemporary Art
16 November, 2017 - 11:31
Great things are seen best at a distance. When a single exhibition features 54 pictures of different years at once, it becomes obvious: Anatolii Varvarov is the most optimistic artist among our compatriots and contemporaries.
Almost 30 years ago, on becoming students of Kyiv Art Institute (now the National Academy of Fine Arts and Architecture), graduates of Dnipropetrovsk Vuchetich Art School Anatolii Varvarov, Ihor Konovalov, Volodymyr Zaichenko, Volodymyr Padun, Serhii Korniievsky, and Eduard Potapenko settled in an abandoned building, a squat in Olehivska Street. And at a time when ParKom (an art squat in the very center of Kyiv) was making headlines the world over, they engaged in artistic practices that were no less interesting than those of the ParKom members. Their performance The Opening culminated with the appearance of a ship with plaster figures of the Olehivska Street artists on the deck in that street near Shchekavytsia Hill...
The installation A Stop made quite an impression back then, when a brick stop was turned by the squatters into a true jewel gracing one of the capital's hills. The Seven-Cogged Wheel on Zamkova Hill, which looked like a gear with seven cogs, was outright demolished by the city authorities after they had mistaken it for a Satanist shrine. Apart from staging performances and happenings, the Dnipropetrovsk-Kyiv art group also worked in more chamber genres, including painting, of course. Today, when conversations about non-institutional development of contemporary art are growing louder, the Olehivska Squat has unexpectedly (or, conversely, quite naturally) become one of the most fashionable trends of the gallery business in Kyiv and Ukraine.
Another proof of the Olehivska Street artists being fashionable these days came with practically simultaneous opening of three exhibitions of their works in this country in early November. Within the framework of an all-Ukrainian tour, Dnipro Art Museum is hosting a large-scale collective exhibition called "The Olehivska Squat in Kyiv." In the capital itself, paintings by Konovalov and Varvarov can now be seen at a new exhibition at the Soviart Center for Contemporary Art, and they come from the holdings of the gallery itself. And finally, the M17 gallery put on display a large (54 paintings and 3 objects) solo exhibition "I Live!" featuring the works by Varvarov, one of the founders of the art commune, the next night after the Dnipro exhibition opened.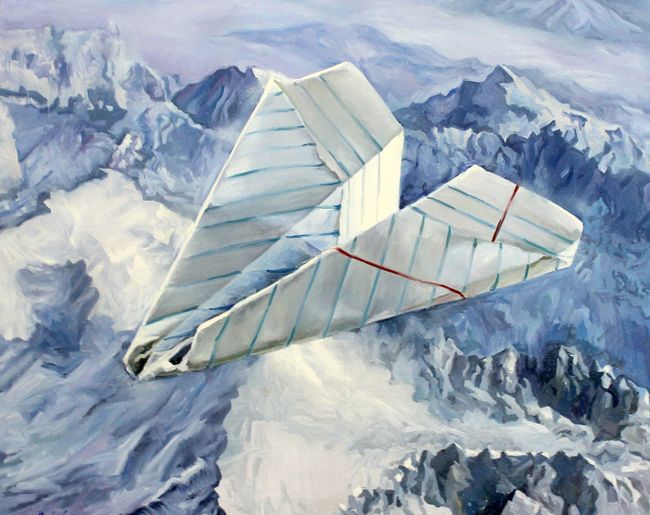 Paper airplanes and boats made out of pages torn from school notebooks, azure-blue sky and turquoise sea – these are the main subjects of the life-affirming Kyiv solo exhibition that features works of recent years.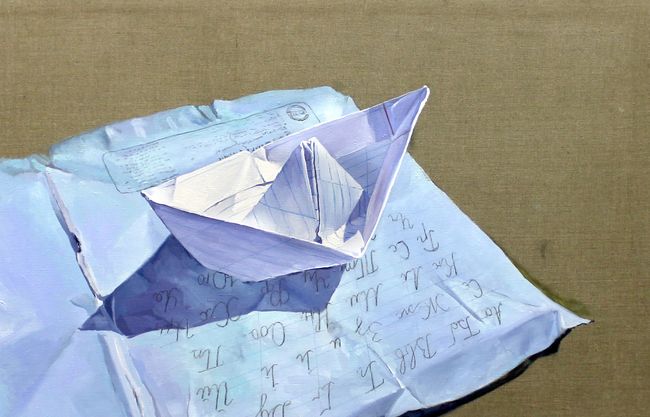 "Our life begins with school. In our youth we are full of hope and strength, and go on our journey with enthusiasm. Life is an endless journey," Varvarov said about the exhibition. His surreal landscapes are filled with movement and light and are surprisingly optimistic. If you fly, then you should move up, closer to the sun. If you swim, you should do it on the crest of a wave. Such are plots of the artist's older works. But new paintings (there are over a dozen of them in the exhibition), which depict swifts, a whale that plows through the waves, and other similar characters – they, too, communicate the familiar Ode to Joy. A blue-and-yellow untethered kite hovers in the company of three paper planes in the same azure-blue sky, over urban landscapes, higher even than poplar treetops. It is shaped like a little plane itself. Its permanent aim is up, while a fall is impossible as long as the Holy Trinity directs it (these trusting children's little planes are hinting at it, are not they?). Sadness is inappropriate... A blue-and-yellow plane, a heavenly traveler – is it a symbol of Ukraine? Or maybe a symbolic self-portrait, and also the emblem of every Ukrainian soul? Everything is possible. Indeed, Varvarov is not as simple as it may seem at first sight. He is a "philosopher of the heart." And the world has tried to catch him for 30 years, like a wind does with paper planes, but has not succeeded... A light breath is a fixture of Varvarov's works. Fashionable or not, they do not become less profound or more predictable, commercial. And just like 30 years ago, they make one want to live, to hope, to rejoice. This is a case when the form, with its metaphorical subjects, light and color, does not "kill" the meaning (as Lev Vygotsky wrote about a story by Ivan Bunin), but only reinforces it.