The exhibition's curators are convinced that the events of 2013-14 have had a major impact on our current situation
28 September, 2015 - 17:24
The exhibition halls of the Union of Artists' building were hosting an exhibition dedicated to images of Ukrainians, ranging from famous figures of the past to prominent contemporary politicians, researchers, and culture workers. Organizers of the event are the National Union of Artists of Ukraine (NUAU), the Ministry of Culture of Ukraine, and the Department of Culture of the Kyiv City State Administration.
Curators of the "Real Ukrainians" exhibition are convinced that the events of 2013-14 have had a major impact on our current situation: "It is safe to assert that the Ukrainians have changed into truly free and independent people. The year that has passed since gave the artists the opportunity to creatively and philosophically rethink these things. The artists have covered all the population, including politicians and bureaucrats, soldiers and intellectuals, proletarians and peasants, oligarchs and celebrities, show-business stars and volunteers, housewives and students, heroes and anti-heroes. The artists focused on understanding the value of each person."
It is highly important that the NUAU offers the viewer a chance to see an exhibition of patriotic posters as well, which put burning issues of the day into eloquent slogans: "Information-Armed Forces," "The Donbas is Ukraine," "Every penny spent on Russian goods will come back as a bullet." Meanwhile, the "Real Ukrainians" opening exhibit looks quite traditionally: it is a collection of folk costumes, created by Tetiana Nehoda and put on mannequins. Going further, one sees paintings and sculptures, which deal with the most sensitive issues of the past and present.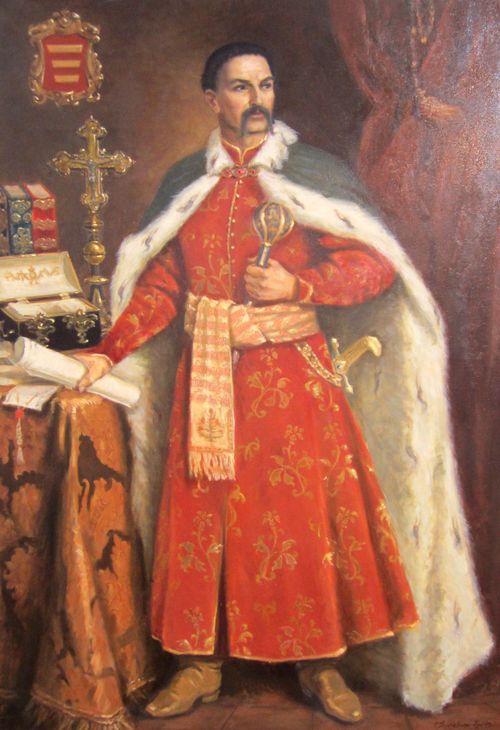 OKSANA POLTAVETS-HUIDA. PORTRAIT OF PYLYP ORLYK / Photo replica courtesy of the artist
Participant of the Ukrainian Triennale of Sculpture and many plein-air workshops and symposiums, sculptor Yehor Zihura discussed the difficulties of establishing a dialog between centuries: "It was the tragic events in Ukraine that prompted me to create The Colossus Who Rose Up, which is part of my art project "The Day after Today." I believe that the collective mind of the humankind has always contained images of stable, eternal, non-fleeting nature, because there are things, which one can watch for hours, quietly contemplating their unique excellence. I pondered a provocative question then, 'Should these images look at us today, what would they have seen in our civilization, highly changeable, weak, and uncertain?'"
The exhibits included portraits of historical figures, including that of Pylyp Orlyk, painted by Oksana Poltavets-Huida, but most artists preferred to portray creative individuals who have made outstanding contributions to the culture of contemporary Ukraine. The colorful personality of well-known scientist and traveler Dmytro Vovk, a descendant of first Ukrainian ethnographer Fedir Vovk, addresses us from the painting by Yaroslav Bosenko. Also noteworthy are sculpture Portrait of Ivan Kavaleridze by Liudmyla Kuliabko-Koretska, Portrait of Natalia Deregus by Vasyl Korchovy, and Portrait of Bohdan Stupka by Zynovii Fedyk, as well as painted portrait of actress Raisa Nedashkivska by Mykhailo Huida and portrait of Sviatoslav Vakarchuk I Flew to the Heaven, made in her individual technique by Lesia Bilenko.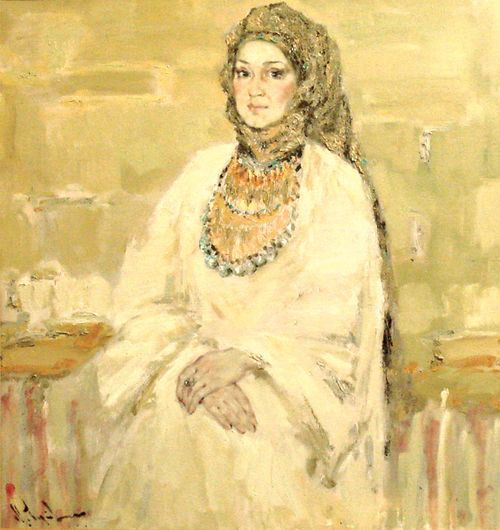 MYKHAILO HUIDA. PORTRAIT OF PEOPLE'S ARTIST OF UKRAINE RAISA NEDASHKIVSKA
It is worth noting, though, that a gallery of images offered only fragments indeed. To put them into a mosaic and create a complete image of the Ukrainian nation, we needed to use philosophical and abstract thinking and have the ability to grasp certain sacred laws of coexistence of different personalities sharing one location. Participant of international art projects Tetiana Ocheredko revealed her thoughts on the issue: "My work investigates composition of the Ukrainian mental code. Every human being lives in society and is an inseparable part of it, knowing themselves through interaction with others and thus shaping their worldview, the 'code' of their world. A detailed study of one's capabilities and aspirations, and sometimes even deficiencies, always encourages us to perceive others warmer. Therefore, I believe that 'the Ukrainian code' includes not only family and ethnic traditions, but also the impact of our environment, and it is we who have a lot of influence on harmonious coexistence of one's own and other person's codes in our shared world."
The gallery of images of real Ukrainians, made up a single, sturdy living organism rather than separated from each other as fragments, figures with their individual destinies.