The Museum of Contemporary Writers' Caricatures has opened in Kyiv
4 April, 2018 - 15:50
Serhii Zhadan rides... a Kharkiv-made tractor, while Andrii Kokotiukha hides from a stranger... with a weapon in his hands: modern Ukrainian literature is acquiring a new visual dimension. On April 1, an exhibition of caricatures opened on the premises of the Kyiv Branch of the National Union of Writers of Ukraine (NUWU). Its author is a young artist from Lutsk named Volodymyr Cherniak (his pseudonym is Temnyi, or Dark). Meanwhile, Volodymyr Danylenko, a prose writer and the head of the NUWU's Kyiv Branch, can be called a literary artist, since he helped Cherniak in creating images by telling him about the lives and work of modern Ukrainian writers.
GEOGRAPHY, TOO, CAN BE STUDIED BY EXPLORING THESE DRAWINGS
Yurii Mushketyk opens the modern literary process as represented at the exhibition. He is depicted with... a pistol and a saber, clearly hinting at the writer's history-themed novels. And then, one can see Lina Kostenko, Valerii Shevchuk, Vasyl Herasymiuk, and other well-known Ukrainian masters of literature.
As Danylenko told us, most caricatures point to the work of the author. For example, Ivan Drach is depicted putting the sun on a knife (inspired by the title of his poetry collection A Knife in the Sun). Some caricatures focus on biography. In particular, one drawing shows Maria Matios holding the Verkhovna Rada in her hands as if it were a cake: in this way, the artist represented her activities as a legislator. Meanwhile, Vasyl Portiak, who has written scripts for many films, is depicted near a camera.
Geography, too, can be studied by exploring these drawings: Emma Andiyevska is shown hanging over a German cathedral (she lives in Germany), Natalka Bilotserkivets is drawn against the background of the Eiffel Tower (pointing to her popular poem We Will Not Die in Paris), while Mykhailo Traista has Hutsul churches of Maramures Ukrainians (Romania) in the background, since this Ukrainian writer currently lives in Bucharest.
Also, caricatures offer a completely new perspective, for example, on Taras Fediuk: he is depicted with a fishing rod in his hands, which symbolizes the writer's carp-fishing hobby. Meanwhile, Dmytro Lazutkin wears a very fitting karate uniform, which emphasizes his love for Oriental martial arts.
Thus, one can study contemporary Ukrainian literature by exploring Cherniak's drawings. Moreover, the caricature sometimes appears as a philological puzzle, forcing one to identify the author by their work or biography, or, conversely, to detect which work is depicted in the drawing.
"WE WOULD NOT HAVE SURVIVED WITHOUT JOKING"
The caricature format was not chosen by chance: it was due to the desire to portray the writers in a new way, somewhat humorously. "The Ukrainians are a nation that perceives everything with humor. The Russians, for example, largely focus on aggression, threats, and their humor falls flat. On the other hand, the Ukrainians have very exquisite humor: when they joke, they do it to the hilt. This is part of our culture, mentality. We would not have survived without joking," believes Danylenko.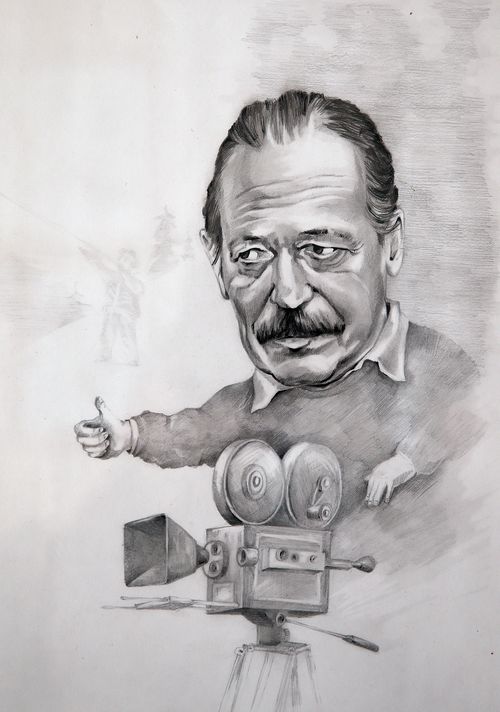 Besides, as the chairman of the NUWU's Kyiv Branch emphasized, caricature has been known for a long time in Ukraine, as Oleksandr Dovzhenko drew them back in his time. So it was decided to revive this tradition and make it part of the contemporary literary process.
Of course, the purpose of such an event is to draw attention to Ukrainian writers as well, because not all of them are active in public life by giving interviews or writing articles.
"HUMOR IS KEY FOR ATTRACTING YOUNG PEOPLE'S ATTENTION TO LITERATURE"
Writer Yevhenia Kononenko offered an interesting parallel by recalling an example from her childhood: "We had an album of caricatures at home, mostly involving political satire which attacked world capitalism. So caricatures were rather a 'by-product,' but very interesting nonetheless. In particular, one could see Sophia Loren or Yves Montand there. Frequently, I first saw some celebrities in these caricatures, and later recognized them in photos." We sometimes have a similar situation with Ukrainian authors, too. Therefore, as Kononenko rightly noted, "humor is key for attracting young people's attention to literature."
We hope that the organizers will be able to implement their plans which call for publishing an album that would enter the literary process, and distributing it in Ukraine, both as a material product and in the virtual space of the Internet. Nowadays, contemporary literature still needs new interpretations, despite its young age. And humor is a great way to "reboot" the usual views which Ukrainians hold about the current literary process.