Kyiv hosted modern ceramics festival TseHlyna. The organizers not only presented the masters' works, but also invited the audience to have a dialog with them
17 June, 2014 - 11:00
The Ukrainian art ceramics now comes close to world standards in terms of its conceptual design and quality of work. It includes attempts to rethink traditions and postmodern exploration. The one thing it lacks is a grateful consumer. While Ukrainian audiences are slowly getting used to modern art installations as they see them at high-profile exhibitions at popular venues, the modern art ceramics remains terra incognita. A festival which took place in Kyiv recently for the second time is another attempt to draw the audience's attention to the Ukrainian ceramics and to introduce it into the art market; last year it was promoted as the festival of ceramics in urban space, but this time it is called "TseHlyna" [which can be read in Ukrainian as "brick" or, with a space inserted after "Tse," as "it is clay." – Ed.]. More than 50 potters coming from all over Ukraine, from the Donbas to Transcarpathia, presen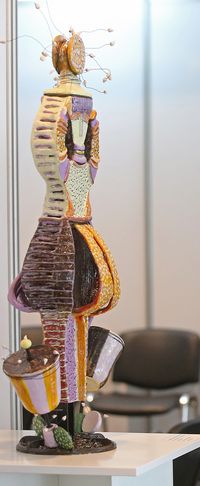 ted their glazed, coated, engobed, enameled, and milk-bathed masterpieces.
The exhibition, held in the Exhibition Hall of the Olympic National Sports Complex, was a panoramic event. Works of recognized virtuosos, such as impressive, "mineral" vessels by Gia Miminoshvili, colorful surrealism of Nelli Isupova, geometric shapes by Taras Levkiv, sat side by side with the graduation works by young people (by the way, Ukraine's only institution empowered to issue ceramist certificates is Lviv's Academy of Arts). The event brought together archaic ornaments-decorated pots as well as pop-art lamps and burger-shaped soap-holders, and just about anything else, from works displaying small-town naivety to cold-blooded contemporary art. Fans of traditional figurative sculpture found there various scene compositions, three-dimensional illustrations to works of literature, portraits, fish, birds and lambs. Those who prefer everyday objects were able to enjoy numerous plates, jugs, teapots, and even an enameled ceramic tabletop created by David Sharashidze. Connoisseurs of contemporary esthetics found there "biological" forms by Yurii Musatov and installation Firewood, created by Olena Blank and standing on the verge of land art.
The festival's organizers not only presented the masters' works, but also invited the audience to have a dialog with them. Viewers visited personal presentations, watched demonstration videos on art ceramics and attended a roundtable discussion with designers, architects, and gallery owners. At the latter event, the experts discussed the problem that befell this form of art in Ukraine, as the strong tradition of clay-working had been broken, and therefore most young potters lacked ambition. As in any artistic field, the Soviet trauma has not yet been overcome in the ceramics industry. Over the past several decades, virtually all faience and ceramics plants were destroyed. This means that great creative centers and well-supported consolidation of artists have all been lost. Currently, every potter is on their own, making their works extremely costly and valuable knowledge isolated. The nation has no art clusters, no NGOs that would represent the interests of this artistic sector. Meanwhile, the university's program in ceramics is obsolete and does not prepare students for the modern art market. All what the masters do achieve comes through self-education and determined effort. Young ceramist Musatov whose works already participated in international biennales and were exhibited three times last year at the Shcherbenko Art Center gallery of modern art in Kyiv, said: "I do not know why others work, but I work because I love my job. I have tried to show my works where I can, guided by foreign tastes from the start of my career. I saw getting into the global context as more attractive, because the Ukrainian ceramics really lacked domestic audience and consumers at the time. Now the situation seems to be changing for the better, but our art market is still trailing far behind the American and European ones."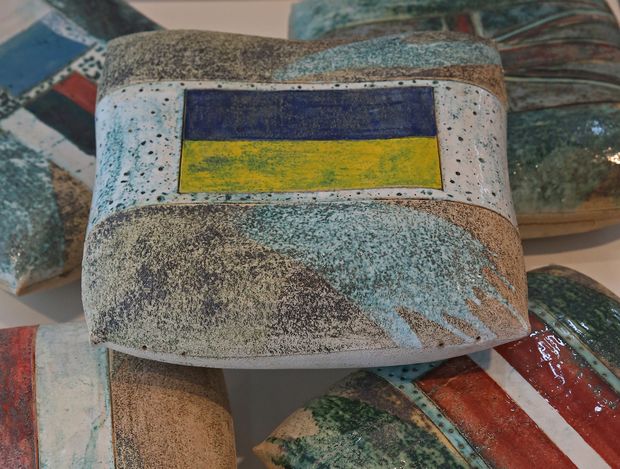 FESTIVAL TSEHLYNA-2014 HAS PROVEN THAT SOME UKRAINIAN MASTERS HAVE MOVED CONSIDERABLY TOWARDS THE INTERNATIONAL LEVEL, ALTHOUGH THE EXPERTS INSIST THAT THIS PROCESS CAN BE MUCH FASTER
Ignorance of potential consumers is the other side of the same problem. When doing interior decoration, people of moderate means as well as, as shown by recent insights into the life of politicians, rich people choose kittens, horseshoes, and bells instead of unique, colorful clay decorations. Both inexpensive gifts and designer creations are now dominated by kitsch and popular culture. "Architects and gallery owners are only rarely turning their attention to ceramics, as it lacks professional promotion," gallery owner Yevhen Karas told us. "This professional exhibition is an important step, because it 'uploads' ceramics into 'the internal memory' of experts and potential consumers, brings this art form into the art scene and to the general public." Indeed, "TseHlyna-2014" has proven that some Ukrainian masters have moved considerably towards the international level, although the experts insist that this process can be much faster. Anyway, the festival is the first step of the creative community towards the audience. The next step should be made by us.