An exhibition of unique kimonos from the collection of a local scholar of Japanese culture is being held in Kharkiv
19 June, 2017 - 17:43
Scholar of Japanese culture Svitlana Rybalko has put on display in Kharkiv her collection of unique kimonos which were worn in the 20th century. They include a few furisodes, dubbed "the flower among kimonos," which girls wore on the coming of age day, children's kimonos, and restrained dresses for women of elegant age.
Rybalko has been studying Japanese culture and all things to do with the Land of the Rising Sun for more than 15 years. The art historian, lecturer of the Kharkiv Academy of Design and well-known scholar of Japanese culture said that it would be a shame if she did not celebrate the Year of Japan in Ukraine in some way. Rybalko revealed that she studied the various features of Japanese life at first, but somewhere deep inside, she felt that she was looking for a topic that would resonate with her in a special way and captivate her for life: "I kept asking myself, what could I find in Japan that would be a snapshot of the whole universe of the Japanese culture? And then I realized that what I needed was the kimono. It is a universal 'memory stick' that records all the codes of Japanese culture: its history, all its political and religious events. And it so happened that I was fortunate to meet many artists."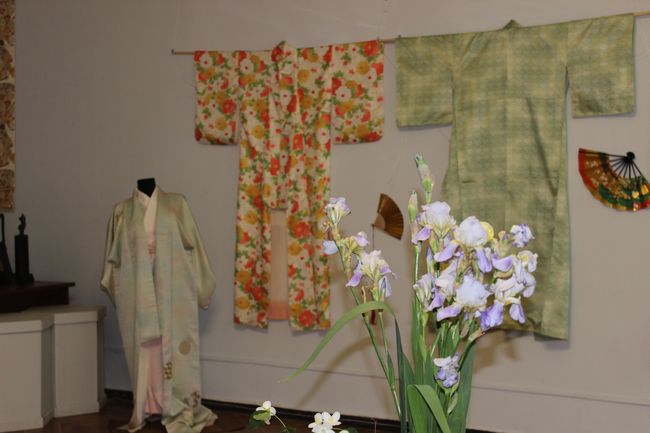 The Kharkiv scholar wrote her doctoral thesis on the Japanese kimono. For two summers in a row, she polled Japanese women who wore the traditional dress. The Ukrainian asked them what they felt when putting on their kimonos. She says she was most impressed by responses stating that they felt a sense of unity with their country and that they wore it not for their own sake, but to show respect for their guests.
"The Japanese probably lead the world in incorporating various symbols in their clothing. There are wartime kimonos with patriotic designs. Then, the patterns were formed from images of tanks, guns, and silver-winged planes with red circles. To show off support for the military, even women and children wore kimonos with images of characters from fairy tales, boy soldiers like Momotaro. These images were added to patterns, and they were read as images of the Japanese hero, the soldier whom they thus supported," Rybalko said.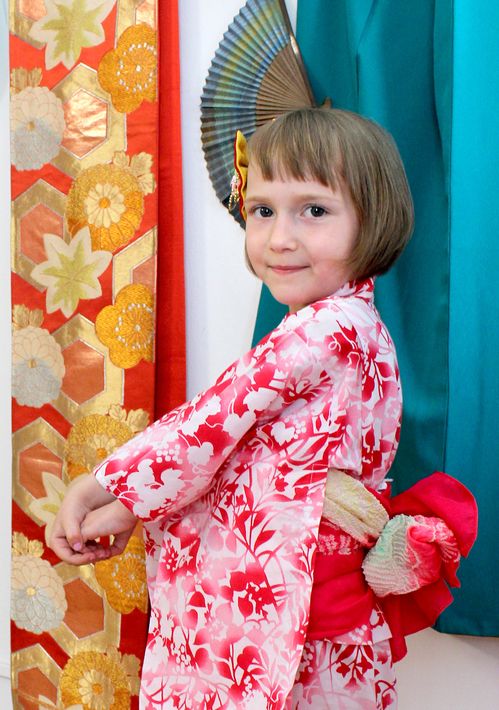 There are no kimonos with military motives in Rybalko's collection. However, it is with pride and enthusiasm that she shows visitors of the "Silk Wind" exhibition her furisodes – colorful kimonos which girls wear for the last time on the coming of age day. The scholar's collection includes several such kimonos. Each of them is unique. For example, this bright red furisode took a workshop half a year to make. The Kharkiv scholar says that beautiful kimonos were frequently used not only as clothes, but also as a kind of interior decoration, being hung in prominent places like carpets. Incidentally, the researcher chose a kimono as her exhibition dress as well, of the kind which the Japanese call haori. The fabric for them is made exclusively in the south of the country, in Kagoshima. There is an active volcano there that emits ash twice daily. Locals add it to the dye for the fabric and get a very diverse range of colors with a metallic shade. In general, almost every region of Japan uses different techniques for creating kimono fabrics. Rybalko told us about the famous artist Yumeji who, when asked how much his works cost, answered that he did not need anything but ki-hachijo. It is a bright yellow kimono made of the fabric made of maple leaves; this craft is the specialty of the island of Hachijo-jima.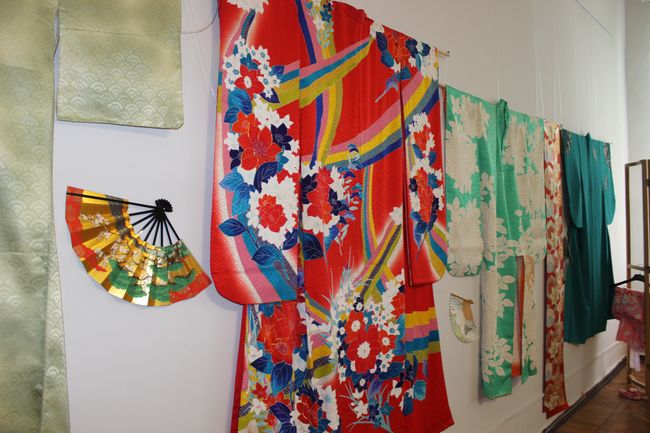 Rybalko has invited everyone not only to visit the exhibition which will run at the Kharkiv Culture and Arts Organizational and Methodological Center until July 5, but also to become its participant. The scholar says this event has an open ending. That is, the exhibition will allow one not only to see the Japanese national dress, but also to learn its history, see the technique of putting it on, and even display one's own talents linked to the theme of the Land of the Rising Sun. "The gods rejoice when they see us in kimonos," Rybalko said quoting a Japanese expression.