Picture book, authored and illustrated by Romana Romanyshyn and Andrii Lesiv, won the prestigious Opera Prima prize at the Bologna Ragazzi Award 2014
26 March, 2014 - 18:06
The 51st Children's Book Fair started on March 24 in the Italian city of Bologna. It traditionally features over 1,000 exhibitors from more than 70 countries. Ukraine is represented there for the second time. Last year, Staroho Leva Publishing House and Hrani-T first showed Ukrainian books there, and this year, Staroho Leva got an award. This is the first Ukrainian children's book to win an award at Bologna Children's Book Fair for the whole period of its existence. The book Stars and Poppy Seeds by Romanyshyn and Lesiv of the Creative Workshop Agrafka, published by Staroho Leva Publishing House in 2014, was among the winners in the category "Opera Prima" at the Bologna Ragazzi Award 2014. This prize is awarded for outstanding achievements, research and sales of innovative publishing products.
 Status of either author or illustrator as a beginner is a mandatory requirement for participation. Romanyshyn and Lesiv, creators of Stars and Poppy Seeds, first tried their hand as writers. The Day discussed with them the prize, children's books, and new creative principles adhered to by Agrafka…
The Bologna Ragazzi Award is not the first prize that you receive for your books. What makes it special for you?
 "To get a Bologna Ragazzi Award is an extremely high achievement. This competition is a respected and authoritative guide for publishers, critics, children's book market specialists world over. The prize is one of the world's most prestigious in the field of children's books, because, according to its statute, participation is limited to publishers' best books, in terms of graphic and printing performance. Winning books are widely reported in the media world, focusing professional attention of critics, publishers, readers."
Why is this prize important not only for you, but also for the whole Ukrainian book publishing industry?
 "Any achievements at prestigious international competitions are important not only for authors, but for the industry and Ukraine in ge­neral. Getting a prize at the Bologna Ragazzi Award automatically puts Ukrainian publishing on the world level, brings the Ukrainian children's book into the actual world context, and reveals great opportunities for finding professional contacts, development and cooperation."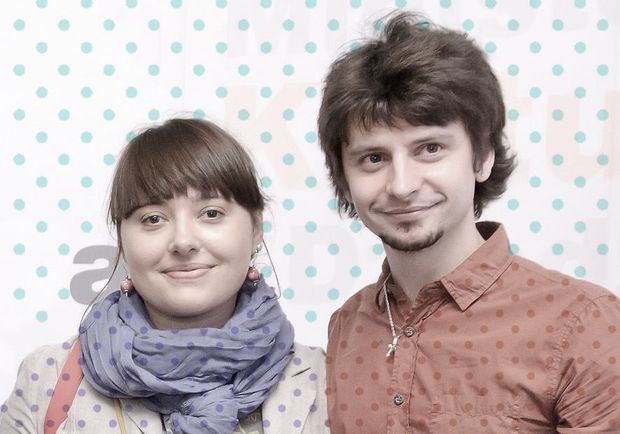 Please, tell us about Stars and Poppy Seeds. How did the idea of the book emerge, how long it took to create, what is its message?
"Stars and Poppy Seeds tells the story of one day in the life of a girl named Dora, who is the daughter of famous mathematicians. She has a well-developed imagination and an inner world rich in images. From her early childhood, she is surrounded by ma­the­matical formulas and numbers, and Dora perceives her everyday surroundings through such an interesting combined humanities and mathematics perspective, she loves to count everything, including leaves in the park, poppy seeds, buttons on people's coats, letters in the newspaper her daddy reads… It becomes an ordeal, though, when she attempts to count the stars in the sky, and here she is helped by her mother's advice that search for solutions to any difficult problem in life should begin with resolving simple problems, going to the goal by baby steps.
"Dora is a kind of collective image of the two of us since childhood, of our interest in small trinkets, the stars, the systematization and fantasy at the same time. We worked on this book for almost all of last year. The work was not easy, it is our first book where we are the only authors, responsible for both text and illustrations, so many details were being changed, edited, perfected as we worked on it. Still, this was a very interesting process, and we will conti­nue to work with similar books."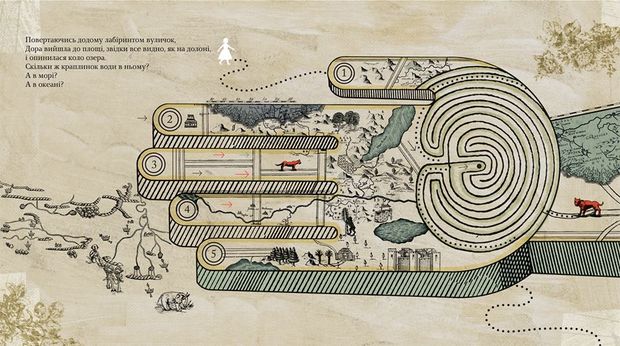 Stars and Poppy Seeds is a book that is clearly distinguished by its exciting and unusual (for Ukraine) design from other children's books. You are monitoring the book market in Ukraine and in the wider world, so what can you say today about the Ukrainian market, do you see any changes or development?
"Clearly, dynamics of the Ukrai­­nian children's books market is positive. In particular, there are interesting developments in illustration as its range expands. However, the main unique features of it include formation of a new Ukrainian illustration on the basis of our artistic tradition. We believe that in the coming years we will see significant growth of interest in Uk­rainian children's books abroad."
Stars… has been translated into English, so, the book goes on the world market...
"Obviously, English readers are the priority. We have excellent translation made by Oksana Luschevska and Mykhailo Naidan. We hope that the English version of the book will be available at major online retailers, such as Amazon or Bookdepository."
When working on the design of your books, what do you always remember, what are your benchmarks and targets? Are there any creative limitations?
 "Our working on books is guided by the basic creative principles, that is, the laws of composition and harmony, but also, of course, more specific operating principles of book design. We try to stay abreast of trends in book design and illustration in the world, try to visit the major European book forums, exhibitions, because this way is the only one allowing artists to be guided by latest trends and see themselves in context. Regarding the creative limits, we do not allow ourselves to touch things that can offend the feelings of others, such as religious, racial, or ethnic prejudices."
What are you working on now?
"We have just completed work on a new project that will combine paper book and electronic game version. The project is called Antomims. It features funny monsters that de­monstrate antonyms. The book will come with an application where children will be able to draw and invent their own Antomims. It will soon be published by Staroho Leva Publishing House, while the electronic version for tablet PC will be released later."