Khlibnia gallery hosts a contemporary art exhibit
1 September, 2015 - 11:57
In spite of the genre's name, any still life shows something living, sometimes even it has been revived from the oblivion. Organizers of the exhibit "(In)visible Presence: Contemporary Ukrainian Still Life" at Khlibnia gallery on the territory of the Sophia of Kyiv Sanctuary quote the American art critic Norman Bryson as saying that although a still life excludes by definition any human presence, man is still invisibly present in each of such pictures. For things "tell" about their creators or owners and the surrounding society honestly and rather expressively. The Khlibnia exhibit displays about 50 paintings and graphics Ukrainian artists have done in the past 15 years. The project is under the auspices of Ukraine's Directory of Art Exhibitions.
"This year marks the centenary of Kazimir Malevich's Black Square. Still life played a major role in art 100      years ago, with a lot of experiments being carried out in this genre. Actually, cubism, which influenced Malevich very much, is in fact based on still lifes. So, we dedicate the exhibit to the centenary of an important period in the history of still life and are showing what is going on in this genre today," says Sviatoslav Yarynych, art critic and co-curator of the exhibit. The expert points out that, although still life seems to exist on today's art market and be an important element of art education, works in this genre are underrepresented, for some reason, at big actual-art exhibits.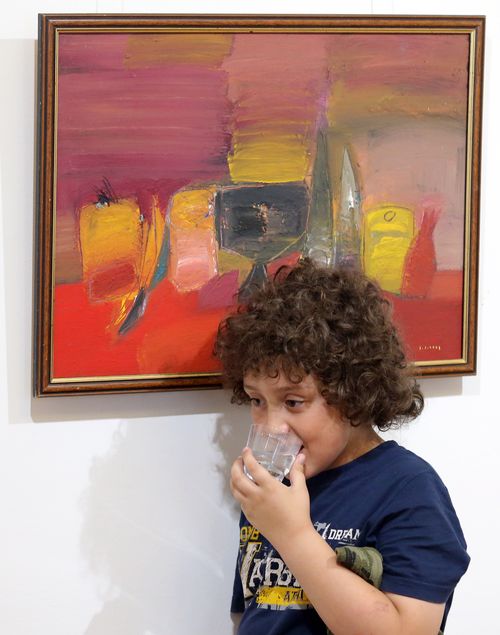 STILL LIFES CAN BE DIFFERENT – ABSTRACT AND REALISTIC, BUT A HUMAN BEING IS INVISIBLY PRESENT IN EVERY WORK OF THIS KIND
The "(In)visible Presence" exhibit displays very diverse works, including lush abstract pictures by Akhra Ajinjal, melancholic realistic still lifes by Matvii Vaisberg, and light graphics by Oleksii Beliusenko. We can see a riot of colors in the works of Iryna Yeremeieva and a calm gamut in those of Marta Bazak. The cloth, which often used to be the background and played a secondary role in the classical still life, is the main "hero" in Borys Firtsak's canvases. "Still life gives you a freedom of action: you can play with the form and color, check and assess your own sensation," Akhra Ajinjal says. "I find it interesting to compare different objects and forms. I never paint from life. Sometimes I commit to memory the place of some things, but I usually think up the plot on my own. My still lifes are becoming more and more abstract and taking a more spontaneous shape."
Wine and dish-washer boxes, serviettes, and maps get a new lease of life in Olesia Dzhuraieva's works. The mistress has made a series of linocuts on this kind of materials. "It must have taken me six years to create this series. It includes the surrounding things that I like," Dzhuraieva says. "These things are always at hand. I study them and take note of the most interesting moments. Here is only a part of the series. Sometimes a still life has something in common with the material it has been made on. I printed old wine glasses on a wine box and coffee cups on cafe serviettes. Works thus acquire a new content."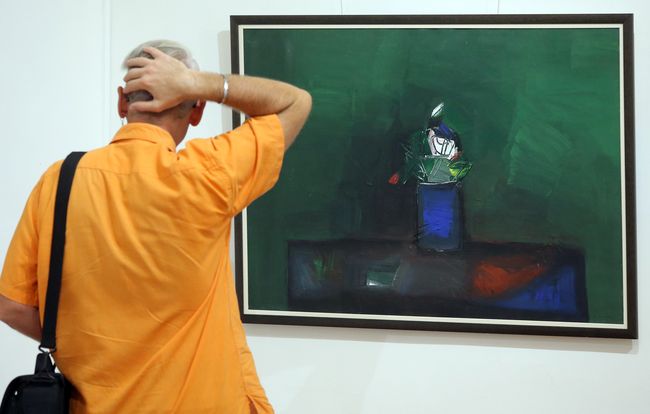 STILL-LIFE WORKS, WHICH WERE OFTEN CONSIDERED UNSERIOUS AND "LOW" IN THE PAST CENTURIES, CAN STIR UP STRONG EMOTIONS AND SERIOUS REFLECTIONS
The artist Matvii Vaisberg does not often paint still lifes, and these works are usually connected with some everyday life problems. The Khlibnia exhibit displays two of his works. One is flowers painted out of a hospital room window, and the other shows a big wicker basket with apples. "I painted the basket at a plein-air session in a Kaunas convent. The apples in the basket are from the convent's garden – the nuns left them for visitors. A white column and a wicker basket are very refined things that struck me, an urban resident," Vaisberg says. "Still life is a serious and complicated genre. One can perhaps paint almost everything in it. The question is who will do this. There should be a certain catharsis – the painter must let the plot go through himself instead of just demonstrating objects."
The exhibit "(In)visible Presence: Contemporary Ukrainian Still Life" will remain open at Khlibnia until September 20.