A new postage stamp is dedicated to the Ukrainian Fashion Week
6 September, 2017 - 16:58
Some think that writing letters belongs in the past century. Yes, we have e-mail, social networks, and Skype, but only a letter on paper, or warm words on a postcard will create a unique physical effect of someone's presence. That letters are everlasting classics is proven by the appearance of the Ukrainian Fashion Week postage stamp. Ukraine's postal service Ukrposhta, which has exclusive right for publication and circulation of postage stamps, presented in early September an art stamp dedicated to the 20th anniversary of the major event in domestic fashion industry.
The Ukrainian Fashion Week press service says that 130,000 copies of the stamp have been issued, as well as an envelope and a postcard.
The stamp carries a replica of an image created by Ukrainian artist Zinaida Likhachova in a video titled Transformation, which first was presented at the biennial of contemporary art Arsenale 2012 (Kyiv) five years ago. "In her art Zinaida reveals a variety of cultural and social rituals, perpetuated in sacral symbols of birth and death, the never-ending transformation of the material world into the eternity of spirit," commented a spokesperson of the Ukrainian Fashion Week press service. "For a decade the artist has been creating art objects which have their roots in the spiritual culture of the Ukrainian nation. The artist also draws the audience's attention to woman's role in society."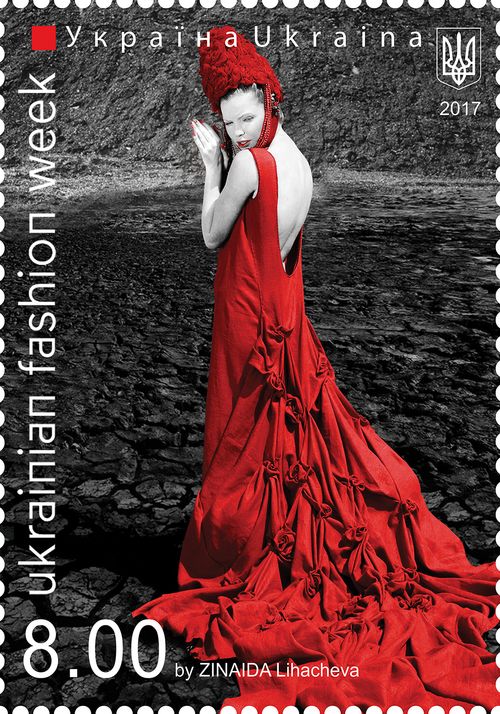 We would like to remind that Ukrainian Fashion Week is an event which unites Ukraine's leading fashion designers. Over the two decades of its existence, Ukrainian Fashion Week has promoted the establishment and development of numerous domestic clothing manufacturers, as well as the progress of fashion industry in the country as a whole. UFW started in the fall of 1997 and is the first event of this scale in Eastern Europe. Thanks to its international prestige, Ukrainian fashion designers received an opportunity to join the European and global professional community.
Enjoy Ukrainian fashion live right now. Ukrainian Fashion Week SS'18 is held in Kyiv on September 4-10. For the 12th season on end Mystetskyi Arsenal has remained the main location of the event.