Kharkiv artist family honored at New York international exhibit
16 February, 2017 - 11:19
Artist Volodymyr Nepomniashchyi has been principal of the Illia Repin Children's Art School in Chuhuiev, Kharkiv oblast, for about 10 years and has taught in it for almost 20 years. There are a lot of solo exhibits and participations in international competitions under his belt. The artist was awarded a gold medal in 2011 and two prizes this year at an exhibit held in New York once in five years. This time not only he, but also his wife Olha, an artist and a Repin School teacher, were honored. This artistic couple has worked side by side since they were students. "My wife and I apply the techniques of pastel and cloth-oil, respectively. We don't like much acryl and other techniques, so we have a limited choice of competitions to go to," Volodymyr says.
The jury of the "Color in Motion" exhibit-cum-competition includes seven members of the New York Academy of Art. Winners were chosen from among artists from 11 countries. Out of the 10 works Volodymyr and Olha had sent, three were short-listed, and the artists received awards for two of the latter. "I painted my canvases at international plein-air sessions. One of them was done in rather an impressionist manner in the autumn, while A Landscape with Geese is outright realism, and the jury liked it best. My wife won an award for the picture Ukrainian Still Life which she had painted at home, in Chuhuiev, using the available materials," the artist says. Incidentally, Nepomniashchyi worked on A Landscape with Geese near the river Siverskyi Donets, Chuhuiev raion. Artists from various countries come here every year for the international "Repin Plein Air." Landscapes of Sloboda Ukraine are Volodymyr's favorite leitmotif. He believes that nothing inspires as strongly as the nature of native land.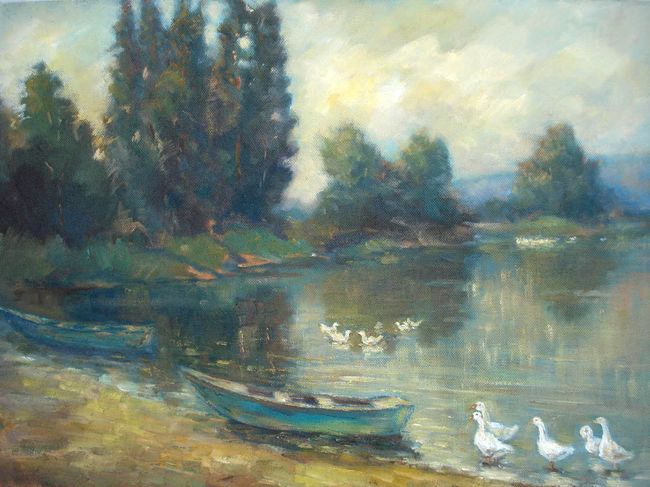 A LANDSCAPE WITH GEESE
Incidentally, the couple came to know about international exhibit medals as long ago as in October past year, but they were not in a position to travel to the US to collect them. Volodymyr had to seek an opportunity to do this. He says he even turned to the Embassy of Ukraine in the US, but the artists finally collected the awards thanks to support from the Kharkiv Oblast Office in Washington.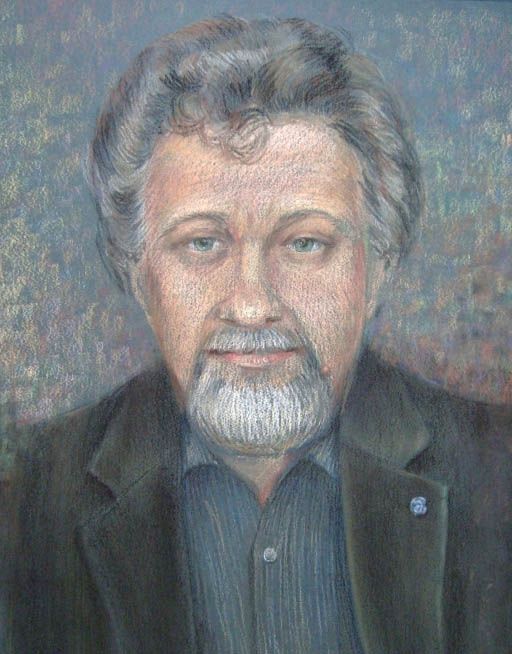 VOLODYMYR NEPOMNIASHCHYI, SELF-PORTRAIT
Volodymyr Nepomniashchyi is the Honored Painter of Ukraine and a pedagogue. He claims that he and his pupils adhere to "the Repin school of realism" because it is supposed to be the initial stage in the education of a young artist. Only after doing this stage, one can decide which way to go further in art. Incidentally, it is in the category "Realism" that Volodymyr won the gold medal at the "Color in Motion" international exhibit.
"We expected Ukrainian artists to win at least some award at this exhibit. In general, the Kharkiv painting school is very strong. Yet it may seem strange to somebody that we received these awards," the Honored Painter of Ukraine Volodymyr Nepomniashchyi says modestly in the end.