Project "Far and Nearby" at Triptych Art Gallery
14 May, 2018 - 18:06
"Far and Nearby" is the title of an exhibit currently on display at the well-known Triptych Art Gallery at 13, Desiatynna St. in Kyiv. The works of art on display belong to two female artists. They vary in age and style. Anna LYSYK (Lviv) is a ceramist specializing in volume-space plastic art, including her "Sea Quiet" series. Her creations are more on the decorative side, compared to her Kyiv counterpart Anna IPATIEVA's "Blanket View" series.
They use various materials and this explains the difference between their creative approaches. Anna is the first name of both. It originates from Hebrew Hannah and means grace, graciousness, and sounds very nice. Also, these two talented ladies appear to possess a very delicate but strong trait. True to their Christian name, Lysyk's ceramic works and Ipatieva's meditative paintings seem to expose their beauty as though under a dimmed spotlight.
Both are noted members of the national artistic community.
Anna Lysyk is a graduate of what was Lviv's State Institute of Applied Art under the Soviets, currently known as the Lviv National Academy of Arts (Ukraine's number one art school). She ranks with the Top 10 Ceramists of Ukraine, is a member of the National Artists' Union of Ukraine (NSKhU) and Project "Ukrainian Late 20th Century Decorative Art: 200 Names" (Kyiv and Paris, 2000-04); Poland's Gaude Polonia Program fellow (Wroclaw, 2005); chair, Ceramics Section, Lviv branch, NSKhU (2006-09); winner of the Zenovii Flinta Prize in the decorative and applied art standing (Lviv, 2012). Her works are easily identified due to her style that can perhaps be best described as archaeological avant-garde. She prefers archaic ceramics and is delighted to offer her interpretation of antique vessels, coming up with her own original and refined designs marked by graphic clarity, verging on the real and surreal.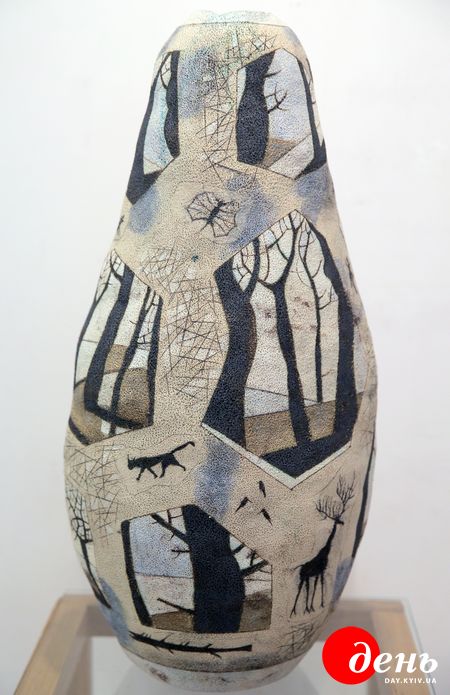 She started on Project "Close and Nearby" by making sketches, creating a world that only recently was so close and dear to those who inhabited it and which suddenly turns into an altogether different one, exotic but strange to the residents of today's urban areas – like touching the bark of a tree bent under a storm, losing leaves, fruit, and seeds. These seeds fall to the ground and take root. There are mysterious events taking place behind one's back. All one has to do is turn and look, taking in the quiet, enjoying it, if only for a moment... Anna Lysyk used these philosophic lines as an epigraph of sorts for her exhibit at the Triptych Art Gallery. Her ceramic pieces are nothing like the other showcase ones playing with colors. They remind one of archaeological finds, earthenware made God knows when and by whom (e.g., "Coral," "Cone," and "The Beauty" series). There are also thin walled vessels, big and so very elegant, adorned with jeweler- shorthand-like patterns made of abstract figurative symbols, marked by refined minimalist aesthetics and the author's perfect touch (e.g., "Autumnal Trees," "Butterfly," "A Dreaming Tree"). Her creative imagination makes the viewer follow her into a reality all her own: a prehistoric dry sea "with only dry seashells and the soft whisper of the long since dead surf you can hear during an especially hot day. A very long time ago, the bottom of the sea gave birth to forests and meadows, then people came and surrounded themselves with a world of their own making. And now the trees and cane whisper about the sea that used to be, an image of a short-lived world that seems to fade as you watch it…" This is an abstract from Ms. Lysyk's captions for her ceramic pieces (e.g., "Dry Sea Surf," "Cane," "Impression").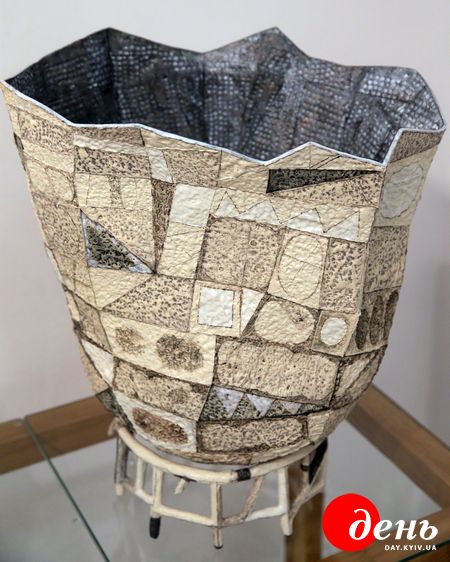 Anna's talent and self-exacting professionalism is probably due to her parents. Her mother, Oksana Zinchenko, was a noted Lviv-based costume designer. Her father, Yevhen Lysyk, was Lviv Opera's reputed and only chief stage artist (known far beyond Ukraine's borders) since 1967 and until his passing in 1991. She comes from a theatrical family, and this explains her being close to Anna Ipatieva's enigmatic paintings. The latter is a reputed Kyiv-based stage artist and there is a big difference between the creative trends adopted by both, but what perhaps common is their God-given talent.
Anna Ipatieva's stage designs remind one of all those rich Oriental handmade carpets – or blankets – with their whimsical patterns and colors. She says jokingly that her designs are "metadecorative tales inspired by computer display images and personal impressions when traveling in India and Indonesia" (e.g., "The Divine Wild Cat Who Has Never Lifted Her Crown," "The Blanket with a View on the Undeniable Love of Cat and Owl," "The Running Eyes of the Fish").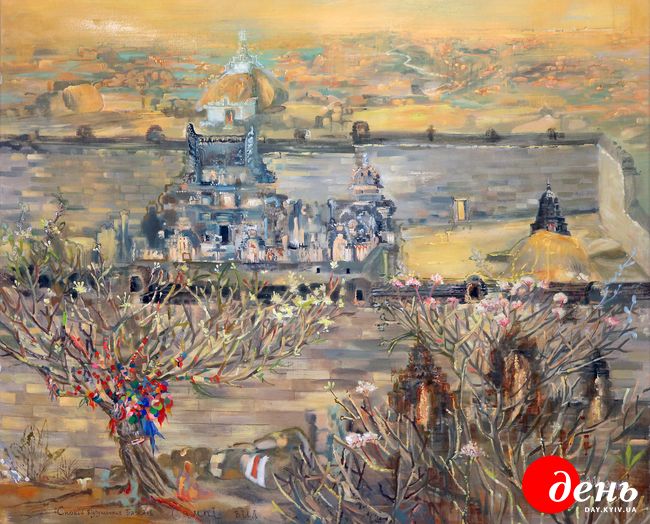 Anna IPATIEVA is a gifted product of the Kyiv art school, member of the NSKhU, graduate of the National Academy of Visual Arts and Architecture (1995), and postgraduate course (1998). Like Anna Lysyk, her stage and costume designs are known far outside Ukraine, displayed on opera stages in Latvia, the Czech Republic, Macedonia, Germany, and Russia. Her works are used for the Kyiv Opera (e.g., Rigoletto, Norma, Carmen, Nabucco, Raymonda, Don Quixote, La Bayadere, Romeo and Juliet, The Rite of Spring, Pictures at an Exhibition, Nutcracker, Cinderella, Little Prince, Joseph the Great, Golden Horde, Invitation to Death, Eupraxia, Faust, Chasing Two Hares, etc.).
That she is both gifted and open for innovative ideas is evidenced by her fruitful collaboration with Radu Poklitaru, the noted artistic director of Kyiv Modern Ballet (e.g., Giselle, 2016; Swan Lake, Modern Version, 2013; Gereven, 2012; The Nutcracker, 2007; Carmen TV, The Rain, Underground, 2008; Ward No. 6, Bolero, and Sheksperimenty).
In 2017, Anna Ipatieva was fortunate enough to work with the great stage artist, Yevhen Lysyk. She was offered to design stage settings for Yevhen Stankovych's opera-ballet When the Fern Blooms, shelved by the Soviet authorities for 40 years, staged by Vasyl Vovkun at the Lviv Opera. It had been commissioned by, and scheduled to premiere at, the French Opera in the late 1970s, at a time known to historians as the "strangled decade." Scheduled to be staged in Moscow and Kyiv, in 1978, it was quietly banned by the Soviet censors. Yevhen Lysyk would never live to see it – and his stage design – which he believed would mark a significant event in the international opera community. Anna Lysyk's mother Oksana Zinchenko, Merited Artist of Ukraine, worked as Anna Ipatieva's consultant when preparing the opera for its new premiere in 2017.
Anna Lysyk and Anna Ipatieva. Their names were again one next to the other on posters.
Zoia Chehusova is a noted art critic, recipient of the Soviet prestigious title "Merited Worker of Art"