Chernihiv honors the memory of art patron Vasyl Tarnovsky
3 April, 2018 - 11:12
An exhibit of valuable Cossack-era artifacts has opened at the Chernihiv Oblast Historical Museum to mark the 180th anniversary of the birth of the well-known public activist and art patron Vasyl Tarnovsky, after whom the museum is named. It displays some of the Ukrainian antiquities Tarnovsky collected throughout his lifetime and donated to the Chernihiv community in order to establish a museum. Luckily, the patron's wish was fulfilled, and, thanks to this, our regional center has a powerful research, educational, and cultural center.
"Vasyl Tarnovsky was keen on the history of Ukrainian Cossackdom and built up one of the best collections of arms," says Hanna Arendar, the chief keeper of Chernihiv Historical Museum repositories. "He had all kinds of sabers, pistols, and rifles from various countries, such as Poland, Turkey, Persia, and Ukraine. There were even personalized sabers. We have a saber inscribed with 'Ivan Mazepa,' the saber Mazepa gifted to Osavul Ivan Savych, sabers with inscriptions in the Arabic, Latin, and Greek languages, and in Cyrillic. You can see here a 17th-century hetman's mace, the flanged mace of Pereiaslav Colonel Hryhorii Ivanenko, the expensive gilded horse harness that belonged to a Cossack senior officer."
According to Arendar, the collection includes highly-valuable belongings of the 17th-18th-centuries' noted people, various household items of well-to-do families (tableware with coats-of-arms, a wineglass, a tumbler, a pincushion) and ordinary Cossacks, clothes and footwear (very rare items now), and textiles (embroidered with silver and golden threads).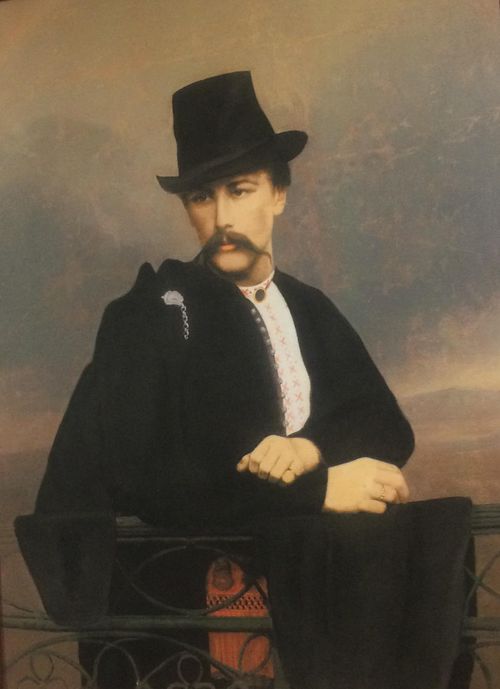 "Tarnovsky knew descendants of Cossack families. They used to gift or even sell antiquities to him," the keeper of the museum's repositories continues. "He thus managed to collect and keep antique documents, archives of Cossack senior officers, including those of the well-known families of Zabila, Poletyk, and others. Incidentally, our museum is special in that we have decrees of all hetmans, from Bohdan Khmelnytsky to Kyrylo Rozumovsky, with their own signatures and seals. Tarnovsky took interest in old printed books and was a good expert in this. There was even Ivan Fedorov's Apostle in his collection. He was trying to collect books made in the print shops of Novhorod-Siversky, Chernihiv, and other cities of Ukraine. Some of the most interesting ones are displayed in showcases."
The exposition dedicated to Tarnovsky's 180th birth anniversary also shows his portraits, rare family photos, and views of Kachanivka. On one of the pictures, young Tarnovsky is depicted wearing wide trousers and an embroidered shirt. He usually dressed like this when he was a St. Volodymyr University student. In this outfit, he strolled on the streets, paid visits, and attended local events. Museum employees are trying to present this uncommon personality as fully as possible to spectators. They also chose to take a creative move: they display the artifacts that seem to visualize things, elements of clothing, and weapons which we can see on Ilyia Repin's famous picture "Reply of the Zaporozhian Cossacks to Sultan Mehmed IV of the Ottoman Empire."
"We tried to show the objects of that era, which we can see on the picture," Arendar explains. "For the artist specially came to Kachanivka because he had heard of Tarnovsky's collection of antiquities. As is known, Repin began to work on this picture in 1878: he painted studies but was short of Cossack trappings. So the artist arrived at Kachanivka, where the Tarnovskys' estate was located, in 1880. We display a powder flask which you can easily see on the picture. There is also a saber and a costly Slutsk sash, an important element of menswear, and a wineglass on the table before the scribe. These objects are also on the display. It is known that the wineglass belonged to General Standard-Bearer Mykhailo Khanenko."
"Thanks to Vasyl Tarnovsky's efforts, a considerable part of Taras Shevchenko's legacy survived," says Svitlana Polovnykova, a senior research associate at the Chernihiv Historical Museum. "He also handed it over to the community, but Tarnovsky's will were forgotten in the Soviet era, and the Shevchenko-related collection was almost entirely withdrawn and transferred to the capital – to Kharkiv in the early 1930s and later to Kyiv. You can see at this exhibit The Kobzar with Shevchenko's autograph. Yet the book is closed – it is important for keeping the inscription intact."
Interestingly, it is rather difficult to count the total number of items in Tarnovsky's collection. Of course, catalogues were published, but objects were often recorded in the aggregate, on the basis of a theme. My interlocutors estimate that the collection of antiquities originally comprised about 10,000 artifacts. So, this art patron made an enormous contribution to the preservation of Ukraine's historical and cultural heritage. The staff of the Vasyl Tarnovsky Chernihiv Oblast Historical Museum is convinced that this personality deserves being honored on the national level. They also hope that the exposition to mark the 180th anniversary of their famous fellow countryman will become a permanent exhibition.