Expert: "It's quite possible that parliament will vote against lifting the immunity of these MPs"
27 June, 2017 - 11:11
The prosecutor general has formally requested the Verkhovna Rada to lift parliamentary immunity for five MPs from different factions and groups: Yevhen Deidei (People's Front), Oles Dovhyi (People's Will), Andrii Lozovyi (Radical Party), Boryslav Rozenblat (Petro Poroshenko's Bloc), and Maksym Poliakov (People's Front).
What are they being accused of? The request for parliament's consent to bring Lozovyi to criminal justice charges him with tax evasion to the tune of 1.846 million hryvnias. Dovhyi is suspected of being involved in the illegal distribution of land in Kyiv in 2007-09. Deidei is accused of unjust enrichment in the amount of 6.1 million hryvnias. Rozenblat and Poliakov have been allegedly abusing their influence and taking bribes (in the case of Rozenblat, it is a total of 280,000 dollars). Both Rozenblat and Poliakov are suspected of deriving illegal benefit from submitting certain bills in parliament and of taking other actions related to the extraction of amber.
These MPs are, of course, categorically denying their guilt and saying that the root cause should be sought in political, not juridical, matters. "Those mentioned in these petitions were given five days to offer the necessary explanations," Pavlo Pynzenyk, first deputy chairman of the Parliamentary Committee for Regulations and Procedures, told journalists on Thursday. "To put it roughly, we will be busy next week receiving the explanations and collecting the materials, and then I hope we will manage to do our work successfully within the 20-day period." Pynzenyk also said the Verkhovna Rada might consider these requests before the current session closes on July 14.
"If the evidence is legally sound, it must be considered," ex-deputy prosecutor general Vitalii Kasko comments to The Day. "But all I can see now is that these MPs are representatives of different, not only oppositional, factions. Besides, most of them represent the pro-governmental factions. Having their immunity lifted does not yet mean being guilty. The lifting of immunity will be followed by a trial, an investigation, which will confirm or deny the accusations. To conclude whether the National Anticorruption Bureau's actions were professional and well-grounded, we should see the outcome of the criminal proceedings. So far, with due account of the previous cases, we can presume that everything will boil down to arrests, the lifting of immunity, and statements."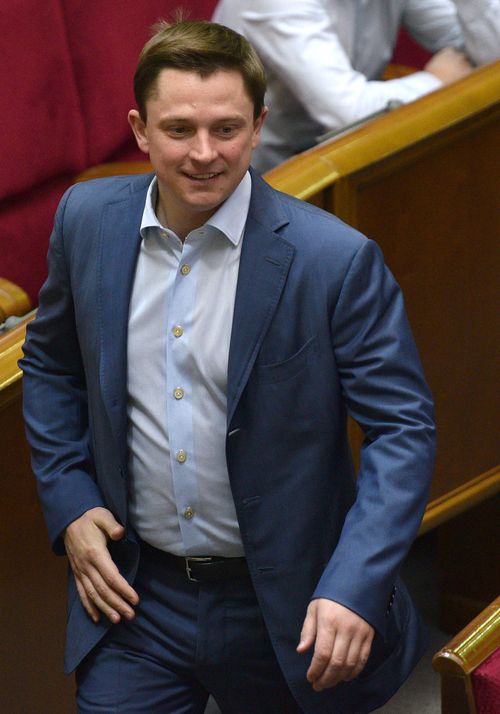 It looks like having his parliamentary immunity lifted does not scare Oles Dovhyi
Indeed, the cases of Serhii Kliuiev or Oleksandr Onyshchenko only confirm this, which makes us doubt the sincerity of the government's struggle against corruption. It rather looks like imitation and show. Is it really so? "In this case I don't think the request for parliament to lift the immunity of five MPs is selective and timed to, for example, the visit of Poroshenko to the US," Oleksandr BANCHUK, an expert at the Center of Political and Legal Reforms, comments to The Day. "All the abovementioned requests were prepared at the Anticorruption Prosecution Office, and only then the Prosecutor General's Office comes into play. Earlier, taking into account strained relations with the Anticorruption Prosecution Office, the Juridical Directorate of the Prosecutor General's Office used to examine this kind of requests rather thoroughly. They worked quickly this time. But we should also remember that submitting a request is only a half step. It must also be discussed by the Regulations Committee and be voted on in the session hall."
Whether parliament will vote "for" is still an open question. "It is a tactical blunder to submit all the five requests for five MPs from different factions in one package," journalist Olha Vasylevska-Smahliuk writes on her Facebook page. "Now, joining hands all at once, the Rada will garner the coveted 226 votes for each of the five MPs. The People's Front will not vote for lifting Rozenblat's immunity so that the PPB does not help lift that of Poliakov and Deidei. The Radical Party will not vote for this trio so that the PPB and the PF do not 'burn down' Lozovyi and his 'relics.' Only Dovhyi is as pleased as Punch. The criminal proceedings against him will be no longer valid in the autumn, and it will be impossible to bring him to justice – with or without immunity. The soap opera about lifting immunity is now of no concern to anybody. Today, there are five requests to lift immunity; tomorrow, there may be ten, and sessions can be easily staged at a pretrial jail. There's sure to be a quorum, and no one will notice the relocation."
"The requests for parliament to lift the MPs' immunity illustrate, albeit to a small extent, the effective work of law enforcers," Banchuk says. "But for parliament, these cases would have long been at a court. These cases cannot be handed over to court unless parliament gives the go-ahead. It is not ruled out that MPs will vote against lifting immunity. But many believe that parliamentary immunity is an anachronism of sorts which emerged after medieval persecutions so that kings could not arbitrarily condemn the parliament members elected by the people. Therefore, if we had a predominantly honest parliament, there would be no danger that MPs will lift the immunity of their colleagues if they flout the interests of voters."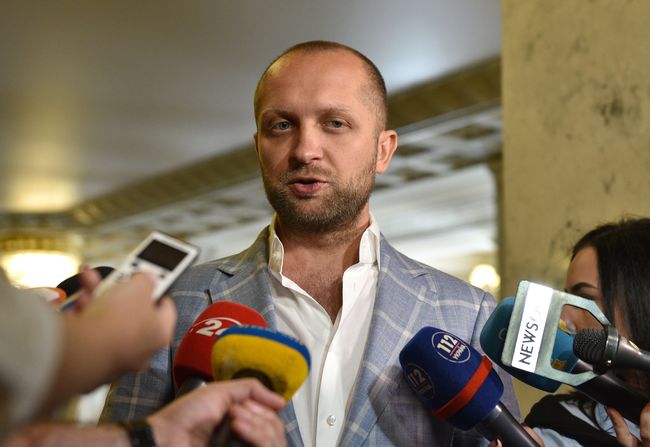 Maksym Poliakov has called on his colleagues to consider the request for lifting his parliamentary immunity as soon as possible
"My personal position is that it's high time parliamentary immunity were abolished," Kasko says. "It should have ceased to exist a long time ago. All the more so that the Constitutional Court has already expressed its vision of this matter and believes that the decision to abolish parliamentary immunity will not be a violation of the Constitution or any other legal standards. But it stays on. The current coalition's factions declared before the elections that it would be abolished. That was an item in their election program which they were not going to observe. So it is quite logical that the institution of requests for lifting immunity still exists, but we should insist that this rudiment of immunity be abolished altogether. Yet there may be the so-called functional immunity which is granted to certain officials because of the office they hold, rather than in relation to the criminal, economic, or corruption-related offense they have committed. In this case, MPs will have no advantages over other citizens of Ukraine."
But, in spite of pre-election promises, the MPs are not going so far to consider the abolition of immunity – maybe, because Ukrainian politicians never established a tradition to carry out their programs. For example, the current power-wielding parties promised before the parliamentary elections to revise the election law, but the Viktor Yanukovych-era law is still in force. So, no matter what intentions the government has about the five MPs, society needs, above all, fairness and transparency, not to mention juridical purity and absence of selectiveness. Otherwise, there will be no trust even if the law-enforcement authorities pursue noble goals.