"We need to hold protests, demand that he be freed..." – participants of a press conference discuss how to get Oleh Sentsov released from Russian prison
22 May, 2018 - 11:50
On May 21, a press conference was held in Kyiv's Ukraine Crisis Media Center; it dealt with the hunger strike declared by political prisoner Oleh Sentsov, and involved his cousin Natalia Kaplan, his lawyer, human rights activists, and a representative of the Ukrainian Ministry of Foreign Affairs (MFA). According to the lawyer Dmytro Dinze, Sentsov decided to go on a hunger strike because he was tired of waiting for any effective steps from either the Russian or the Ukrainian side to resolve the problems of releasing political prisoners, and so he decided to act as a peacemaker of sorts. He has refused to follow the legal path by submitting complaints to the Constitutional Court, arguing that he does not believe that Russian courts can be of any help. The prisoner did not say anything about his release, but he intended to maintain the strike to the end, even a fatal one, in the name of other prisoners, Sentsov's lawyer and cousin told those present. He started the hunger strike against the background of heart disease, as well as rheumatism of the lower limbs. According to objective assessments of physicians, taking into account his preparedness, Sentsov will be able to survive for two months. As of now, the prison administration has transferred him to an isolation ward, where doctors monitor his condition. "He will maintain the strike to the end... He will not make any concessions," the lawyer said.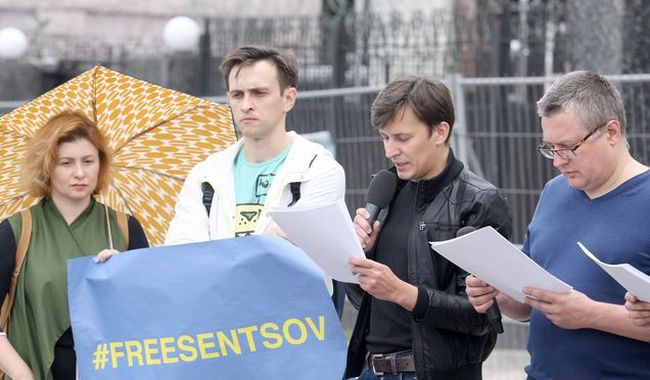 Photo by Mykola TYMCHENKO, The Day
According to press secretary of the Ukrainian MFA Mariana Betsa, Sentsov's hunger strike came as a surprise to them, and the Ministry's priorities still include his release. In addition, she believes that the problem can be solved by continuing with the diplomatic campaign, organizing the pressure of foreign partners, and keeping the public informed about it. "As soon as information about the hunger strike reached us, we ordered our consulate to ask for a permission to meet the prisoner. We have never been given the opportunity to see him since his arrest four years ago. Over the past year, we have sent 20 requests for a meeting with Sentsov, but the Russian government has ignored them, arguing that the prisoner is a Russian citizen. In any case, we can use these requests in court," Betsa said. She also added that negotiations were continuing, but the MFA could not disclose their details for fear of harming this process.