There seem to be three directions in the advance of new Russian totalitarianism to Europe – military, corrupt-policy-based, and politico-ideological
7 April, 2014 - 17:49
Communication is not a luxury but a way to cognize the world. I received evidence of this when I spoke to a US-based Russian writer. He asked me a simple question: why should I title the almost finished book Neo-Totalitarianism? Maybe, New Totalitarianism is better?
And I suddenly realized that neo-totalitarianism, in the meaning that the author of this idea, Zoran Vidojevic, implied, had indeed come to an end. He coined this word in 1997 to characterize the system that had emerged by that time in some countries of Central and Eastern Europe.
From the viewpoint of Vidojevic, post-socialist neo-totalitarianism is a historical innovation. In his opinion, modern superficial liberalism is as much to blame for the emergence of neo-totalitarianism in post-socialist societies as is the superficial liberalism of bygone years for the emergence of fascism and Nazism.
He believed in the mid-to-late 1990s that post-socialist neo-totalitarianism would eschew mass-scale terror but still try to establish total control over the masses. In Vidojevic's view, the evolution of some post-socialist societies towards neo-totalitarianism would be a most dangerous and regressive phenomenon.
Neither the previous socialist totalitarianism nor neo-totalitarianism admits of democratic pluralism in politics and ideology. But, to quote Vidojevic, "new totalitarianism needs a feeble and strictly-controlled ideological and political pluralism to hide its true essence."
As for the nomenklatura, a new ruling class in the authoritarian post-socialist system, political pluralism poses, by contrast with the pluralism of property, a threat to it. Moreover, the latter meets the interests of the nomenklatura because it holds key positions in the ownership of all varieties of property. Vidojevic believes that the ruling class in post-socialist societies, where conflicts are rife, is prepared to resort to open violence and terror to keep its positions intact.
This time seems to have come. Very recently, the Russian agitprop banked on some kind of "consumerist patriotism" and pretended to support debates and moderate pluralism. It played the same game with parties and elections. The first sign of the decline of neo-totalitarianism and its evolution towards classical totalitarianism was formation of the All-Russian Popular Front. Its founders must have been guided by Hannah Arendt's research of totalitarian movements. And after the attack on Ukraine and the emergence of "national traitors," borrowed from Mein Kampf, there are ample grounds to speak of the transitional nature of neo-totalitarianism.
What is also significant is appearance on the world arena, contempt for international law, and a deliberate course towards autarchy. The attack on Georgia was a trial balloon, when attempts were made to bring this into line with certain international norms. Ukraine, and not only Ukraine, is a different matter.
Western observers have at last seen through the obvious: the Europe-wide Le Penism, and nationalist and populist parties in EU countries are agents of modern Russia and Putin personally. In the long term, it is going to be the Kremlin's Fascintern from Greece to Britain. What particularly matters to Ukraine is, of course, Russia's friendship with Hungarian radicals who may view Zhirinovsky's proposal on the partition of Ukraine as not at all a load of bull. This is a challenge to the entire Europe which has been shutting its eyes in the past few years to an ethnic bomb in the very center of the continent. Hungary's attempts to "protect" the Hungarian population in Ukraine, Rumania, Slovakia, and Serbia may bring back the 1990s Yugoslav nightmare.
There seem to be three directions in the advance of new Russian totalitarianism to Europe: military, corrupt-policy-based, and politico-ideological. The latter has also involved the Russian diaspora lately, which brings back memories of the way Cheka worked with the emigration in the first years of its existence. Likewise, Fascintern reminds us of Comintern.
Since the early 1990s, the Western world has been finding comfort in the primitive forecasts of Fukuyama. We saw not so long ago a complete fiasco of his concept of the Arab Spring as a revolution of the progressive and pro-Western middle class. The intertribal war in Libya has clearly nothing to do even with this terminology, while in the more developed countries the middle class turned out to adhere to the Islamist model of a state. Fukuyama's hopes that the elites of East-European countries will borrow not only consumerism, but also democratic values have proved to be empty illusions. This did not happen even to the Russians who live in Europe and America.
It is now the question of not a local conflict on the European continent's fringes but of the preservation of European identity, principles, values, and history. History does matter here. The Russian aggression endangers the progressive motion of European history, a thing that has never occurred in the history of Russians and Russia. They have no history in this interpretation.
Instead, we can see the never-ending cycles that made Russia the birthplace of totalitarianism, as well an aspiration to impose this course of time on no less than the entire world, coupled with readiness for self-isolation and autarchy.
What strikes the most in what is going on in Russia is not at all an instantaneous mental mobilization of the populace. This has been in preparation for a long time – not so much by information and entertainment broadcasting as by the host of TV serials that have suppressed the Russian viewer's ability to critically assess information. As a result, news programs and paranoid patriotic serials have blended into a single mythically poetic picture of the world. The viewer lives in a world of legends, sagas, and myths, in which, as Mikhail Steblin-Kamensky said, a syncretistic truth molded with bits of true information and legends reigns supreme.
What causes the greatest surprise is the high-brow pro-governmental economists and financiers who speak, feigning intelligence, at the meetings that discuss the mad plans of establishing a national payment system, funding the seized Crimea, and other actions that obviously run counter to what they were once taught and what they had been doing up to now.
These people are very well aware of what is going on in Ukraine and the rest of the world. They know that it is only possible to be separated from the global financial system under some very unpleasant political conditions. I think they are aware of a danger to themselves. But none of them are protesting or running away, although they are all well-educated, understand the logic of totalitarianism in the making, and see that they will be redundant in a new political culture.
Neither they nor even many oppositionists are so far willing to admit the saddest and the most unpleasant. The events in Ukraine are the ultimo ratio in favor of what I have been writing for many years: the Soviet regime was an occupation everywhere except for Russia, for it was foisted upon as a Russian model. The differences are only in the time and the ways of delivery. It was established by means of tanks in some places and cavalry in the others. For this reason, what other peoples can still consider as the most acceptable position is that of Georgy Fedotov who did not share the illusions that proved disastrous for many Russian emigres at the end of World War Two. Here is what Vasily Yanovsky wrote in his book Champs Elysees:
"Fedotov allowed himself to have a special opinion, as it were the Munich times. Yet the dispute was not about the present, when we were supposed to fight and win by all means. He did not deny this, and our differences were about the future – ugly and shameful, as Fedotov claimed.
"It seemed to us that, after such a serene exploit together with Europe, something will inevitably move forward even in the Stalinist Rus' – the USSR will rightfully return to Europe, and Europe will merge again with Russia.
"But Fedotov biliously objected to this. He besought, threatened, and cursed us. As I have already written, he used to say prophetically that Russia must be kept away from Europe and within its historical borders – otherwise, Western culture will come to an end."
Now, too, the civilized world can do nothing but shut itself off Russia. All the more so that Russia's populace and elites – both political and intellectual – are preparing for and are even proud of isolation. The current border between Ukraine and Russia must become the boundary of Europe.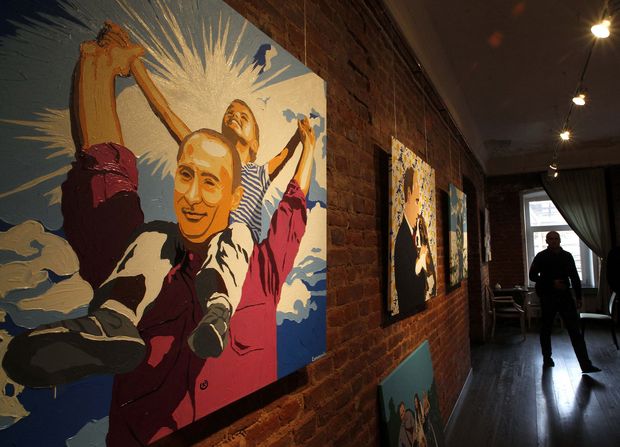 WHAT DOES THE CULT OF PERSONALITY BEGIN WITH? "WITH A PICTURE IN YOUR PRIMER." IT IS BEST TO INSTILL LOVE FOR THE SUBJECT OF ADORATION IN CHILDHOOD. A PORTRAIT OF THE LEADER OVER THE CHILD'S COT – IT IS SO TOUCHING AND PRACTICAL. LET THE "SWEET FEATURES" NOURISH, LIKE MOTHER'S MILK, THE CITIZEN IN ALL HIS OR HER LIFETIME. THIS IS WHY EPIC CANVASES DISPLAY THE HAPPILY RADIANT CHILDREN'S FACES NEXT TO SUCH DICTATORS AS HITLER, STALIN, MAO ZEDONG, CEAUSESCU, AND KIM IL SUNG. LENINIANA, AS A GENRE OF PROPAGANDA ART, TURNED A MAN WHO COULD NOT STAND CHILDREN AND THE RELATED TROUBLES INTO A HERO OF CHEAP POPULAR PRINTS, POEMS, AND SHORT STORIES. THE POINT IS NOT IN THE CHARACTER AND MORAL QUALITIES OF LENIN. WHAT REALLY MATTERS, HIS PERSONALITY MUST BE ASSOCIATED WITH THE BEST PERIOD OF HUMAN EXISTENCE. THIS IS THE POLITICAL EXPEDIENCY OF CULT MAKING. TODAY, WE ARE WITNESSING THE BIRTH OF A NEW IDOL IN RUSSIAN CULTURE – VLADIMIR PUTIN WHOSE DAUGHTERS HAVE SAID NOT A SINGLE WORD – GOOD OR BAD – ABOUT THEIR DAD. BY CONTRAST, THE ENTIRE "CREATIVE INTELLIGENTSIA" HAVE REACHED OUT FOR PAINTBRUSHES, PENS, AND CHISELS IN ORDER TO PAINT, SCULPT, AND CARVE THEIR INTENTIONS, SERVE, AND CURRY FAVOR. THE ABSTRACT IDEA OF A SOCIAL REQUEST HAS TURNED INTO QUITE SPECIFIC BENEFITS AND BONUSES. GERMAN SOCIOLOGIST AND PHILOSOPHER MAX WEBER WAS ONE OF THE FIRST IN HISTORY TO DESCRIBE THE CULT OF PERSONALITY AS PHENOMENON OF A CHARISMATIC LEADER. HE EMPHASIZED THAT HEROES OF ADORATION DO NOT EMERGE AS SIMPLY AS THAT – THEY LIVE IN PEOPLE'S AWARENESS. FROM EARLY CHILDHOOD ON, WE WILL ADD / REUTERS photo