FIFA imposes unprecedented punishment on Ukrainian national soccer team. The Day finds out what really happened
3 October, 2013 - 10:30
The next game of the Ukrainian national soccer team, which is to take place in Kyiv on October 11 against the Polish team, will most likely be played without spectators. On September 27, FIFA made a decision to punish the Ukrainian national team for their fans' behavior during the qualifying match against the San Marino team in Lviv. The disciplinary punishment also includes a prohibition to hold the national team games in Lviv until the end of the qualifying round for the 2018 World Cup. According to FARE, such strict decision was made because of the use of pyrotechnical devices at the stadium, and neo-Nazi and racist gestures and shouts of Ukrainian fans.
Lviv mayor Andrii Sadovy addressed the Football Federation of Ukraine in an open letter with a request to take all the necessary steps to cancel FIFA's decision. "Lviv is ready to involve all of Lviv's and Ukraine's friends in the world in order to convince the soccer community that national liberation symbols and heroes of Ukraine, after whom a number of streets is named, have nothing to do with Nazism," reads Sadovy's letter to Anatolii Konkov, president of the Football Federation of Ukraine. "The extremely strict punishment brings up many questions, especially considering that it was based on alleged mass manifestations of Nazism and racism by the fans. The criteria with which FARE experts work were also shocking: according to them, the symbols and heroes of Ukrainian national liberation struggle were deemed 'discriminational.'"
However, the Football Federation of Ukraine decided to appeal even before the Lviv mayor's letter, since they consider the disciplinary sentence too heavy. The FFU president Konkov has already departed to Switzerland to visit the FIFA headquarters in order to represent Ukraine's interests in this case.
Recently, at the press conference at the House of Soccer, FFU vice president Serhii Storozhenko told journalists that Ukraine will definitely appeal the decision. But he said that "we need to keep to the details of procedure."
"There is still no complete decision by FIFA on this case. And in order to appeal the verdict, we need to have all the information on this case at our disposal. Also, there is no motivational part. We ask FIFA to meet us halfway," Storozhenko said. "Our position is the following: we admit to the violations of rules listed by FIFA. But we insist that the escapades of individual soccer radicals at the stadium do not indicate that all of the fans have this neo-Nazi or racist attitude."
According to him, Ukraine may try to justify itself all it wants, but the following fact is true: FARE clearly observed not only fires from pyrotechnic devices, but Nazi right-hand salutes gestures, Nazi chants, posters and monkey-like movements by a group of 30 people, who "welcomed" a goal by naturalized Ukrainian Edmar in this way. Storozhenko showed a video to reporters, which captured all those actions.
CUI PRODEST?
Lviv mayor's appeal against FIFA calling "the revered heroes of the Ukrainian national liberation movement" Nazis does not mean a thing, FFU members think. FIFA prohibits any display of political affiliation at the stadiums. And that, as well as fans' racist behavior, was undoubtedly displayed in Lviv. It is clearly seen in the video captured by FARE representatives. So, the violation of rules, effective for all countries, did take place. And according to Storozhenko, it is not the first warning issued to Ukrainian fans.
FIFA's decision has been actively discussed in mass media over the last few days. Information on who benefits from this situation began to surface.
Some say that Poland ordered this scandal and point out FARE's links to this country. The situation in the group is as follows: Ukraine must win the next game with Poland, and it will be harder to do so with empty stands. Others say that Russia stands behind this, since very recently Gazprom became FIFA's key partner.
"It seems that while assessing the atmosphere at the Lviv stadium on September 6, FARE representatives, who sent a report to FIFA, looked at the event through the eye of Soviet historiography and NKVD investigators. Who dressed them in Stalin's musty greatcoats?" wrote journalist Oleksandr HOROBETS in his blog on the Echo of Moscow. "It occurs to me that Ukraine points to Moscow for a reason. On September 14, RIA Novosti spread the following information: 'Gazprom and FIFA signed an agreement for the years 2015-18, according to which the company acquires the status of an official partner in all competitions held by the Federation, including World Cup Championship in Russia in 2018.' It is not hard to guess that this cash-fueled friendship has very specific goals. One of them is almost clear: to push for… and wring FIFA's consent for implementation of the crazy, moronic idea of holding a United Soccer Championship of Russia and Ukraine.
"It is not so hard to guess who needs it and for what reasons. I hope you did not forget that Gazprom is pumping billions of dollars into this project. What enviable generosity! As if Russia has no other concerns except bending Ukraine to merge into a 'joint soccer state' with Russia. Obviously, someone is really keen on becoming united with Ukraine, at least in something. That is why I must ask: where is the guarantee that FIFA's decision made on September 27, 2013 about Ukrainian national football team and Lviv Arena is not the international federation's kickback to Russia for its generous sponsorship?"
According to Ukrainian and foreign press, disqualification of a stadium for such a long period is an unprecedented event. As a rule, FIFA's restrictions for having matches at 'guilty' stadiums are limited to several games. Lately, only the Senegalese national team was punished in a comparable way, when in 2012 the National Stadium in Dakar was disqualified for one year (!) because of inappropriate behavior of local fans during a qualifying match of the Africa Cup against Cote d'Ivoire's team. But in the case with Ukraine, not a single breach of public order was recorded, there was not a single victim, and portraits of leaders of the national liberation movement and singing of the anthem of Ukraine were considered by some weird FARE observers as neo-Nazi symbols. And what would have happened if Lviv fans had unfolded the portrait of Ukraine's great poet Shevchenko over a whole sector, as they sometimes do? Our famous poet also had a mustache."
A TRUMP UP A SLEEVE
In one thing are soccer functionaries unanimous: the problem must be acknowledged, and an appeal for reduction of the punishment must be turned in, secured by guarantees that such incidents will not take place in the future. Hryhorii Surkis, UEFA vice president and FFU honorary president, could be a guarantor of this. According to experts, he can influence the decision thanks to his authority.
Surkis does not mind helping. But he frankly admits that FFU did not ask him to. It did not even inform him about the details of the case.
"On one hand, FIFA's decision caught us by surprise, but on the other, there are obvious facts of violating certain tendencies, which are now viewed by UEFA and FIFA. Instead of seeking advice, certain people in FFU, responsible for legal support, including cases like that of the Lviv stadium, decided to wave slogans around. And now we received a decision which bans our fans from the stadium in Kharkiv in the final part of the competition for participation in World Cup," said Surkis at the TV show Shuster Live. "On my part, I am ready to help the national association by appealing, if it is interested in it. I hope that we are going to fight for at least changing the decision on Kharkiv. Perhaps, the Kharkiv stadium will only receive a suspended punishment. I hope we achieve this by joining efforts. I will help if I am given access to the documents, of course. I cannot beg FFU to show me the documents. But I want to say that I was surprised by Konkov's answer that my help is unnecessary and FFU can cope all by itself."
The press-conference at the House of Soccer explained why Konkov had not asked Surkis for help.
"Hryhorii Surkis is an experienced soccer functionary. In addition, he is the honorary head of FFU. We do not have to ask him. He himself should have shown some initiative. He should help if he can help," said FFU first vice president Anatolii Popov. "Should we kneel to beg him?"
This position of FFU seems quite weird for soccer experts. They are convinced that all means and powers must be used in fight for Ukrainian soccer.
"FFU's position is simply frightening. While we need to fight for our soccer's interests tooth and claw, we can already hear the appeals to bear with it and watch soccer on TV," said a soccer expert, editor-in-chief of Football magazine Artem FRANKOV in his commentary to The Day. "The appeal will be submitted, but the question whether our Federation is capable of using the resource of UEFA vice president Hryhorii Surkis still remains open. Surkis is familiar with powerful figures in the soccer world and is capable of influencing this decision. But it seems that FFU is not planning on using this resource. Because of antipathy, pride, personal dislikes? I do not know."
WHAT NEXT?
According to FFU, FIFA considers an appeal for 10 days. But by this time the decision will come into force and Ukrainian soccer players will play the game on October 11 with empty stands. FFU believes that FIFA will show some benevolence and consider the case earlier. Soccer experts doubt this. However, both agree that if the incident will repeat again, Ukraine can be deprived of points in the group. Or disqualified. The rules are the same for everyone. And Ukrainian soccer functionaries and fans must understand: either we play according to the rules that were not established by us, or we do not participate in the most prestigious world championship at all.
Former fan Serhii Bolotnykov wrote in his blog on ua.tribuna.com how to deal with FIFA decision, whatever it may be: "Firstly, we must understand one simple thing: it is not us who established the rules of conduct. FIFA can prohibit anything, even the image of Mickey Mouse, if it will do so. If you do not like it, go play your neighborhood championships. If you want to change the rules, earn influence and dictate your conditions. If you are going to argue, at least formulate a clear idea, for example, that the black-and-red is no politics, it is history. But this will hardly help. There is only one way out. Ultras are easily influenced by fashions, just as everyone else. Ten years ago fans drank themselves silly before and after matches, they got wasted during visiting games. Nowadays real fans do not smoke or drink, and they play sports. Back then we could not even think about module shows and banners wide enough to cover several sectors. Now it is a shame to call oneself ultras without this. There is nothing more simple and right than to make them think that it is fashionable and cool to be called ultras: they should not be confused with some Nazis, considered to be 'representatives of the Svoboda party at the stadium,' and not all of them must necessarily be considered hooligans. They are cool guys who create the special atmosphere, without which soccer is rather insipid. Plant these ideas in their minds, and they will get rid of the unnecessary stuff on their own."
By Vadym LUBCHAK, The Day
---
Volodymyr FESENKO: "We must look for the source of the problem in ourselves"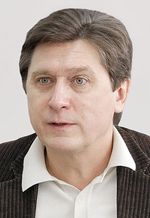 Chairman of the Center for Applied Political Studies "Penta" Volodymyr Fesenko commented on the last statement of FIFA on Ukraine for The Day:
Mr. Fesenko in your opinion is there more politics or sport in this statement?
"There have been discussions already about the activities of the FARE organization which monitors racism and other negative manifestations of fans in stadiums during international matches. Now there is a serious discussion on whether the experts, who represent this organization in Ukraine, are unbiased since a political and ideological context is traced in this decision.
"What concerns the situation we had at the Lviv stadium, it is obvious that there were some violations committed by the Ukrainian fans, but the question is whether they were so bad to lead to serious sanctions – charges of acts of racism, which could be called Nazi propaganda. It is clearly seen even in the photos that are now demonstrated as an evidence of such behavior.
"In general, it seems to me that it's not so much the politics that defines such decisions but merely sporting competition. Ukraine has good chances to get into the final of the World Cup and, who knows, maybe such actions could be justified if it was done by, let's say, Great Britain. However, these are only my personal speculations.
"Next. The subject of accusing Ukraine of fascism, racism could be used as a part of the current information war, pursued by Russian mass media against Ukraine. Thus, such option is also quite possible.
"However, I wouldn't try to hurry with making any conclusions on this issue. Of course, there is, at least, a political motif in all of this. I also do not rule out the fact that, unfortunately, our internal political conflicts could also give impetus to the use of this topic at the level of the International Football Association.
"Now, the main thing is to defend the interests of our national team and virtually all Ukrainian soccer so that similar situation won't happen again in the future. After all, if now we can be oppressed for rather artificial charges, what would happen in more serious situations? Therefore, now both Hryhorii Surkis and Soccer Federation of Ukraine need to put aside their past conflicts and should join forces in defending their country and Ukrainian soccer. Here we must also put aside the internal political conflicts, because we can already see now that the Party of Regions wants to use this situation to revive their anti-fascist campaign, which they started in spring. It is also a kind of a test. We must prove that the accusations of fascism were ungrounded. Such conflicts destroy a country and, in particular, damage the reputation of Ukrainian soccer. We must also understand that today sport is (and we know it from the example of the Klitschko borthers, Andrii Shevchenko, Ukrainian athletes who won Olympiads) one of the main factors for creating positive image of the country on the international arena. That's why we now must restore justice and this applies not only to sport itself, not only soccer, but also the factor of international prestige."
Who can benefit from the scandal escalation?
"I would not blame anyone specifically right now. But, for example, I mentioned Great Britain because before the Euro-2012 that was held in Ukraine and Poland, it was the British media who made reports with accusations of racism and criminal activity in Ukraine. The present scandal can also be used to create negative phobias and critical atmosphere around Ukraine.
"Nevertheless, we must not be in a rush. It is clear for now that there are serious suspicions and valid accusations against people, who represent FIFA unit or the organization that monitors racism in the Ukrainian stadiums. If people, who supposedly work for FIFA in the interest of the international soccer, combine their professional activities or these control functions with their political, ideological, or sports preferences, then these are rather serious accusations. I can see certain interests in it. However, we still have to figure out whether these suspicions and accusations are objective. If there are reasons for indicating the biased position, then, I think, FIFA should make certain conclusions and analyze the situation."
Gazprom became an official partner of FIFA for the period of 2015-18. In your opinion, what does it indicate, given Russia's influence?
"There is no doubt that Russia has certain influence, since it is a sports country, but I would rather not try to see its influence in everything, and see a war it conducts against Ukraine. I think there are still more internal components to this story. I mean that the echoing of the 'anti-fascist' hysteria, which we had in spring, came out clear only in this conflict. Besides, I would say that the confusion of the situation lied in the fact that, of course, the charges against Ukraine are unfair, but, at the same time, the problem exists.
"Facts of, let's say, not too civilized behavior of Ukrainian fans during the games of the national team are known to everyone. Therefore, the solution to the problem must be found at the level of the management of certain soccer clubs, state officials, representatives of law-enforcement agencies. We must also cooperate with Soccer fans organizations. If this does not happen, unfortunately, we will face similar situations again in the future. Thus, it is absolutely clear that there are certain problems in Ukraine and other countries can simply use them in accordance with their sports or political interests. I am convinced that we must look for the source of the problem in ourselves."
By Ivan KAPSAMUN, Yulia LUCHYK, The Day