The Day's experts on the Kremlin's conviction of Sentsov and Kolchenko: what should the Ukrainian leadership and the free world do?
1 September, 2015 - 11:23
The conviction of the Ukrainian film director Oleh Sentsov and activist Oleksandr Kolchenko by the Russian leadership through its puppet court may arouse never-ending indignation, but it has its own, typical of the Kremlin, logic. It is a certain stage in the current Russian regime's big scheme against Ukraine. The aim is to eliminate our statehood or even to finally solve "the Ukrainian question." As we can see, the aggressor has no scruples about applying most diverse methods.
Sentsov and Kolchenko were arrested by Russian special services in Crimea in May 2014. The Federal Security Service (FSB) announced they were members of the Right Sector, an organization banned in Russia. On August 25, a Rostov-on-Don court sentenced Sentsov and Kolchenko to 20 and 10 years of rigorous imprisonment, respectively. The activists were accused of allegedly planning to commit acts of sabotage and terror in a number of Crimean cities, including the destruction of vital facilities, railway bridges, and power supply lines.
Both convicts have been pleading not guilty since the day they were arrested. The two men have been holding their own in all this period of time, showing the example of courage to many Ukrainians. Asked by the judge whether they understood the court's sentence and knew the appeal deadline, Sentsov and Kolchenko sang the Anthem of Ukraine in answer. The judge said the convicts were entitled to an appeal within 10 days after receiving a copy of the sentence.
The defense attorneys of Sentsov and Kolchenko have already said they will turn to the European Court of Human Rights if the Supreme Court of Russia rejects the appeal against the sentence. "We counted on a lighter sentence, but it turned out to be 20 years, as the FSB operatives, who arrested Sentsov, promised him. I am about 20 percent sure that this sentence will change to some extent after the appeal. The court did not take into account our evidence that both Sentsov and Kolchenko had nothing to do with the Right Sector and also ignored our statements about tortures," Sentsov's defense attorney Dmitry Dinze said.
This triggered a very strong reaction in Ukraine and the world. "Hold on, Oleh! A time will come, when those who organized a frame-up trial of you will themselves end up in the dock," Ukraine's President Petro Poroshenko wrote in his Twitter.
"Obviously, the Russia court's ruling is politically motivated. The case of our citizens is beneath any criticism, which international human rights organizations have repeatedly noted. I admire the courageous behavior of my fellow citizens in this travesty of justice. I thank Oleh and Oleksandr for taking a resolute stand. And I want to stress that Ukraine will fight for each of its political prisoners and will not calm down until the last of them is freed," Verkhovna Rada Speaker Volodymyr Hroisman writes in Facebook.
"The government of Ukraine has resolved to file today a fourth lawsuit against the Russian Federation to the European Court of Human Rights. It is Ukraine's suit against Russia, which is also about infringement of the right to justice, namely, the infringement of the rights of Mr. Sentsov and other Ukrainian citizens," Prime Minister Arsenii Yatseniuk said at a Cabinet meeting.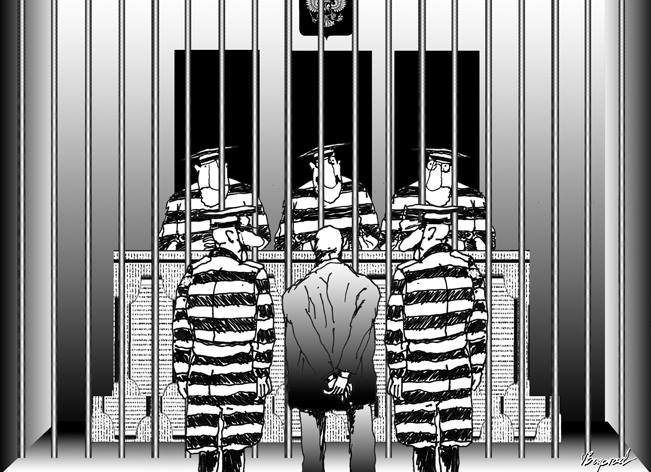 Sketch by Viktor BOGORAD
"Strongly condemn Russian farce of a 'legal process' leading to today's prison sentences for Oleh Sentsov and Oleksandr Kolchenko. Shameful," US Ambassador to Ukraine Geoffrey Pyatt wrote in Twitter.
"Russian courts are not competent to judge acts committed outside the internationally-recognized territory of Russia. The EU considers the case to be in breach of international law and elementary standards of justice," Federica Mogherini, EU High Representative for Foreign Affairs and Security Policy, said in her statement.
Vladimir Putin and his inner circle are behaving not only cruelly and amorally – their methods are sadistic. By doing so, they are also gauging the reaction of Ukraine and the entire free world. And what can they do to us?
What is more, reprisals against Ukrainian activists are not a new practice for the Russian authorities. There are a lot of historical parallels, when, in the times of both the Russian Empire and the Soviet Union, Moscow convicted and eliminated leaders of the Ukrainian national movement, dissidents, intellectual, and the clergy. Now this practice is back again. As is known, another trial is going on in Russia – of the Ukrainian female pilot Nadia Savchenko whom the Russian military criminally captured in the occupied part of the Donbas.
A unanimous condemnation of the Russian government's actions, particularly the conviction of Sentsov and Kolchenko, by the international community and its support for the Ukrainian government's stand are positive signals. Yet it remains an open question what kind of real pressure can be applied to the Kremlin in order to free the captive Ukrainian patriots.
COMMENTARIES
Ihor SIUNDIUKOV, editor, "History and I" section, newspaper Den:
"Whenever a concrete important event is analyzed, historical similarities can be somewhat mistaken because there are no fully identical analogies. But in this case of a horrible challenge to civilized world – the sentencing of Sentsov and Kolchenko – there are some analogies. First of all, the principle of these analogies is the approach of Putin's court – to intimidate all those who disagree. By this principle, analogies can be drawn from the oldest times. All ancient tyrannies, such as Rome or Genghis Khan's horde, were trying to intimidate people. But, speaking of more recent times, there is a striking similarity with the destiny of Kish Otaman Petro Kalnyshevsky who spent a quarter of a century in a dark and damp dungeon of the Solovki prison. Yet there is a difference here: Catherine II managed without a trial. Kalnyshevsky was not tried but simply thrown to prison without any formal sentence, even though the empress aspired to save face in the eyes of Europe. French kings also used to ignore courts  – they could write the name of an undesirable person on a blank sheet of paper and throw him into the Bastille for 5, 10, or 20 years without any trial. So, it is only natural that the Putin system resorted to a frame-up trial – Sentsov and Kolchenko were formally convicted at a Rostov-on-Don court.
"And if you take into account the whole range of all circumstance, the analogies are terrible. It is, above all, the terrifying trials of the 1930s in the USSR, organized and orchestrated by Stalin, at which the notorious Vyshinsky was counsel for the prosecution. But Stalin still tried to keep some elements of decorum intact. Speaking with Lion Feuchtwanger in 1937, he insisted that the defendants were really 'enemies of the people' and that it was a fair trial, which reflected the people's wrath. Besides, even in Nazi Germany at the end of 1933, a Leipzig court acquitted Georgy Dimitrov – in other words, there were some vestiges of legitimacy.
"If you recall the trials of dissidents in the 1970s, Brezhnev's regime was also trying to cling to the vestiges of decency, for it took into account the reaction of the West. Andropov and others from Brezhnev's inner circle usually preferred not to cross a certain 'red line.' The most alarming thing is that Putin and his entourage are cynically showing that the world community's reaction is of no consequence for them. Therefore, we have every reason, unfortunately, to suppose that they will do the same to Nadia Savchenko. All the leading civilized countries bitterly condemned this barbaric court sentence, but we can see that Russia's reaction is either silence or the allegation that the court had every reason to convict Sentsov and Kolchenko.
"This very alarming event shows again that, unfortunately, the civilized world and Putin's Russia are diametrically opposed and irreconcilable poles. We must see things the way they are."
LILIA SHEVTSOVA, senior fellow, Brookings Institution, Moscow:
"The conviction of Sentsov and Kolchenko by a Russian 'court' means that the Russian government is showing to the entire world that it is ready to hold its own citizens and citizens of other countries as hostages and victimize them. What for? To prove that they are strong and have the right to cause pain. It is state-sponsored sadism. But these actions also hide some other and more essential things – weakness and uncertainty.
"I don't think that hostage-taking is a Kremlin test for Ukraine or the West. It is no longer a test – it is the way power is exercised in Russia.
"Sentsov and Kolchenko behaved courageously, and Ukraine can be proud of them. They sang the Anthem of Ukraine after the sentence was read out. I do not think the Russian officers, who were taken prisoner on the territory of Ukraine and whom Russia's Defense Ministry repudiated, will sing the Anthem of Russia.
"What kind of reaction should we expect from the West? Naturally, Western human rights organizations will be protesting. But what else can the West do if it is unable to stop the Donbas war. Moscow will also hold hostages for a pragmatic reason – they may come in handy for some operations or exchange. A gangster's mentality…"
Volodymyr VASYLENKO, international law expert:
"The conviction of Sentsov and Kolchenko is a way to browbeat any movements against Putin's regime and protest-minded people. As for Nadia Savchenko, we should not expect a light sentence either, for the Kremlin will continue to apply its methods. This makes Ukrainian citizens suffer – it is not only physical, but also moral sufferings because these barbarian punishments do not fit in with any idea of humaneness. The Kremlin wants to show that whoever opposes its aggressive policy will be punished severely. Therefore, it is a way to intimidate citizens of Ukraine, it is a demonstration of the fact that the Russian leadership is 'omnipotent,' can behave as it pleases, and turn a deaf ear to what the outside world is saying – it is as case of megalomania. But this will only produce negative results for Putin's regime, for the world community will never recognize the legitimacy of Russia's actions. Accordingly, sanction will be imposed on Russia, and the European Court of Human Rights will classify its actions as unlawful.
"From the very outset, the arrest of and institution of criminal proceedings against Sentsov and Kolchenko were unlawful and ran counter to elementary human rights requirements and standards. They were forcibly deprived of Ukrainian citizenship and had Russian citizenship imposed on them, they were stripped, as citizens of Ukraine, of the right to adequate diplomatic defense and to qualified assistance from lawyers. The accused were denied the possibility of defending themselves, for they were jailed. This case contains a large number of violations during the investigation and judicial inquiry. But the chief problem is absence of credible evidence of the defendants' complicity in terrorism. Their profession and previous record provides no grounds to suspect them of committing these crimes, not to mention that there are no facts that prove their terrorist activity – the prosecution and the court used farfetched and trumped-up materials. So, these sentences are wrongful and must be quashed. I think the court ruling will be appealed against and, after the convicts use all the possibilities of local defense, i.e., go through all the judicial instances of Russia, they will have the right to file a complaint to the European Court of Human Rights in Strasbourg, which I am sure will pronounce this conviction wrongful.
"Our government has been reacting to this case quite adequately. The Foreign Ministry has been following it all the time by sending protest notes and taking all measures within the limits of diplomatic protocol. The trouble is that Putin's regime flouts elementary provisions of not only international, but also Russia's national law. For this reason, all the attempts to bring into motion the existing mechanism of legal protection are futile because the behavior of Putin's Russia does not absolutely fit in with the current provisions in international law.
"Therefore, in response to the conviction of Sentsov and Kolchenko, the West should impose more sanctions against Putin's regime and concretely against the individuals who took part in framing this case. Pavlo Klimkin, Minister for Foreign Affairs of Ukraine, has suggested drawing a 'Sentsov-Savchenko list,' which will include the names of those implicated in the unlawful persecution of Ukrainian citizens and encourage the world's democracies to apply severe sanctions against them – something like the 'Magnitsky list.'"
Andreas UMLAND, German political scientist:
"This seems to be, above all, a warning to Crimeans not to be politically active. The Kremlin is hinting: 'We will resolutely crack down on any political resistance, as we have shown by our merciless behavior towards such prominent people as Sentsov.' This has almost nothing to do with the West. In this context, the imprisonment of Sentsov is quite a problem because this creates confusion among Western left-wing anti-American artists and writers who are taking, due to naivety, a partly benevolent attitude to Putin. The West should spread detailed information about the two cases. This will thus increase political payment for the Kremlin's activities."